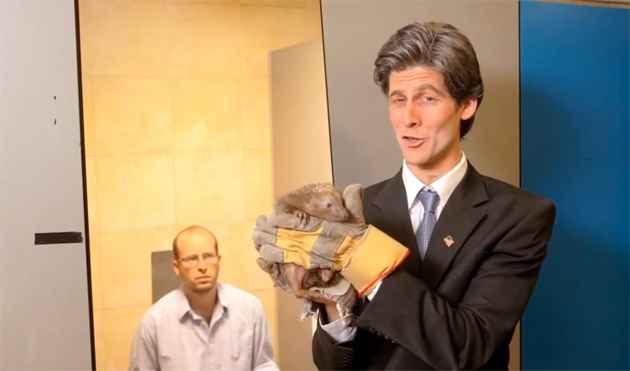 Fight disinformation:
Sign up
for the free
Mother Jones Daily
newsletter and follow the news that matters.
As Secretary of State John Kerry strives to revive the Middle East peace process, while also toiling to craft a nuclear deal with Iran and achieve a resolution to the Syrian conflict, he has come under attack in an unusual manner. An Israeli group funded by the Benjamin Netanyahu-led government is mounting an anti-Kerry campaign by promoting a video that employs a scatological joke to lampoon and deride the United States' top diplomat.
In the video, which is in Hebrew, an Israeli fellow sitting on a toilet discovers there's no toilet paper. What to do? But there's no need for him to worry; Kerry—that is, an actor playing Kerry—is there, and he is holding in his hands the solution to the man's problem: a porcupine. Yes, Kerry counsels the Israeli to use this small animal as a TP substitute. The man dutifully follows the advice and ends up with a distressed bum. Well, Kerry has the solution to that problem: a pink tutu. "You can walk around the office feeling free and open," he tells the Israeli, who is next seen strolling awkwardly about his workspace in a tutu. And there's a new problem: His officemates tease him. And Kerry has a new solution: a resignation letter. You cannot be the object of scorn, he says to the man, "if you're not here, right?" The next scene shows the Israeli fellow out on the street, apparently jobless. Kerry quips, "We don't have good solutions, but we have to do something, right?" He then tosses the man a few dollars and says, "Okay, lunch, guys."
The point: Kerry is a dunce eager to promote stupid solutions that would leave Israelis worse off.
The video is part of campaign being run by the Yesha Council, which represents the Israeli settlements on the West Bank, and another settlers group; both receive regular funding from the government. On its website, the Yesha Council, which has previously mounted efforts to undermine negotiations for a two-state solution, explained this campaign: "The main message: Israel's deep friendship with the US does not require us to give in to pressures that lead to solutions that threaten our country and its people." And its tool is mockery. The site these groups set up—John Kerry Solutions Inc.—features the video but also lists everyday questions for Kerry and his supposed answers. Here's one: "I fell off a ladder while trying to hang a picture and now I'm lying on the floor with a mild concussion and I cannot call for help. What to do?" Kerry's answer: Hang the picture lower.
It's unclear whether this anti-Kerry sarcasm, which has drawn Israeli media attention, will have any impact within the contentious world of domestic Israeli politics. Kerry is already a top target for the Israeli right, which has assailed him for both pushing a nuclear deal with Tehran and attempting to kick-start Israeli-Palestinian talks for a two-state solution. (Jewish settlements in the West Bank and the Gaza Strip are generally regarded as a major obstacle to a peace deal.) Earlier this week, Moshe Yaalon, the Israeli defense minister, was quoted by a newspaper calling Kerry "messianic," just days before Kerry was to visit Israel. He also said that Kerry ought to seek his Nobel Peace Prize elsewhere and "leave us alone." Yaalon subsequently apologized.
It's a bit awkward that a US secretary of state is being slammed by groups that receive financial support from the Israeli government, a Washington ally. And the Israeli government is distancing itself from this effort. Asked about the Kerry video, a spokesman for the Israeli Embassy in Washington said, "The Yesha council and Binyamin Regional Council [another settlers outfit supporting the anti-Kerry campaign] represent a small interest group and this current campaign doesn't reflect at all the Israeli government positions. We deeply appreciate Secretary Kerry's commitment to Israel's security and to helping Israel achieve a lasting and secure peace with the Palestinians." (There has been debate within the Israeli parliament as to whether regional councils in Israel, including those behind this anti-Kerry project, can use public funds for political messaging). The State Department did not respond to a request for comment.
OneVoice, an international grassroots group that works with Israelis and Palestinians to support a two-state solution, denounced the Kerry video: "It is outrageous that this campaign is funded with public money. Unlike previous campaigns by extreme right-wing movements, this isn't targeted at protecting settlements but is instead a juvenile and unprecedented attack against the US government and its efforts to bring peace to the region." It called for the Israeli state comptroller to investigate the use of government funding by these groups.
Criticism of the porcupine video doesn't seem to be slowing down Kerry's antagonists in Israel. The Yesha Council this week announced a new campaign with the slogan, "Keep the Country Safe—Don't Surrender to Kerry." As one Israeli media report notes, "The people behind the campaign explained that its purpose is to isolate Kerry and support Prime Minister Binyamin Netanyahu, at least as long as he stands up to Kerry and defends Israel's interests."