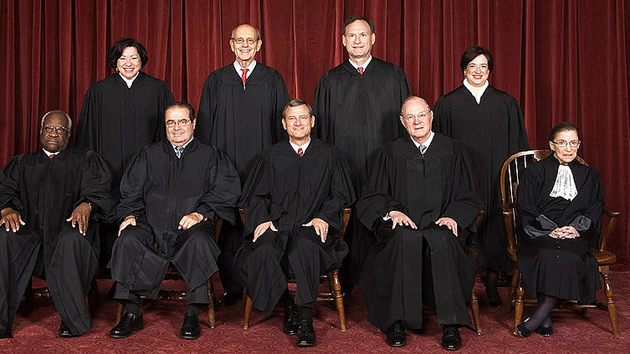 Fight disinformation:
Sign up
for the free
Mother Jones Daily
newsletter and follow the news that matters.
The US Supreme Court is often called on to rule on matters involving political advertising (see, of course, Citizens United). But it's rare for the court itself to be the target of political advertising, especially on TV. But a new coalition is about to unleash a torrent of ads in the Washington DC media market aimed squarely at the nation's high court—to demand that the court itself go on TV.
The US Supreme Court is one of the last places in the federal government where recording devices are expressly prohibited, despite efforts by members of Congress over the past 15 years to change that. (Broadcasting oral arguments is perhaps one of the few issues that both Republicans and Democrats tend to agree on.) Virtually all state supreme courts allow some degree of recording, and 14 federal courts have been involved in a three-year pilot project to study the use of cameras in those courthouses. Yet the US Supreme Court has remained stubbornly resistant to moving into the 21st century, despite overwhelming public support for footage of its arguments.
So a new group of professional media and legal transparency organizations have created the Coalition for Court Transparency to try to lean on the court in new and more public ways to insist that everyone deserves a chance to see how the court conducts its business. One of the biggest arguments in the coalition's favor: The court itself holds only 250 spectators, meaning that for big and important cases, virtually all the people camping outside the court to get a seat won't be able to get in.
"When you think about the most widely followed cases of the last year, litigants hailed from California (Hollingsworth v. Perry), Oklahoma (Hobby Lobby v. Sebelius), and Alabama (Shelby Co. v. Holder)," said Bruce Brown, executive director of the Reporters Committee for Freedom of the Press, a coalition member. "The idea that these individuals, and other concerned parties from across the country, would have to fly to Washington, find a hotel, and stand in line for hours—or pay someone to do so—just to see justice in action shows how far the Court needs to come to get more in step with technology and transparency today." Here's the ad:
Bringing oral arguments to the people by video is a noble cause, but also probably a lost one. There was a brief window of hope back in 2009, after Justice David Souter announced he was retiring from the bench. Chief Justice John Roberts Jr. had been guardedly open to the idea of cameras in the courtroom, a position embraced by Justices Ruth Bader Ginsberg and Stephen Breyer. Justice Samuel Alito allowed cameras into his appellate courtroom while serving on the Third Circuit. And Justice Anthony Kennedy has said cameras are "inevitable." But Souter was a major obstacle to a more open high court. He was a notorious technophobe, whose New Hampshire farmhouse was full books but not a TV screen. He eschewed computers, emails and answering machines, writing his opinions with a fountain pen. He famously announced his views on oral argument broadcasts by saying, "I can tell you the day you see a camera come into our courtroom, it is going to roll over my dead body."
Souter was replaced by Justice Sonia Sotomayor, who at the time of her confirmation had indicated that she was supportive of cameras in the courtroom, which she'd had a positive experience with as a judge in the 2nd Circuit Court of Appeals. Alas, her position changed quickly once she joined the high court. Last year, she said she believed that basically, the public wouldn't understand the proceedings. "Oral argument is the forum in which the judge plays devil's advocate with lawyers. I think the process could be more misleading than helpful," she said.
Losing Sotomayor pretty much dooms the cause of cameras in the Supreme Court, given the staunch opposition from Justices Antonin Scalia and Clarence Thomas. But perhaps the ads targeting the court's transparency might have some other beneficial effects, like forcing the justices to experience some of the same sorts of political tactics they're often called on to regulate.