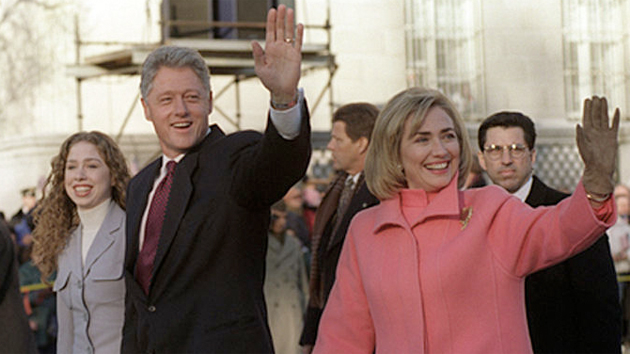 Fight disinformation:
Sign up
for the free
Mother Jones Daily
newsletter and follow the news that matters.
The Bill Clinton presidential library on Friday released thousands of pages of documents from the Clinton presidency, including a batch of nearly 300 pages related to the health care reform effort led by Hillary Clinton. This series of memos from 1993 offers a fascinating inside-baseball account of the White House's legislative strategy for passing health insurance reform. Anyone who has watched House of Cards would recognize the techniques (though there are no murders) presented in these memos: composing files on the past and current health care positions of every member of the House and Senate, setting up a health care "university" to educate lawmakers on key policy components, mounting a "massive public communications campaign," and coaxing—that is, ego-stroking—of individual lawmakers.
Much of this coaxing was to be done by the first lady. One memo noted that Rep. John Dingell, the powerful chair of the energy and commerce committee, was pessimistic about enacting comprehensive reform. "The best way to get Chairman Dingell back on board…is to make him feel that we need him (as we do)," an aide advised Hillary Clinton. Rep. Jack Brooks, who headed the House judiciary committee, was interested in limiting the antitrust exemption for the insurance industry. ("What he wants to hear is that you are aware of his legislation and that you and the President would like nothing less than to undercut his efforts in any way.") New York Sen. Daniel Patrick Moynihan, who had recently taken over the Senate finance committee, also was "nervous," believing that "health care reform will be complex, controversial, and potentially expensive." So Hillary was advised to focus on Sens. George Mitchell and Jay Rockefeller, other Democrats on the committee, who "have the potential to actually (although not visually) run the Committee on this issue." One memo noted the "desire" of several moderate Republicans to work with the White House, but it reported that these members "fear about how it will be perceived by the rest of Republicans." Prior to a meeting with several GOP senators, who were expected to complain about the lack of White House outreach, Hillary Clinton was advised to quickly push "for movement to 'this is all water under a bridge' language." Another memo called for establishing a "time sensitive Mrs. Clinton thank you note system following important (does not have to be all) meetings with Members." A memo laying out the grand political strategy for the Clintons' health care reform project described an "essential" component: "Keep the health care industry divided, both in terms of whether they support or oppose us, and in terms of keeping them from ganging up on any single part of the overall package."
One intriguing memo to Hillary Clinton prepping her for a meeting with Rep. Jim McDermott, a Washington Democrat who was a fierce advocate of a single-payer system. Though Clinton's reps had been telling progressive groups and unions in private meetings that she believed a single-payer health insurance program made sense, she and her aides had ruled it out for her health care initiative (due to the political opposition such a proposal would draw) and had opted for a much more complicated overhaul based on a requirement that employers provide health insurance through HMOs. Still, as this memo noted, Clinton couldn't afford to tick off the single-payer crusaders: "Cultivating a good and close relationship with the Congressman is becoming more and more important to us. Our House target list is filled with single-payer advocates, many of whom will look to him for a sign-off. Therefore, as difficult as it probably will be, we need to keep him happy and on our side." The memo reported that at a recent meeting of House Democrats, McDermott had spoken "at some length about how the single payer system was so much easier to describe than the plan he thought the Administration would be proposing" and suggested that McDermott had a rather elevated view of his own role in the ongoing health care reform debate.
This was the "suggested approach" Clinton was to take with McDermott:
As with all Members, and particularly Congressman McDermott, the goal at this meeting is to make him feel we are listening to him and desirous of his guidance. In this vein, you should consider throwing anything he throws at you as a complication right back at him with a question. Then, if you have concerns about his suggested approach, you can address it with him directly. (This way, you don't allow him the opportunity to pick apart anything before you have had a chance to hear and analyze his alternatives).
And Chris Jennings, the White House aide providing this advice, proposed a little trick for Hillary Clinton to pull:
Lastly, as staged and as presumptuous as this is, I might suggest that you consider throwing out all of the staff at the end of the meeting to hold a five minute private meeting with him. This will signal to him the closeness of your relationship with him, and the value you place on his confidential advice. (The subject could be on virtually anything.)
Frank Underwood could do no better. But making nice with single-payer advocates—and winning over many of them—was not sufficient. Not enough Democratic senators got behind the Clintons' plan—"Anyone who thinks [the Clinton health care plan] can work in the real world as presently written isn't living in it," Moynihan declared—and the initiative crashed and burned. But perhaps Hillary learned a lesson or two about working with parochially minded members of the House and Senate that she later could apply during her time as a senator—and that may come in handy should she ever again be working in the White House.
Here's the document: