Last Friday, Fox posted a new trailer for 24: Live Another Day, the upcoming limited event series that continues the famous Jack Bauer action saga (which wrapped its initial eight-season run in 2010). The show, starring Kiefer Sutherland as counterterrorism agent Bauer, came on the air just two months after 9/11, and frequently incorporated the political debates and context of the post-9/11 world. 24 got a reputation for right-wing Bush-era messaging (Bauer tortures a whole lot of people, and often extracts the world-saving information he needs very quickly), but also featured oilmen, shady business interests, and Republican politicians at the center of terrorist conspiracies.
Flash-forward to 2014, and you'll find 24's political framing has adjusted accordingly with the times. In the new trailer, you'll catch a brief shot of an anti-drone protest in London during the US president's visit. "Drones DESTROY our Humanity," and so forth, the placards read: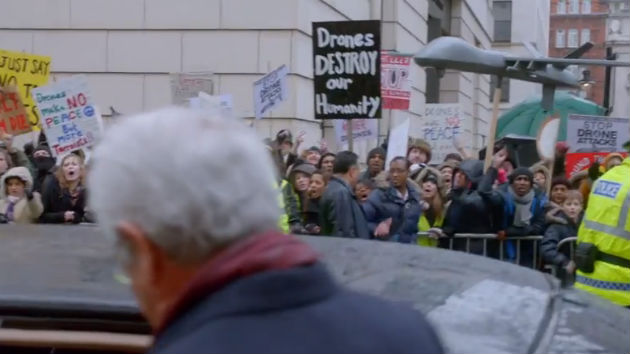 "We have analogues for the Snowden affair and the drone issue is a backdrop," executive producer Howard Gordon said earlier this year.
In Live Another Day, the drone-warrior president is James Heller (played by William Devane), who served as Secretary of Defense under two Republican presidents, and first appeared in season four. (Devane also played the President of the United States in The Dark Knight Rises.) During the fourth season of 24, Heller criticizes Michael Moore, and later signs off on the torture of his gay, anti-American son on suspicions that he's in contact with Muslim extremists.
Watch the new 24: Live Another Day trailer here: