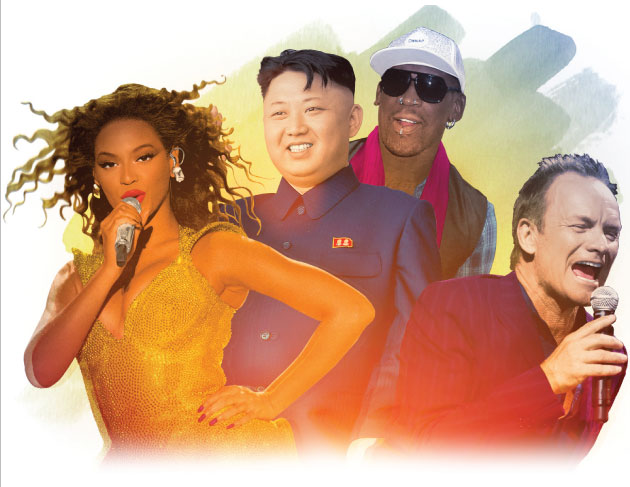 Fight disinformation:
Sign up
for the free
Mother Jones Daily
newsletter and follow the news that matters.
Totalitarian Request Live
In January, ex-NBA star Dennis Rodman went back to North Korea to chill with his "awesome" basketball-loving, uncle-purging pal Kim Jong Un. He even sang "Happy Birthday" to his brotalitarian buddy…Under Siege star Steven Seagal has been hanging out with Russian president Vladimir Putin, and supports his buddy's annexation of Crimea. This bromance runs deep; in 2011, the Hollywood martial-artist asked Putin to support Russian immortality and artificial body research…Jennifer Lopez reportedly snagged $1.5 million to sing at a bash attended by Gurbanguly Berdymukhamedov (mind if we call you G-Berdy?), the dictator of Turkmenistan, last June…In October, Julio Iglesias sang at a gig put together by the son of the mysteriously wealthy president of Equatorial Guinea, Teodoro Obiang. With the cheapest seats going for nearly $1,000, fans had to beg, borrow, or steal from the state treasury to get in…Imma let you finish, but Kanye West had the best concert for a dictator's progeny last year. In August, he rocked the wedding reception of the grandson of Kazakh dictator Nursultan Nazarbayev. $3 million is gonna buy a lot of damn croissants…
Eavesdropping
"The concert was organized by the president's daughter and I believe sponsored by UNICEF."
—Sting, stung by reports that he'd taken more than $1 million to sing at a 2010 concert for the daughter of Uzbek President Islam Karimov, whose police are known for watching every move you make. (Shrugging off the free PR, unicef said it had nothing to do with the event.)
"By going there, I played MUSIC for the Chechenyan [sic] people. I'm a MUSICIAN and would appreciate if you leave me out of your politics."
—Seal, tweeting after he performed at Chechen President Ramzan Kadyrov's birthday bash in 2011. Also in line for party favors at the bash: Jean-Claude Van Damme and Hilary Swank.
Autocratic for the People
While Moammar Qaddafi was busy with one-party rule, his family's parties ruled! Among the crooners who sang for the Qaddafi kids over the years: Mariah Carey, 50 Cent, Timbaland, Enrique Iglesias, Nelly Furtado, and Usher. And don't forget Beyoncé, who reportedly got $2 million for a Caribbean gig thrown by the Libyan strongman's son Hannibal in 2010. Daddy Qaddafi himself partied all night long with Lionel Richie in 2006.
From the Memory Hole
The King of Pop wasn't above entertaining lesser royalty. In 1996, the Sultan of Brunei paid Michael Jackson $17 million to moonwalk at his 50th birthday gala. More than a decade later, the gloved one sought a vacay from paparazzi and lawyers in Bahrain, only to be sued for $7 million by his host, Prince Abdullah al-Khalifa, for allegedly bailing on a deal to record an album for the royal record label…And who could forget when James Brown headlined the concert thrown as part of the 1974 "Rumble in the Jungle," the Muhammad Ali-George Foreman bout put on by Zairean President Mobutu Sese Seko? As Etta James later dished about her host, the hardest working dictator in sub-Saharan Africa, "This mother was off the wall."