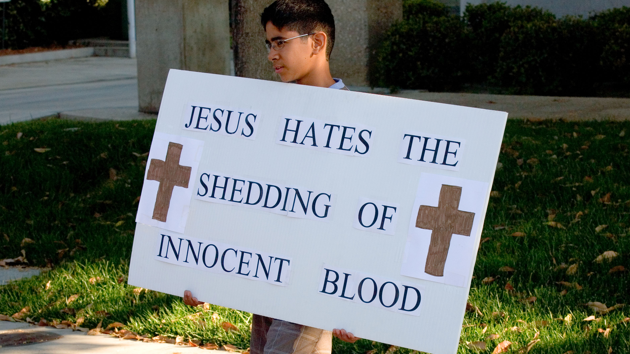 Fight disinformation:
Sign up
for the free
Mother Jones Daily
newsletter and follow the news that matters.
Two abortion providers sued a Dallas hospital on Thursday, after the hospital revoked their admitting privileges. Because Texas law now requires doctors who perform abortions to have admitting privileges at a local hospital, the revocation would mean that these doctors could no longer legally perform abortions. In a letter to the doctors, Chuck Schuetz, CEO of University General Hospital–Dallas, said they were disrupting the hospital's "business and the reputation" by providing abortions at their own facilities miles away. The lawsuit filed by the doctors, Lamar Robinson and Jasbir Ahluwalia, contends that the hospital discriminated against them because they perform abortions.
Last month, anti-abortion rights activists announced plans to hold a demonstration outside the hospital to protest its association with Robinson. But on March 31, the day before the protest was to take place, Schuetz canceled the doctors' admitting privileges. "Your practice of voluntary interruption of pregnancies…creates significant exposure and damages to UGHD's reputation within the community," Schuetz wrote to Robinson and and Ahluwalia. In the letter, Schuetz characterized providing abortions as "disruptive behavior." He claimed that the hospital was not equipped to treat complications related to abortion and that the doctors were increasing "the probability of malpractice." Robinson and Ahluwalia allege that Schuetz yielded to pressure from anti-abortion rights activists, promising them the hospital would be "pro-life" and not associate with abortion doctors.
Texas law forbids discrimination against doctors who perform abortions. But in their lawsuit, Robinson and Ahluwalia argue that's exactly what the Dallas hospital is doing. Robinson and and Ahluwalia maintain that Schuetz's argument that they are exposing the hospital to malpractice risk doesn't stand up to scrutiny. Under Texas law, they aren't required to bring patients with abortion complications to the hospital where they have admitting privileges. If one of their patients would need emergency care for abortion complications, Robinson and Ahluwalia note, there are other hospitals much closer to their clinics. "There is no legitimate non-discriminatory explanation for UGHD's revocation of Plaintiff's privileges," the lawsuit says.
The admitting privileges requirement for abortion providers is part of a law that passed in Texas last year after state senator and gubernatorial candidate Wendy Davis mounted a filibuster for almost 11 hours. Robinson and Ahluwalia's clinic are both listened on the first legal challenge to that law, which requires doctors who perform abortions in the state to have admitting privileges at a hospital within 30 miles of an abortion clinic. They and other women's health care providers argued that the law would force some clinics, especially those in rural areas, to close. On March 27, a three-judge panel of the U.S. Court of Appeals for the Fifth Circuit upheld the law, including the admitting privileges requirement. Subsequently, Schuetz revoked Robinson's and and Ahluwalia's privileges.
On Thursday, a Dallas County judge granted the doctors a temporary restraining order allowing them to continue practicing until a hearing on April 30. "It is probable that Plaintiffs will prevail," Judge Sheryl McFarlin wrote. Donald Sapaugh, the president and director of the University General Health System, said he couldn't comment on the specific allegations in the lawsuit. But he told Mother Jones, "We are confident in our position and our decision regarding revoking privileges by our Medical Executive Committee." He added, "The scope of services at our hospital does not provide for abortions, and we are offended at the notion that a hospital can be used as a pawn."
Update: On Friday afternoon, Sapaugh issued an additional statement in response to the temporary restraining order judgment. "The Temporary Restraining Order issued by the court on Thursday, April 17, 2014 in favor of Drs. Robinson and Ahluwalia was entered without University General Hospital of Dallas or its counsel present in the courtroom to present the hospital's side of the case. University General Hospital of Dallas will, of course, fully comply with the court's temporary order until a hearing on the merits can be conducted. The hospital looks forward to the opportunity to present to the court the hospital's side of this dispute."