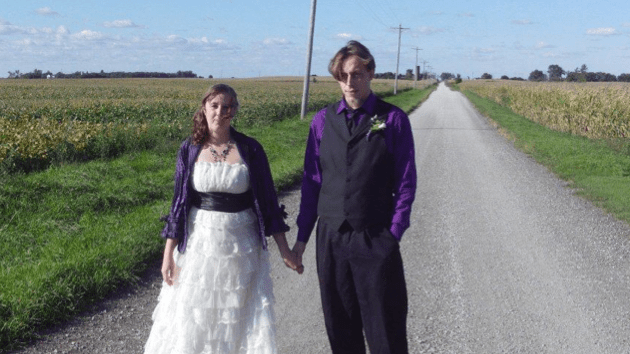 Fight disinformation:
Sign up
for the free
Mother Jones Daily
newsletter and follow the news that matters.
Two years before Jerad Miller and his wife, Amanda, allegedly gunned down two police officers and a third person in a Las Vegas shooting spree, before taking their own lives, he pondered when it might be justified to kill law enforcement officers on the website of conspiracy-peddling radio personality Alex Jones. In a May 28, 2012, post titled, "The Police (To Kill Or Not To Kill?)" Miller wrote on Jones' Infowars.com website: "I live in Indiana and recently a law was passed named the right to resist law. As i can make out from it, if a police officer kicks in my door and is not there legally, then I may shoot him."
His posts on Infowars depict an angry, down-on-his-luck man who blamed his woes—decaying teeth, lack of health insurance, and inability to find work—on the tyranny of government. (Alex Jones has insisted the shooting spree Miller and his wife allegely carried out was "absolutely staged" by the federal government.) The justice system became a focus of Miller's wrath following his arrest for selling marijuana. "Before I got arrested I had 2 jobs and was selling weed to my friends and family on the side," he wrote. "Now I cannot find a job. My probation officer states that if I protest that my probation will be violated. They have tried to tell my fiance, who has no criminal record, that she may not own a firearm if I live in the house. Now, i face a dire problem."
And he noted, "I was arrested for a crime, that is a felony, yet i hurt no one. Never laid a hand on a person or their property. Was selling something on the black market that is in high demand. Yet there is no victim in the crime i committed, so how can that be a felony charge? A charge that takes my 1st, 2nd, and 4th right away? How can this be? Do I really live in a free country?"
In Miller's May 2012 post, he also related another brush with law: when he was searched by police at the home a friend who had an open warrant for his arrest.
Now, that was my last encounter with police officers. I'm afraid they may try to do some stuff like that to my fiance and I. For the most part, I'm a law abiding citizen. I believe in Gods law. You know the ones. Dont steal, dont murder, etc. I fear that if they came, even with a warrant, that I feel they are being unlawfull and infringing upon my rghts. I feel that I have been violated and tread upon. That the so called justice system has done me harm. I do not wish to kill police. I understand that most of them believe they are doing the right thing. Yet, I will not go to jail, because I have not committed a crime!
Miller's then-fiance, Amanda Woodruff, commented on Jerad's post: "Jerad, baby, I love you with all my heart and I'll stand behind you no matter what. It's true that its not fair that i can't have a gun because you live with me. I know its not right that my rights get taken away from me because I live in the same home as you but I would love to see them try and enforce that. My love for you is deep and forever and fuck what they have to say cause they have no right to do what they say is not right. I love you and as I said before I stand beside you forever."
In a post on June 26, 2012, Miller discussed how his life had unraveled since his arrest and how he couldn't afford dental care for a decaying wisdom tooth that had become a "painfull[y] infected hole":
I have not seen a dentists in 14 years. I take good care of my teeth. The job market has been horrible. The few temporary jobs i find havent been able to earn me enough money to go see a dentist. Since I dont have insurance or medicaid the cost is around 500 to 1000 dollars. So as I sit here in agony, taking the penasilin the ER perscribed me I contemplate the state of things here in the good old USA. How the Gov. spends billions of dollars on the war on drugs and all these missles and bombs to kill people. I think about all that money that could do to helping people instead. Creating jobs, creating happy, healthy people. I dont want a hand out. I just need a foundation to stand on. One that wont be pulled out from under me as soon as i step up on it. I'm a 29 year old american who has never once had a good enough job to have health insurance……………. I dont know what else to say.
Miller's last posted on Infowars on August 7, 2012, publishing a sci-fi-esque short story about a father and son contemplating fighting the government. In this tale, the father tells his son, "It is our respon[s]ibility to care for everything around us because its in our power to do so. They would seek to destroy and exterminate and abuse. They would taint the water as they did before. Son, I cant tell you how precious life is."