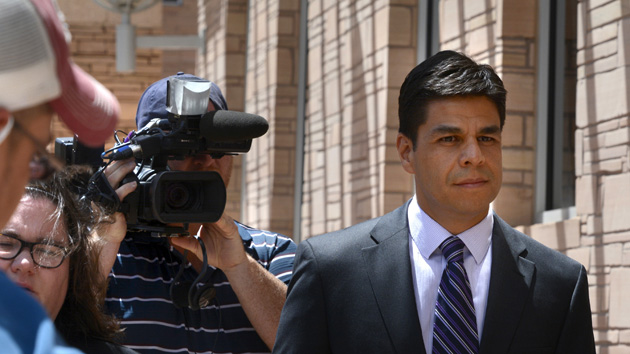 Fight disinformation:
Sign up
for the free
Mother Jones Daily
newsletter and follow the news that matters.
The circus is over before it could begin. New Mexico Gov. Susana Martinez can breathe a sigh of relief.
This summer, Martinez was expected to testify in court in a high-profile case involving a former campaign manager accused of intercepting her personal emails. Prosecutors alleged that Jamie Estrada, a Republican operative who served in George W. Bush's Commerce Department, illegally accessed messages sent using Martinez's 2010 campaign's domain name, including messages about her online shopping and banking information. Estrada also faced charges of misleading federal investigators about how he gained access to the emails. For months, Estrada, who left Martinez's campaign in December 2009, fought the charges. Martinez recently cleared her calendar in anticipation of her testimony.
But this week, Estrada changed course and pleaded guilty in what New Mexicans have dubbed "Emailgate." Estrada pled to two felony counts: unlawfully intercepting Martinez's personal emails and making false statements to FBI agents. He did not respond to requests for comment.
In a statement issued to reporters, Martinez said Estrada's guilty plea "vindicates what I have said from the beginning which is that these personal and private emails were indeed stolen." She continued, "This is a case about a fired former employee who wasn't given a state job and then sought to get even by illegally intercepting personal emails from numerous individuals, including personal bank account statements and my personal undergarment orders, all of which were made public in a misguided effort to harm me and others in a revenge scheme."
Estrada, who is 41, could spend up to a year and a day in jail and lose his ability to vote. The United States Attorney for New Mexico, Damon Martinez, told the Santa Fe Reporter that his team will argue for some amount of jail time for Estrada.
More from the Reporter:
In the plea agreement, Estrada admitted to "knowingly and willfully" making "false, fraudulent, and material statements and representations to the FBI" during a September 19, 2012, interview at his Valencia County home, "including falsely telling the agents that I had not paid for the renewal of the Domain using a pre-paid gift card." Agents had executed a search warrant on the home.

He also admitted to logging onto the Martinez campaign's domain account in July 2011 and paying for the renewal of the domain under a fake name. He admitted to then intercepting "hundreds" of email messages intended for Martinez and her campaign staffers.

"I gave the emails to Governor Martinez's political opponents knowing that certain emails would be disseminated to others," reads the plea agreement. "After some of the intercepted emails were published in the press, on or about June 29, 2012, the governor released a public statement to the effect that she had asked federal authorities to "investigate the interception of the emails."
As I reported in my recent piece on Martinez, Estrada's trial was a potential headache for the governor, who might've faced fierce questioning about various controversies that have dogged Martinez during her first term. She's now free to focus on her reelection campaign, hoping for a commanding victory that could further elevate her national prospects.