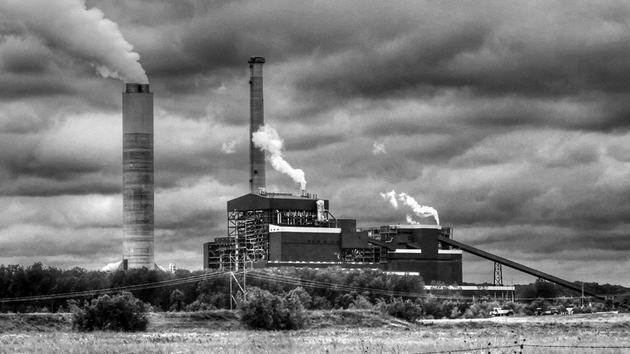 Fight disinformation:
Sign up
for the free
Mother Jones Daily
newsletter and follow the news that matters.
Update 07/16/14: With 59 percent of the vote, Chip Beeker beat Terry Dunn in Tuesday's runoff.
Terry Dunn, a top Alabama utility regulator, is an EPA-bashing, fossil-fuel-boosting, dyed-in-the-wool Republican. Or so he thought. But last year, he tried to convince his colleagues on the three-member Alabama Public Service Commission to discuss lowering customer payments to Alabama Power, the state's largest utility. Now he is the target of an unprecedented half-million dollar campaign, led by Alabama's powerful coal lobby, to boot him out of office.
"I've been a delegate to the last three Republican presidential conventions," Dunn says. "I'm about as Republican as my opponent—or more so. 'Environmentalist'—in Alabama, that's code to damage me. I've been fighting Environment Protection Agency regulation since the day I got into office."
John Archibald, a political commentator for Al.com, agrees with Dunn's self-assessment: "Dunn's a good old boy. He asked hard questions, and kind of got punched for it."
The energy industry's chosen candidate is Chris "Chip" Beeker, a Republican challenging Dunn in the GOP primary. And there is no mistaking Beeker for an environmentalist: On his campaign website, Beeker claims the planet is cooling, not warming. "The so-called 'climate change crisis' is about as real as unicorns and little green men from Mars," he says.
Beeker's backers in Tuesday's race include Drummond Co., a global coal giant headquartered in Birmingham, which has given him $50,000; R.E.M. Directional, a drilling company near Tuscaloosa that donated $20,000; and ENPAC, a political action committee connected to the Alabama Coal Association that gave him $38,000. Two trade groups, the Alabama Coal Association and Manufacture Alabama, have endorsed Beeker, and big-name Republicans, including former Mississippi Gov. Haley Barbour, have hosted fundraisers for him.
Beeker was the leading vote-getter in the first round of the primary, which was held on June 3, taking 39 percent to Dunn's 33 percent. A runoff, scheduled for Tuesday, will determine the winner, as there is no Democrat running for the seat.
Dunn's troubles started in January 2013, when he proposed holding a formal meeting to examine Alabama Power's rates. The utility, which has a monopoly on the Alabama grid, charges customers more and has larger profit margins than utilities in surrounding states.
"From that point on, Dunn was declared an environmental wacko—and there is a concerted effort to paint him that way," Archibald says. "But he's not a tree-hugger. Under normal circumstances, you'd consider him far to the right."
Dunn had antagonized the coal industry before he called for the meeting, by pushing utilities to increase their use of natural gas, a cheaper alternative to coal, in order to bring down energy prices. But proposing talks about rate reductions escalated the dispute. Coal miners filed ethics complaints against Dunn's staff, and critics slammed him as a Republican in Name Only and environmentalist. Dunn tells Mother Jones that a man who identified himself as a private investigator—Dunn never found out who employed him—followed his car home from a commission meeting and photographed his chief of staff at home.
Dunn's colleagues issued fiery, public denunciations of his proposal to consider cutting rates. Twinkle Cavanaugh, the commission president, said talking about rate reductions would allow "environmental extremist groups" to "trot out their fancy San Francisco environmental lawyers and junk science hucksters to make what amounts to a legal, judicial case against coal production within our borders." She said Dunn's proposal was orchestrated by environmentalists "hiding behind a curtain like the Wizard of Oz."
The commission eventually held an informal meeting and approved changes to Alabama Power's rate formula that Dunn denounced as weak.
To call Dunn's proposal an attack on coal is preposterous, Archibald says—Alabama Power isn't strictly a coal utility, and it imports a lot of coal from out-of-state. "But it seemed to work in getting the industry riled up," he says. Utilities, such as Alabama Power, can't spend money in Public Service Commission races. But energy wholesalers, including the companies lined up against Dunn, face no such restriction.
Dunn tells E & E News that some donors who previously supported him have abandoned him out of fear of industry backlash. He has not exactly made things easy on them: In February, he called for a bill to ban coal, gas, and electricity companies from donating to Public Service Commission candidates in future elections. The bill failed.
A spokesman Alabama Power said the company is not involved directly or indirectly in Public Service Commission races. Beeker did not reply to messages left with his campaign and Beeker Catfish & Cattle Farms. Twinkle Cavanaugh, Drummond Company, Manufacture Alabama, and the Alabama Coal Association did not reply to requests for comment.