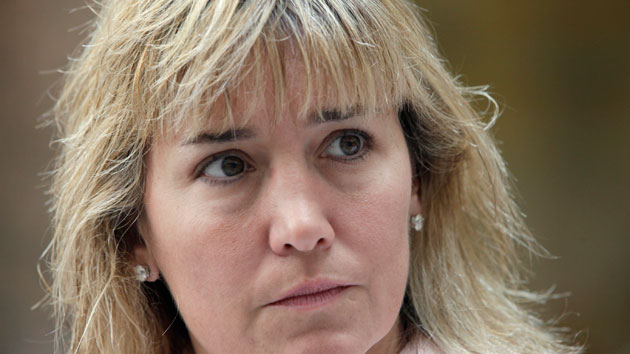 Fight disinformation:
Sign up
for the free
Mother Jones Daily
newsletter and follow the news that matters.
On Wednesday, the Senate Judiciary Committee is holding its first-ever hearing on domestic violence and guns, in light of several bills that aim to strengthen federal gun restrictions against abusers. Federal law bans felons, people subject to permanent domestic-violence protective orders, and certain people convicted of domestic-violence misdemeanors from owning guns. But it does nothing to keep firearms out of the hands of a wide range of potentially dangerous abusers, including convicted stalkers, dating partners convicted of domestic violence misdemeanors, and people under temporary restraining orders. State laws largely don't address these categories, either, and according to a Mother Jones analysis, the data suggests that states with fewer measures barring domestic abusers from possessing guns have more gun-related, intimate-partner homicides.
Several Democrat-backed bills that aim to strengthen federal law when it comes to gun ownership and domestic abuse are languishing in Congress, including one introduced in July 2013 by Sen. Amy Klobuchar (D-Minn.) that would bar convicted stalkers and abusive dating partners from possessing guns. The gun lobby has fought back against Klobuchar's bill, with the Huffington Post reporting last month that the NRA sent a letter to lawmakers blasting the measure as a backdoor attempt to limit gun ownership. The legislation "manipulates emotionally compelling issues such as 'domestic violence' and 'stalking' simply to cast as wide a net as possible for federal firearm prohibitions," the NRA told lawmakers. The powerful pro-gun-rights group has in the past fought to allow domestic violence offenders to possess guns, unless they're convicted felons.
But not all gun-owners are siding with the NRA to fight these stricter gun controls. "I am a gun owner. I was shot and left for dead by my own gun," says Christy Martin, a former championship boxer whose ex-husband was sentenced in 2012 to 25 years in prison for attempting to murder her with a firearm. Martin flew to Washington, DC this week to attend Wednesday's hearing, at the invitation of Everytown for Gun Safety, a gun control group backed by former New York Mayor Michael Bloomberg. "I consider myself a physically fit, somewhat strong woman, mentally strong, emotionally strong, but it didn't matter," she says, noting that her ex-husband had a history of stalking behavior prior to the attack, and that she'd like to "close up some of those loopholes for stalkers."
Elvin Daniel is a gun-owner and self-described NRA member who is testifying at the hearing in support of efforts to curb gun ownership for stalkers and abusers. He accuses the NRA of employing "a scare tactic" to prevent Klobuchar's bill from advancing. "I absolutely do not agree with them," he says. Daniel's sister, Zina Haughton, was shot and killed by her estranged husband in October 2012. "I know that Senator Klobuchar's bill will keep guns out of the hands of dangerous people," he says, "not law-abiding gun owners."