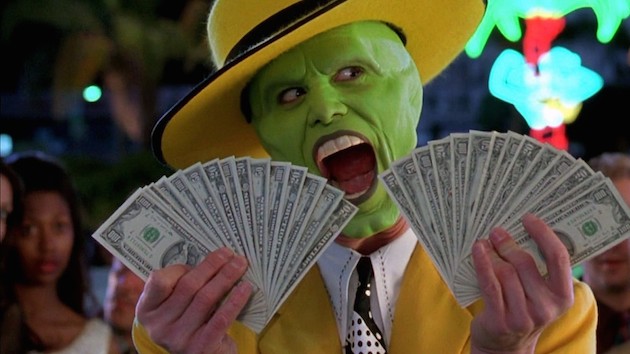 Facts matter:
Sign up
for the free
Mother Jones Daily
newsletter.
Support
our nonprofit reporting.
Subscribe
to our print magazine.
The Mask came out on July 29 1994. It was Jim Carrey's second blockbuster. (Ace Ventura: Pet Detective had hit theaters that February.) But where does it stand in the Jim Carrey canon? Here are all the Jim Carrey films*, ranked.
1. Liar Liar
2. The Truman Show
3. Man on the Moon
4. Eternal Sunshine of the Spotless Mind
5. Yes Man
6. Bruce Almighty
7. Fun With Dick And Jane
8. Dumb & Dumber
9. The Mask
10. A Christmas Carol
11. I Love You Philip Morris
12. Kick-Ass 2
13. Simon Birch
14. Me, Myself, & Irene
15. Batman Forever
16. Ace Ventura: Pet Detective
17. Lemony Snicket's A Series of Unfortunate Events
18. The Cable Guy
19. Mr. Popper's Penguins
20. How The Grinch Stole Christmas
21. The Incredible Burt Wonderstone
22. The Number 23
23. Anchorman 2
24. Horton Hears a Who!
25. The Majestic
26. Ace Ventura: When Nature Calls
(*Note: This is a ranking of "Jim Carrey movies," a la feature-length movies in which Jim Carrey appears beginning with Ace Ventura: Pet Detective. Movies that feature Jim Carrey from before Ace Ventura: Pet Detective are not "Jim Carrey movies." They are just movies that Jim Carrey happened to appear in.)