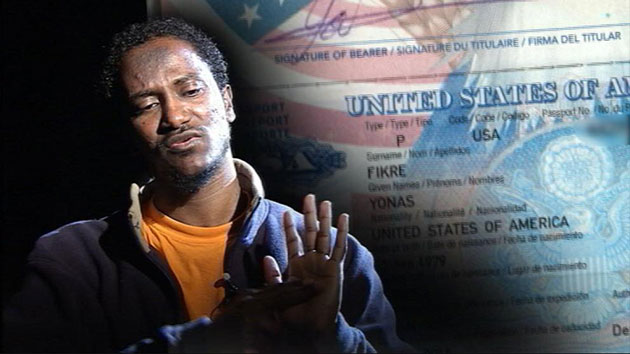 Fight disinformation:
Sign up
for the free
Mother Jones Daily
newsletter and follow the news that matters.
Sweden has declined to grant asylum to an American who fears his own country will have him tortured—again.
In June 2011, Yonas Fikre, a Muslim American from Portland, Oregon, was visiting the United Arab Emirates when he was suddenly arrested and detained by the local security forces. For the next three months, he claims, he was interrogated and tortured—grilled with questions that were nearly identical to those the FBI had posed to him just a few months earlier. He believes the US orchestrated his detention, and his allegations are similar to those of other young Muslim Americans who have been locked up abroad and interrogated, often about matters they have already been questioned on by American authorities. In May 2013, Fikre sued the US government for violating his constitutional rights.
Fikre, whose story I broke in 2012, was eventually released and deported. He traveled to Sweden, where he had family, and sought political asylum there, saying he fears he will be detained and tortured again if he leaves the country. SVT, the Swedish public broadcaster, reported on Tuesday that, after mulling his case for three years, Swedish Migration Board denied Fikre asylum. Fikre's lawyer plans to appeal the decision.
Though the Swedish Migration Board ruled that there was insufficient evidence of US involvement in Fikre's alleged torture, what's clear is this: The FBI had a strong interest in Fikre prior to his detention in the UAE. In 2011, he was visiting family in Sudan when he was contacted by FBI agents. Internal FBI documents confirm that agents met with and interviewed Fikre at the time. He says they asked him to become an informant. When he refused, they told him he was on the no-fly list and couldn't travel unless he cooperated. "The time to help yourself is now," one of the FBI agents wrote him in a follow-up email obtained by Mother Jones.
Fikre took this as a threat. Though he was told he was on the no-fly list, he was later able to fly to the UAE without incident. But when UAE security forces nabbed him, he concluded that he had been arrested at the behest of the United States. He alleges that he was beaten whenever he asked whether the FBI was involved in his detention. When his story broke in 2012, Fikre became the latest in a series of American Muslims—including Naji Hamdan, Amir Meshal, Sharif Mobley, Gulet Mohamed, and Yusuf and Yahya Wehelie—who claim they were detained, questioned, and (in some cases) abused by local security forces at the behest of the US government. Many of these men say they were asked to become FBI informants. (I revealed the story of yet another alleged "proxy detainee," Naji Mansour, in the May/June issue of Mother Jones.)
The government won't speak about individual cases. But these Americans' claims aren't so far-fetched. The FBI acknowledges that information it shares with foreign governments sometimes leads to the arrest of Americans; it also admits questioning Americans in foreign prisons. Civil libertarians say the bureau uses this practice to circumvent suspects' constitutional rights.
It's unclear how soon Fikre could be forced to leave Sweden. Meanwhile, he also has a case pending against the US government, seeking $10 million in damages for the alleged abuse he endured in UAE custody and the removal of his name from the no-fly list.