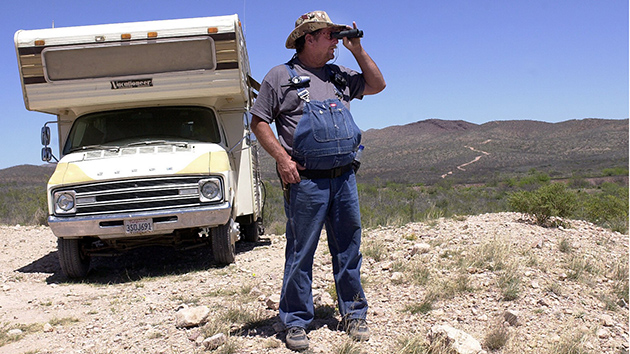 Fight disinformation:
Sign up
for the free
Mother Jones Daily
newsletter and follow the news that matters.
In early July, Chris Davis issued a call to arms. "You see an illegal, you point your gun right dead at them, right between the eyes, and say, 'Get back across the border, or you will be shot,'" the Texas-based militia commander said in a YouTube video heralding Operation Secure Our Border-Laredo Sector, a plan to block the wave of undocumented migrants coming into his state. "If you get any flak from sheriffs, city, or feds, Border Patrol, tell them, 'Look—this is our birthright. We have a right to secure our own land. This is our land.'"
Davis' video was publicized by local newspapers and the Los Angeles Times. But the militia never materialized in Laredo, and Davis walked back his comments. (The video has been taken down.) Over the last few weeks, a smaller force under Davis' watch has appeared along the southern border, spread thinly across three states. The fizzling of this grand mobilization was another reminder that the current immigration crisis has been missing a key ingredient of recent border showdowns: Bands of the heavily-armed self-appointed border guardians known as Minutemen.
During the past four years, the Minuteman groups that defined conservative immigration policy during the mid-to-late-2000s have mostly self-destructed—sometimes spectacularly so. Founding Minuteman leaders are in prison, facing criminal charges, dead, or sidelined. "It really attracted a lot of people that had some pretty extreme issues," says Juanita Molina, executive director of the Border Action Network, an advocacy group that provides aid to migrants in the desert. "We saw the movement implode on itself mostly because of that." An analysis by the Southern Poverty Law Center, which monitors right-wing extremist groups, found that the number of Minuteman groups in the Southwest had declined from 310 to 38 between 2010 and 2012.
The movement's coming-out moment was in 2005, as an influx in migrants from Mexico collided with post-9/11 security concerns to create a nativist revival. A Marine vet named Jim Gilchrist announced the formation of a monthlong, 1,000-man patrol along Arizona border. His Minuteman Project found a natural platform on conservative talk radio and cable news, and attracted support from nativist politicians such as then-Arizona Senate president Russell Pearce. Some Minuteman groups patrolled the US-Mexico line on foot, investing in night-vision goggles, ham radios, and ammunition by the bucket. Others were content to squat in lawn chairs under canopies, scanning the border for crossers and alerting Customs and Border Protection.
But the movement quickly splintered, and activists who found Gilchrist's methods too easygoing rushed to start their own organizations, many bearing the Minuteman name. Things went downhill from there.
Shawna Forde, an Arizona activist, left behind two larger groups to found Minutemen American Defense with Jason Bush in 2007. To get money for their operations, they turned to crime. In 2011, Forde, Bush, and another man were convicted of murdering Raul Flores and his nine-year-old daughter after a botched armed robbery of Flores' Arivaca, Arizona, home. When police dug deeper, they found a bloody past. Bush was also charged for the murder of a Latino man in Washington state in 1997, and in the murder of an Aryan Nations member he considered to be a "race-traitor" that same year. He also was suspected of a third, unidentified murder, but not charged. Washington prosecutors opted not to pursue the case because Forde and Bush were already on death row for the Flores murders.
Minutemen volunteers "find out the border is huge. They get tired of sitting in lawn chairs."
Forde and Bush were on the fringe, but they had connections to the more prominent mainstream Minuteman groups. Forde, for instance, had once been a member of a group called the Minuteman Civil Defense Corps, which has gone through several crises of its own. In 2012, one of the group's founders, a neo-Nazi Marine veteran named J.T. Ready—who also left the group to form a splinter unit—killed himself, his girlfriend, and three of her family members at his home in Gilbert, Arizona. At the time of his death, Ready was the subject of an FBI domestic terrorism investigation in connection with the deaths of an unspecified number of migrants whose bodies had been found in the Arizona desert.
Chris Simcox, who cofounded the MCDC with Ready, faces a more uncertain fate. A media-friendly personality who once considered challenging Sen. John McCain (R-Ariz.) for his Senate seat, he planned on taking the Minuteman movement to new heights by building a $55 million state-of-the-art border fence "based on the fences used in Gaza and the West Bank." But he raised just $1.8 million, and installed only two miles of barbed wire.
In 2010, Simcox went on the lam after his estranged wife filed a petition for a protective, saying that he had twice threatened to kill his family. (Simcox has denied those allegations.) He was tracked down by Stacey O'Connell, a former Minuteman who started a bounty hunting firm after resigning as the Arizona state director of Simcox's group three years earlier, citing mismanagement. Two months after being served by his old lieutenant, Simcox was charged with six counts of child molestation. He rejected a plea offer and is set to stand trial in September. (One of the charges has since been dropped.) When I called him, O'Connell said he had no plans to rejoin the Minutemen. "I haven't been involved with that in years," he said.
After Simcox's arrest, the leadership of the MCDC fell to Carmen Mercer, a German immigrant who ran a buffalo burger restaurant in Wyatt Earp's old home of Tombstone. Mercer announced a new operation targeting drug smugglers. She suggested acting without the aid of the US Border Patrol, inviting volunteers to come to the border "locked, loaded, and ready." But a week later, Mercer sent announced that the Minuteman Civil Defense Corps was disbanding. "People are ready to come locked and loaded, and that's not what we are all about," she wrote after a sudden change of heart.
Even Gilchrist, the original Minuteman, has seen his brainchild disintegrate. The board of Minuteman Project accused him of fraud; in turn, Gilchrist accused the board of theft. He was deposed as its president but was reinstated by a judge. He then lost a defamation lawsuit for launching an internet smear campaign wrongfully accusing another member of various federal crimes.
Meanwhile, the politicians who once embraced vigilante activities along the border have begun to drift away. Last August, Richard Malley, a member of an organization calling itself the Arizona Special Operations Group, was arrested on charges of aggravated assault with a deadly weapon after aiming his AR-15 at a Pinal County sheriff's deputy he had concluded was a member of a drug cartel. Malley, who had been on patrol 80 miles north of the border, had refused to put down his rifle even after the deputy pointed to his badge. After the incident, Maricopa County Sheriff Joe Arpaio, a longtime ally of the Minutemen who once accepted an award from Simcox, sounded like he'd had enough. "If they continue this there could be some dead militia out there," Arpaio told the Associated Press. "He's lucky he didn't see 30 rounds fired into him."
"I've been in the trench for a decade, you hear me? We're being invaded and you guys are mamsy-pamsying this shit."
Malley had been making the rounds that day with Robert Crooks, the founder of the Mountain Minutemen, who had disseminated a video in which he staged the fake execution of an undocumented immigrant. Crooks declined a request for an interview. "Dude, I've been doing this for 10 fucking years, I got a full-length movie out, I was in Penthouse magazine April '08, I got the fence of San Diego County, I've been in the trench for a decade, you hear me?" he said when I reached him on patrol in the desert. "I ain't fucking around with this bullshit. We're being invaded and you guys are mamsy-pamsying this shit. This country's fucking going to hell in a handbasket. Never mind!" Click.
But the Minuteman movement's problems go deeper than its fractious leadership. Patrolling the border is a massive undertaking. Glenn Spencer, the founder of American Border Patrol, proudly notes that his group predated the Minuteman movement and has largely outlived it. His seven-man outfit uses drones and small planes to monitor the border. Spencer, who had just come back from a flyover with a film crew from conspiracy theorist Alex Jones' InfoWars site, estimates it would take 30,000 committed and qualified military veterans to watch the border properly. "I don't encourage people to come down," he says. Volunteers "find out the border is huge. They get tired of sitting in lawn chairs."
The changing geography of the border crisis also make things difficult for civilian patrols. Arizona became a hub for Minutemen groups in part because it was so easy; much of the state's 362-mile border and points north are public lands, meaning anyone can walk it. But southern Arizona is no longer the most popular route into the United States; that distinction now belongs to South Texas. And in Texas, there's very little federal land; the border is the provenance of private ranchers who don't take kindly to strangers patrolling their property with high-powered rifles.
"A lot of [militia] have called me, and I'll tell them, the day may come where you're needed," says Mike Vickers, a Falfurrias veterinarian who runs the Texas Border Volunteers with his wife. But for now they were handling it in-house. "We have this access to private property, we work with the Border Patrol and the Texas Rangers, and we've been doing it a long time, and just showing up as militiamen—it's probably not gonna happen."
When I called Chris Davis' 24-hour militia hotline on Thursday, no one picked up. The call went to a teleconference line, and after 20 minutes of silence, I heard a voice on the other end. I struck up a conversation with the other caller, Danny Martin, a car wash owner from Victoria, Texas, who was looking for information on how to help the militias. He was worked up over a recent report that an Urdu-English dictionary was discovered on a Texas ranch. "It's Urdu to English, talking about the Palestinian language or whatever they speak over in Iraq. Obviously, Mexicans don't speak Urdu, so we've got some issues." (Urdu is spoken in Pakistan.) Martin was well armed, but as a Christian, he said he was committed to assisting migrants who came across. But his enthusiasm was for naught; the area in West Texas he wanted to patrol is rarely traveled by migrants.
Gilchrist hopes the current crisis will help the Minutemen get the band back together. In July, he announced a new project called Operation Normandy, as in D-Day: 3,500 "patriots" will converge on the Texas border, armed if necessary, to repel the invaders. "If you are familiar with the Normandy invasion of France in 1944, then you have an idea how large and logistically complicated this event will be," he told WorldNetDaily. The catch: The operation won't happen until May 2015.