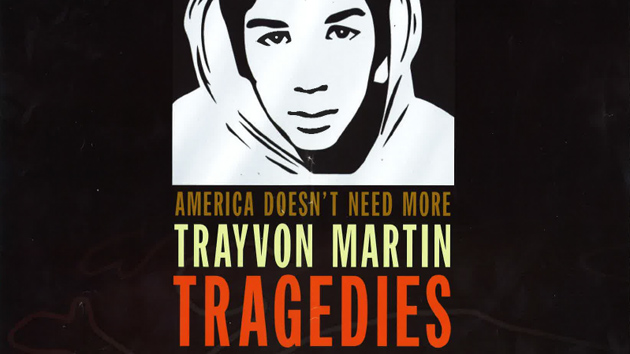 Could the 2012 killing of Florida teenager Trayvon Martin prove a deciding factor in an Arizona Democratic congressional primary? Former Maricopa County Supervisor Mary Rose Wilcox certainly hopes so. Seeking to gain an edge over her rival, ex-state Rep. Ruben Gallego, in the weeks leading up to Tuesday's primary, Wilcox's campaign has invoked Martin's shooting and her opponent's past support for a controversial Stand Your Ground law.
"America doesn't need more Trayvon Martin tragedies," read a mailer distributed by Wilcox's campaign earlier this month that blasted Gallego for voting "for an NRA-backed 'Stand Your Ground' law that made it easier to shoot someone and claim self-defense." The mailer went on to cite Gallego's B+ rating from the National Rifle Association, while asking voters to remember "tragedies like Newtown, CT" and "the theater in Aurora, CO." (Those shootings did not involve Stand Your Ground.)
Wilcox, who was shot in the hip in 1997 by an angry constituent, has kept gun control front and center during the campaign, although not always successfully. She brought up Gallego's vote at a recent debate; in June, her husband, Earl, confronted Gallego at a gun control rally, alleging that he was a "traitor to the cause." Gallego, a former NRA member, has said he brought a handgun to work at the state capitol after receiving threats, but supports a ban on assault rifles and the county buyback program Wilcox helped to start.
Gallego and Wilcox are vying for the nomination to replace retiring Democratic Rep. Ed Pastor in a deep-blue Phoenix district. The NRA became a wedge previously in last spring's special House election in Chicago, in which Democratic state Sen. Debbie Halvorson, who had received an A+ rating from the organization, became the target of a $2 million ad campaign launched by former New York City Mayor Michael Bloomberg's super-PAC. Voters chose former Democratic state Rep. Robin Kelly, an NRA critic, instead. But that race has been an outlier; although Stand Your Ground laws have triggered protests and galvanized activists across the country, it has yet to emerge as an issue that can make or break an election.
But Gallego's support for Stand Your Ground is only the latest line of attack by the Wilcox campaign, which, trailing in the polls, has pulled out all the stops. Wilcox previously attacked Gallego for having changed his last name (from Marinelarena) in 2008 to honor his mother. (His father abandoned the family when Gallego was a child.) A lawsuit, spearheaded by a Wilcox ally, alleged that Gallego had improperly filed the name-change paperwork and and demanded his surname appear as "Marinelarena" on the ballot.
This was only fair, Wilcox explained at the time, because she had sought to get another candidate thrown off the ballot for changing his name. But in that case, it was a white Republican, Scott Fistler, attempting to siphon Hispanic voters away by running under a newly changed name—"Cesar Chavez."
"My opponent has used the names Ruben Marinelarena, Ruben Gallego, Ruben Gallego Marinelarena, and Ruben Marinelarena Gallego at different times for various purposes since he moved to Arizona, a few years ago," Wilcox said. "A lot has happened under each of those names, and the voters have a right to know who a candidate really is."
This, as the Phoenix New Times reported, turned out to be false—Gallego had been perfectly consistent in the use of his new name and Wilcox eventually called off the dogs.
Arizona politics: It's never boring.