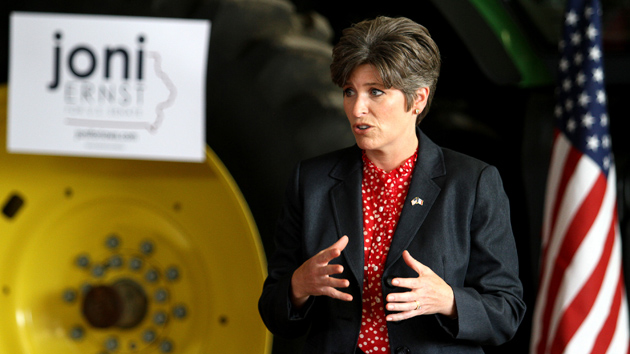 Fight disinformation:
Sign up
for the free
Mother Jones Daily
newsletter and follow the news that matters.
The battle between Democratic congressman Bruce Braley and Republican state Sen. Joni Ernst to be Iowa's next US senator couldn't be closer. In an effort to fire up voters in a race that could decide which party controls the Senate in 2015, the AFL-CIO—the labor federation representing 56 unions and 12.5 million workers—is blasting out mailers this week attacking Ernst for her membership in the American Legislative Exchange Committee, the so-called bill mill in which corporations and state lawmakers get together in private to draft industry-friendly legislation.
The new mailers, which are going out to tens of thousands of union households in Iowa, say that Ernst, who has been an ALEC member, "works for corporate interests, not yours" and is "already in the pockets of big corporations." The mailers also criticize Ernst for supporting "huge corporate tax breaks," refusing to support an increase in the minimum wage, and accepting $200,000 in contributions from donors who've supported ALEC, such as the tobacco company Altria, oil companies, and billionaire industrialist Charles Koch and members of Koch's immediate family. "Hardworking Iowa families are struggling," the mailer says, "but Joni Ernst just keeps voting with ALEC, the corporate special interest group that is taking over our state by giving free trips and expensive meals to politicians." (Ernst's campaign did not respond to a request for comment.)
Here's the first anti-Ernst mailer:
Here's the second anti-Ernst mailer:
Michael Podhorzer, the AFL-CIO's political director, says the anti-Ernst mailers are intended to hurt Ernst's image as well as motivate Democratic voters, who tend to be less enthusiastic in non-presidential years. The mailers, in other words, aren't geared toward swinging undecided voters but rather mobilizing the Democratic base to vote on Election Day. "These mailers are part of an effort to dramatize to people just how stark the choice is and how consequential their vote is," Podhorzer says. "We hope this will motivate people to turn out and motivate people who are undecided to think about the race in economic terms."
The AFL-CIO also plans to target two other Republican Senate candidates—Colorado congressman Cory Gardner and Michigan's Terri Lynn Land—with anti-ALEC mailers. A spokesman says the AFL-CIO will attack Gardner for being an "ALEC alum" (he was a member when he served in the state legislature) and Land for accepting contributions from ALEC donors.
This week, ALEC received some unwelcome news when Google board chairman Eric Schmidt said the company's decision to fund ALEC was a "mistake." Schmidt singled out ALEC's anti-climate-change stance as the reason for Google's regret over its ties with ALEC. "Everyone understands climate change is occurring and the people who oppose it are really hurting our children and our grandchildren and making the world a much worse place," he said. "And so we should not be aligned with such people—they're just literally lying."