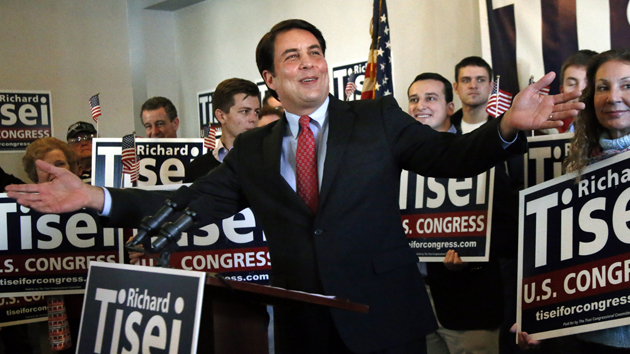 Fight disinformation:
Sign up
for the free
Mother Jones Daily
newsletter and follow the news that matters.
Update, 9/10/14: Turns out there will only be two gay Republicans on the ballot this November. Dan Innis lost his primary Tuesday night, defeated 49-40 by former Rep. Frank Guinta. Meanwhile, incumbent Rep. John Tierney was defeated as well last night in the Democrat primary in Massachusetts' Sixth District. That means Richard Tisei will face Democrat Seth Moulton this fall.
In late March, Richard Tisei, a Republican candidate for Congress in Massachusetts, took an unusual step for a politician in a close race: He boycotted his own party's convention.
The state GOP had added language to its platform opposing same-sex marriage, which has been legal in Massachusetts for a decade. The party's decision put Tisei in a tricky spot: He's a married, openly gay man. "I thought it was important for somebody to stand up and say the party is heading in the wrong direction," Tisei told Mother Jones. "At a time when progress is being made, it wasn't a good idea for Massachusetts to take a step backwards."
Tisei, a former state senator, is one of three openly gay Republicans challenging incumbent US House members this year. He's running unopposed in Tuesday's GOP primary in Massachusetts' 6th District. Dan Innis, a former dean of the business school at the University of New Hampshire, is running in New Hampshire's 1st District; his primary is also Tuesday. And Carl DeMaio, a former member of the San Diego city council, won the Republican primary in California's 52nd District in June.
Each of the three challengers has a decent chance of becoming the first openly gay Republican to be elected to Congress. The nonpartisan Rothenberg Political Report ranks DeMaio's race against freshman Democrat Scott Peters as a "pure toss-up." Innis' race, against Dem Carol Shea Porter, is listed as "toss-up/tilt Democrat." So is Tisei's race—although Tisei's chances could fall Tuesday if his presumptive opponent, scandal-plagued incumbent John Tierney, loses in the Democratic primary.
There are currently just six LGBT members of the House—all Democrats. Wisconsin Sen. Tammy Baldwin, a Democrat who was elected in 2012, is the first and, so far, only openly gay senator. Arizona Rep. Jim Kolbe—who came out after he'd initially been elected—was the last out GOP member of Congress, but decided not to seek reelection in 2006. "Opinions do evolve," Tisei says. "What I could do is be a catalyst to help bring about a change within the Republican caucus. Sure, it isn't going to happen over night, but when you're working with somebody closely on tax reform or economic issues and you get to know people as colleagues, it changes the dynamic in a lot of ways. Having a gay member of the caucus will open people's eyes and change their perceptions, and hopefully change their minds on a lot of the issues."
The three men are the first federal candidates—Democrat or Republican—to feature their same-sex spouses in campaign ads and literature. The Gay and Lesbian Victory Fund, a nonpartisan group that boosts openly gay candidates for office, has endorsed Innis and Tisei. Two endorsements for Republicans seeking federal office marks a new record in the organization's 23-year history, says Jason Burns, the Victory Fund's political director. (DeMaio hasn't applied for the group's endorsement this cycle, but they turned him down when he ran for mayor in 2012 and he has a shaky history with other LGBT groups.)
After Republicans lost Senate seats and failed to defeat President Barack Obama in the 2012 election, the GOP hired a cadre of operatives to assess what went wrong. They came back with a scathing self-indictment, which included criticism of the elements of the party that oppose LGBT rights. Their report said that the party needed to recruit more minority candidates, including gay ones; Republicans needed to "demonstrate that we care about them, too." Without going so far as saying that the GOP needs to change its policies, the report warned that "social issues" were driving away young voters. LGBT groups are willing to lend a hand for that cause. Freedom to Marry, an organization that has been at the forefront in pushing marriage equality across the country, recruited a batch of young Republicans—including the likes of CNN host S.E. Cupp and Meghan McCain—to push state parties to drop anti-same-sex marriage language from their platforms, so far focused on the early presidential states. "If there were more LBGT electeds, in both parties honestly, it helps us make the case," says Marc Solomon, the group's national campaign director.
The GOP's policy agenda, however, remains hostile to gay people. An entire section of the GOP's 2012 party platform was focused on "Preserving and Protecting Traditional Marriage." That document defines marriage as "the union of one man and one woman," and insinuates that LGBT couples aren't as good at parenting and raise kids more susceptible to "use drugs or alcohol, engage in crime, or get pregnant outside of marriage." House Speaker John Boehner spent more than $2 million in taxpayer funds to hire lawyers to defend the Defense of Marriage Act, a '90s-era law that had barred the federal government from recognizing same-sex marriages until the Supreme Court struck it down last summer. And House GOP leadership has refused to let the Employment Non-Discrimination Act, a bill that would add sexual orientation into workplace safeguards, come up for a vote on the floor—even though it has collected a handful of Republican cosponsors.
But DeMaio, Innis, and Tisei have all said they see no conflict between their party identification and their sexual orientation. Each supports legal same-sex marriage (all three are married themselves) and legal abortion, but they're not liberals. When it comes to fiscal matters, they tend to fall in line with the general party consensus to keep tax rates low and limit government regulation. "We don't need to reinvent ourselves," Tisei says. "We need to remember what the Republican Party was officially founded on."
Official Republican groups haven't shied away from backing the trio. San Diego's GOP committee endorsed DeMaio last year over two other Republican candidates. The National Republican Congressional Committee, the official campaign arm of the House Republicans, is set to unleash a torrent of money in the district, reserving $1.7 million in TV airtime, and even set up a fake news website that published articles criticizing DeMaio's opponent. NRCC chairman Rep. Greg Walden visited the district last month to raise funds for DeMaio. Karl Rove's Crossroads GPS has invested heavily in the race, spending $705,000 on ads in less than two weeks in August.
Not every House Republican was happy about the prospect of working with gay colleagues. Last December, Rep. Randy Forbes (R-Va.) rallied other conservative lawmakers and held meetings trying to dissuade the NRCC from supporting any openly gay candidates, Politico reported. And elements of the GOP's conservative base have rebelled against the NRCC's support for its trio of gay candidates. In August, Tony Perkins, president of the Family Research Council, attacked the NRCC for selling out the GOP's principles. "The problem here isn't that Dan Innis (N.H.), Carl DeMaio (Calif.), and Richard Tisei (Mass.) identify as gay—the problem is that they are anti-marriage activists," Perkins wrote last month, "openly fighting their own party on an issue that most Republicans still strongly believe in." To Perkins' mind, endorsing LGBT candidates threatens Republicans' chances at success in the midterms, but instead "some of the GOP want to snatch defeat from the jaws of victory!"
Still, it's not unfathomable that Republicans in the liberal bastions on the coasts might vote for DeMaio, Innis, or Tisei: It wasn't all that long ago that Democrats were also hostile to civil rights for LGBT folks. "We have endorsed historically more Democrats than Republicans," says Burns, the Victory Fund's political director. "But it wasn't that long ago that even the Democratic Party wasn't there on LGBT issues. It was a Democratic president that signed Don't Ask Don't Tell into law. It was a Democratic president who signed DOMA into law…When we started in '91, there wasn't a party that was better on these issues."