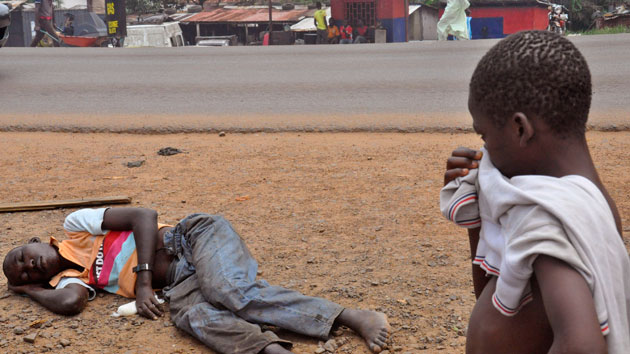 Fight disinformation:
Sign up
for the free
Mother Jones Daily
newsletter and follow the news that matters.
On Tuesday, the White House officially announced that it would be sending US troops to Liberia to fight the Ebola outbreak. The military has already requested to use $500 million from its Overseas Contingency Operations budget to deal with Ebola in West Africa and ISIS in Iraq, and plans to request another $500 million to combat the epidemic, which United Nations officials have said is needed to keep the number of cases in the "tens of thousands." (So far, the World Health Organization is aware of about 5,000 people who it believes have been infected in Liberia, Guinea, and Sierra Leone, although it says the actual toll is probably much higher.)
But as the military heads to Liberia, concerns over the region's stability—and to what degree US troops will be involved in maintaining it—still hover over the entire operation.
The core of the military's 3,000-troop mission in Liberia will be medical—building treatment centers and training medical staff by the hundreds to run them. But the outbreak and resulting panic have caused other problems, some of which the military will deal with, and others that they may try to avoid. One major problem is a food crisis: Liberia imports about two-thirds of its grain supply, but as its neighbors have closed their borders to prevent the disease from spreading and shipping into the country has slowed, food has become scarcer, and prices have increased. To ease this situation, the US operation will help to distribute food aid in the country.
But rising food prices, along with rising gas prices and an exhausted civil service, have created a bigger problem: a breakdown of civil society in Liberia, Guinea, and Sierra Leone. That has some people worried about a security risk that US troops will be keen to avoid.
"If the country kind of devolves into chaos and uncontrollable looting, the US military is going to be in an extremely precarious situation," says Jennifer Cooke, a West Africa expert at the Center for Strategic and International Studies in Washington. "There's going to be high expectations on the US military if that happens." She added that apart from the basics of building treatment centers and distributing food, the military needs to have a communications strategy that makes clear what they are doing and how it benefits the people of Liberia.
Already, the afflicted countries have experienced some episodes of instability during the outbreak. In Sierra Leone, crowds of people pelted a government hospital and police station in July on the heels of a rumor that Ebola was a lie invented to collect body parts. In Liberia, a riot broke out in August after the government quarantined a squatter settlement in Monrovia, the nation's capitol, that was home to tens of thousands of people. Amidst the chaos, the police shot and killed a 15-year-old boy. (The quarantine was lifted after 10 days.) Also in August, more than 50 people were injured in riots in Guinea's second-largest city after health workers disinfected a market without notice.
In a September 9 letter to President Obama requesting military support, Liberian President Ellen Johnson Sirleaf called special attention to instability. "In a country that has barely emerged from a 30-year period of civil and political unrest, with the presence of a large youthful (mainly unemployed) population, some of whom were child soldiers—this health emergency threatens civil order," she wrote.
Whether any of the US personnel being deployed to Liberia will be involved in maintaining security—or what their orders will be if a riot occurs on their doorstep—is still part of an ongoing planning process, according to a Defense Department official.
Even without security to worry about, the military will have its hands full. According to a White House fact sheet, the operation will be coordinated through a command center in Monrovia. Soldiers and engineers will be deployed throughout the country to build treatment centers and train perhaps 500 medical personnel per week to man them.
For the time being, the operation will be limited to Liberia, but it could expand into neighboring countries as needed. The Pentagon is currently planning to keep troops in the region for up to six months, according to the Defense Department official, "but we will support as long as needed."
This is not the first time the US military has deployed to Liberia in recent memory. In 2003, President Bush sent 300 troops to Monrovia to support a Nigerian-led peacekeeping force as the civil war drew to a close. In a speech Tuesday at the Centers for Disease Control and Prevention, President Obama compared the operation to the US military's deployment to Haiti after the 2010 earthquake.