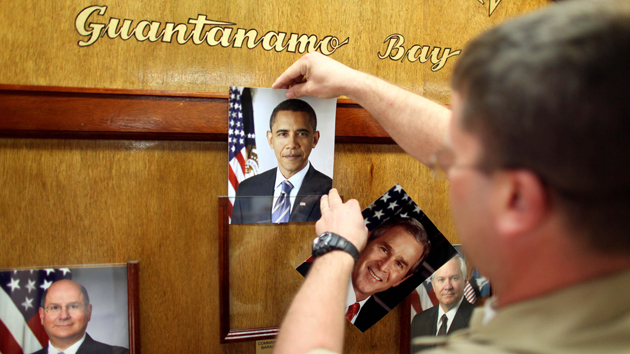 Fight disinformation:
Sign up
for the free
Mother Jones Daily
newsletter and follow the news that matters.
Rejoice! President Barack Obama intends to close the prison at Guantanamo Bay…seven years after he initially promised to do so. Per the Wall Street Journal: "The White House is drafting options that would allow President Barack Obama to close the detention facility in Guantanamo Bay, Cuba, by overriding a congressional ban on bringing detainees to the U.S., senior administration officials said."
If that sounds familiar, that's because Obama has repeatedly pledged to shutter the controversial detention center since the early days of his first presidential campaign. Once in office, reality—and congressional resistance—stymied his plans.
Here's a noncomprehensive list of nine previous times Obama or his aides talked about closing Gitmo:
June 2007
Barack Obama told a Texas crowd on Sunday that he wants the Guantanamo Bay, Cuba, detainee facility closed, a step the Bush administration is considering…"While we're at it," he said, "we're going to close Guantanamo. And we're going to restore habeas corpus." —Washington Post
November 2008
The Obama administration will launch a review of the classified files of the approximately 250 detainees at Guantanamo Bay immediately after taking office, as part of an intensive effort to close the U.S. prison in Cuba, according to people who advised the campaign on detainee issues. —Washington Post
January 2009
The detention facilities at Guantanamo for individuals covered by this order shall be closed as soon as practicable, and no later than 1 year from the date of this order. If any individuals covered by this order remain in detention at Guantanamo at the time of closure of those detention facilities, they shall be returned to their home country, released, transferred to a third country, or transferred to another United States detention facility in a manner consistent with law and the national security and foreign policy interests of the United States. —White House Executive Order
December 2009
In ordering the federal government to acquire an Illinois prison to house terrorism suspects who are currently held at Guantanamo Bay, Cuba, President Obama on Tuesday took a major step toward shutting down the military detention facility that its detractors say had become a potent recruitment tool for Al Qaeda. —New York Times
March 2011
The Administration remains committed to closing the detention facility at Guantanamo Bay, and to maintain a lawful, sustainable and principled regime for the handling of detainees there, consistent with the full range of U.S. national security interests. —White House Fact Sheet
October 2012
"There are some things that we haven't gotten done. I still want to close Guantanamo, we haven't been able to get that through Congress." —Obama on The Daily Show With Jon Stewart
April 2013
"I continue to believe that we've got to close Guantanamo. I think, well, you know, I think it is critical for us to understand that Guantanamo is not necessary to keep America safe. It is expensive. It is inefficient. It hurts us, in terms of our international standing. It lessens cooperation with our allies on counter-terrorism efforts. It is a recruitment tool for extremists. It needs to be closed." —Obama during a White House press conference
January 2014
"With the Afghan war ending, this needs to be the year Congress lifts the remaining restrictions on detainee transfers and we close the prison at Guantanamo Bay—because we counter terrorism not just through intelligence and military action, but by remaining true to our Constitutional ideals, and setting an example for the rest of the world." —Obama in his 2014 State of the Union address
September 2014
After a two-year lull in which no low-level prisoners were released, the detainees in early 2013 began a widespread hunger strike. The protest prompted Mr. Obama to revive his effort to close the prison. He appointed Mr. [Cliff] Sloan, a former White House and corporate attorney, and another envoy to negotiate transfer deals. —New York Times
Don't be surprised if you see similar stories in 2015 and 2016.