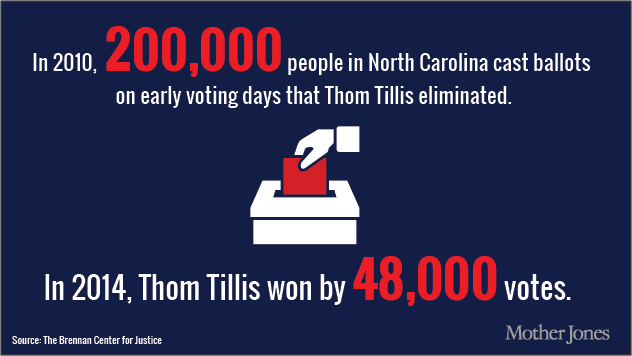 Fight disinformation:
Sign up
for the free
Mother Jones Daily
newsletter and follow the news that matters.
In several races around the country on Tuesday, the victors won by razor-thin margins. Many of these races were in states that had recently enacted voting restrictions expected to depress turnout amongst minorities, young voters, and the poor, according to a new report released Wednesday by the Brennan Center. No one knows how many of the newly disenfranchised may have voted. Nevertheless, the report's author Wendy Weiser notes, "[I]n several key races, the margin of victory came very close to the likely margin of disenfranchisement." Here's look at the numbers in some of those elections, all via Brennan:

Kansas Governor: Republican Gov. Sam Brownback got 33,000 more votes than his Democratic challenger Paul Davis.
In 2011, Kansas implemented a requirement that voters provide documentation of citizenship to vote, and just before the 2012 election, the state enacted a strict photo ID law.
More than 24,000 Kansas voters tried to register this year, but couldn't because of the state's proof of citizenship law. In addition, it's estimated that the state's photo ID law reduces turnout by about 2 percent, or 17,000 voters.

North Carolina Senate: Republican House state speaker Thom Tillis beat incumbent Democratic Sen. Kay Hagan by 48,000 votes.
In 2013, North Carolina enacted a law—which Tillis helped write—limiting early voting and same-day registration, which the Justice Department warned would likely depress minority turnout. During the last midterms in 2010, about 200,000 North Carolinians cast their ballots during early voting days that the state's new voting law eliminated.

Virginia Senate: Democratic Sen. Mark Warner beat GOPer Ed Gillespie by a margin of just over 12,000 votes.
Voters this year faced a new voter ID law that the state enacted in 2013. This type of law tends to reduce turnout by about 2.4 percent, according to New York Times pollster Nate Silver. Applied to the Virginia Senate race this year, that would mean that turnout was reduced by over 52,000 voters.

Florida Governor: Republican Gov. Rick Scott eked out a victory over former Democratic Gov. Charlie Crist by roughly 72,000 votes.
In 2011, Florida reduced the early voting period. The same year, Scott imposed a measure making it nearly impossible to vote for convicts who have already served their time. The move essentially disenfranchised nearly 1.3 million formerly incarcerated Floridians, about one in three of whom are African-American.