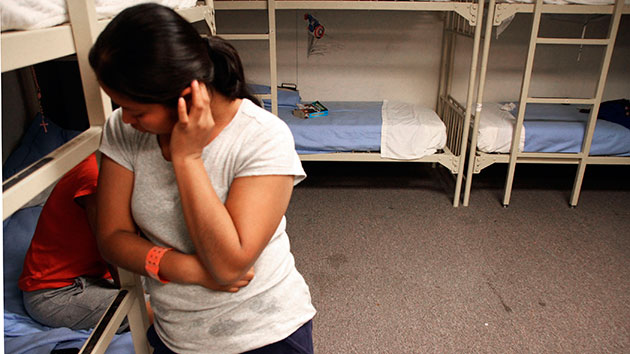 Fight disinformation:
Sign up
for the free
Mother Jones Daily
newsletter and follow the news that matters.
This past summer, the "border kids"—tens of thousands of unaccompanied minors from El Salvador, Guatemala, and Honduras detained after crossing into the United States—became the country's latest immigration crisis. Aid groups mobilized, Congress held hearings, and pleas for compassion resounded at the highest levels of government. "These are our kids," Vice President Joe Biden told a group of lawyers in August, urging them to offer the children free legal representation.
But the Obama administration hasn't extended that caring attitude to another huge group of Central American migrant kids—those traveling with a parent or guardian, usually their mother. In fiscal 2014, according to data from US Customs and Border Protection, these so-called family unit apprehensions nearly quadrupled. By comparison, the increase in kids arriving at the border alone—the surge that put Capitol Hill in a crisis mode—was a relatively modest 77 percent.
In perhaps the biggest policy reversal since the surge began, the federal government has rebuilt the controversial family detention system it gutted only a few years ago, in no small part to send a message to would-be immigrants—even though 98 percent of those at one Texas detention facility were asylum seekers who claimed that they feared returning to their home countries, according to a recent report by the Women's Refugee Commission and the Lutheran Immigration and Refugee Service. "I certainly would've never expected it from this administration," said the WRC's Michelle Brané, who coauthored the report. "Why they went for this draconian detention, I just don't get it."
In 2009, the feds stopped detaining women and children at the notorious T. Don Hutto facility near Austin, Texas, following Bush-era allegations of stark conditions and sexual abuse. Family detention seemed to be on the outs. Then, in July, the White House put forward a $3.7 billion emergency appropriations request that included $879 million for about 6,300 new family detention beds. While the request never made it through Congress, the Department of Homeland Security still managed to open a temporary family facility in Artesia, New Mexico, and a second one in Karnes City, Texas. (Nearly 500 women and children have been deported since these facilities opened their doors to family-unit detainees.)
The Artesia facility is set to close this month, just in time for DHS to open yet another family detention center in Dilley, Texas. Built to house 2,400 migrants, the South Texas Family Residential Center will be the largest Immigration and Customs Enforcement facility ever. Like Hutto, it will be run by the private prison firm Corrections Corporation of America.
Anti-detention advocates argue that locking up families is not only expensive—ICE spends $161 a day to detain the typical immigrant, but $266 a day per family-unit detainee—but also traumatic and unnecessary. For the past several years, said American Civil Liberties Union lawyer Michael Tan, women with children who passed the so-called credible fear of persecution screening, which comes before an asylum hearing, were allowed to live in the community while they went through the immigration process. "The agency understood that if you were a bona fide asylum seeker we didn't need to lock you up," Tan said. Besides, alternatives to detention can be nearly as effective in getting people to their immigration hearings, at a fraction of the cost.
"Detention puts a whole lot of pressure on extremely vulnerable people to give up their cases," Tan said. "The immigration authorities know that one way to facilitate removal is to keep people locked up."
But this past summer, the government instituted what the ACLU, in a just-filed class action lawsuit, describes as a blanket no-release policy that keeps women and children under lock and key—even though they've passed credible-fear screenings and have every incentive to show up for an asylum hearing. Worse still, attorneys who've been to Artesia and Karnes City have been complaining for months about what they've seen at the two facilities. Artesia, for example, is a remote oil town in southeastern New Mexico, halfway between Carlsbad and Roswell on US 285. Because it is so isolated, legal services there have been limited to a rotating cast of attorneys organized by the American Immigration Lawyers Association who are working pro bono for a week at a time. In August, several groups filed a complaint alleging a violation of due process rights at the facility.
At a House Homeland Security Committee hearing this month, DHS Secretary Jeh Johnson acknowledged some of the criticisms, saying he wanted "to make sure we have adequate ability for effective attorney-client communications" moving forward. He continued: "I believe that added detention capability on the southern border, and some disagree with me, is essential to border security." On Monday, at the Dilley facility's inauguration, Johnson was more blunt: "It'll now be more likely that you'll be detained and sent back."
I recently spoke with a woman I'll call Jessica Ramos, who landed at Artesia after fleeing Honduras with her two-year-old son, Nicolás (also a pseudonym). She left as soon as she could after her gang-affiliated boyfriend put a gun to her boy's head and then, moments later, stuck the barrel in her mouth. The preceding months had been marked by increasing violence, including twice-daily sexual assaults, and Ramos was sure she'd end up dead if she didn't get far away fast. "The law doesn't do anything there—what options do we have?" she told me in Spanish. "To run away with our kids."
"The law doesn't do anything there—what options do we have?" said Jessica Ramos of her native Honduras. "To run away with our kids."
So, on July 2, Ramos and Nicolás left Olancho, which is located along Honduras' eastern border with Nicaragua and is one of the most violent regions in the world's most violent country. Her sister helped wrangle a smuggler to lead them through Guatemala and Mexico. On July 17, they entered South Texas by crossing the Rio Grande, and were quickly apprehended. A few days later, they were shipped to the recently opened Artesia facility.
According to Brané's report, some of the problems that led to Hutto's closing are cropping up again. More than half of the 1,050 minors booked into family detention this year were six or younger, the report notes. At the Karnes City facility, which is now facing a complaint alleging sexual abuse, extortion, and harassment by guards, women reportedly had to carry their infant children incessantly—no crawling was allowed. Many children were depressed and lost weight. Jesse Lloyd, an attorney who has spent time at Artesia, told me that one three-year-old stopped eating solid food because he couldn't process the institutional fare. ICE officials wouldn't let seven-year-old Nayely Bermúdez Beltrán leave the Karnes City detention center to see a doctor, despite a malignant brain tumor that required immediate treatment. (She and her mother, Sara Beltrán Rodríguez, were eventually released, after the local media caught wind of it.)
Additionally, Artesia offered scant child care, which meant that children were in tow while their mothers met with immigration attorneys and asylum officers and shared traumatic stories of violence and sexual assault. (Some mothers censored their stories to protect the kids, the report noted, in effect hurting their cases.) Attorneys complained that the new facilities didn't have telephone rooms, and instead relied on guards to carry around cellphones the detainees could ask to use—Brané points out that such a setup could enable guards to coerce and sexually harass women and girls.
In detention, Nicolás lost nearly a third of his weight, dropping from 55 pounds to 39. Ramos shed 20 pounds herself, and even started losing some hair.
When Ramos arrived at Artesia, she said, the staff went out of their way to antagonize her, telling her that there was no chance she'd get asylum. Detainees were compelled to make the foamy bathroom hand soap double as shampoo. The food was "horrible." Nicolás lost nearly a third of his weight, dropping from 55 pounds to 39. Ramos shed 20 pounds herself, and even started losing some hair. She mostly kept to herself, she told me, making friends with just one other detainee, a woman from El Salvador. She was wary about befriending other Hondurans, on the off chance her ex might find out where she was.
Nicolás didn't understand why they were locked up, and he grew increasingly withdrawn as the weeks turned into months; at one point, outside in the detention center's yard, he saw a bus drove by. "Mommy," he said, "let's go on that bus. I don't want to be here." Ramos grew desperate. She knew she couldn't go back to Honduras. When a Denver-based attorney named Elanie Cintron walked into a roomful of Artesia detainees one day and asked if any of them needed legal representation, Ramos shot her hand up.
With Cintron's help, it wasn't long before Ramos was granted an asylum hearing. Following hours of testimony, the judge gave a 45-minute explanation of her ruling, all in English. Ramos had attended with another lawyer, since Cintron was back in Colorado at the time. She kept tapping the attorney's hand, searching for clues as to how the judge would decide. Finally, the judge stopped talking. The lawyer turned to her: "Congratulations, Jessica!"
Ramos broke down crying. Her legal team was able to get her and her son released immediately—some women have had to wait up to 30 days—and Nicolás requested a pizza and chicken dinner to celebrate. Several days later, the two were on a plane to New York City. They settled with Ramos' sister in Brooklyn.
"The government came into this with a very clear assumption and goal," Brané said. "The assumption was these families didn't have protection needs, and the goal was to get them out quickly. I think that that's being proven wrong." Still, Obama's recent immigration executive action doesn't protect new arrivals, and it remains to be seen whether the shift to the new Dilley facility, located just 70 miles from San Antonio, will mean that more women and children will get legal aid and eventually be released.
"All the women in there," Ramos told me, "have a case."
This article has been updated.