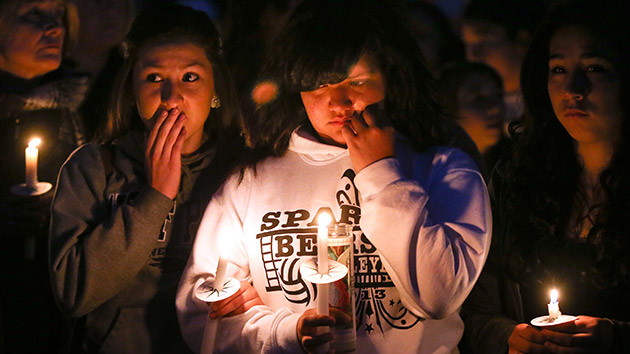 Fight disinformation:
Sign up
for the free
Mother Jones Daily
newsletter and follow the news that matters.
Classes were just about to begin on the morning of October 21, 2013, when 12-year-old Mason Davis heard shots ring out on the basketball court. A teacher lay sprawled on the ground as Davis started to run for the school building. Then he saw his friend and classmate, 12-year-old Jose Reyes. "Please don't shoot me," Davis said, "please don't shoot me." That's when Reyes pointed the 9 mm Ruger at him and pulled the trigger.
Davis, who was wounded in the abdomen, was lucky to survive the attack at Sparks Middle School in Nevada, as was another student who'd been shot in the shoulder. Forty-five-year-old math teacher Michael Landsberry did not make it. Reyes, who reportedly had been bullied and suffered from mental-health problems, also used the semi-automatic handgun he'd taken from his parents' home that morning to put a bullet in his own head.
In the two years since the massacre at Sandy Hook Elementary in Newtown, Connecticut, no school shooting has claimed as many lives, nor ones as young, as on that terrible day. But fatal gun attacks at schools and on college campuses remain a fixture of American life. They have occurred once every five weeks on average since Sandy Hook, including two attacks—one in Santa Monica and another near Seattle—in which four or more victims were killed.
With an investigation drawing on data from dozens of news reports, Mother Jones has identified and analyzed 21 deadly school shootings in the past two years. The findings include:
A total of 32 victims were killed (not including shooters).
11 victims were injured.
5 shooters were killed (including four who committed suicide, and one shot dead by police).
The school shootings occurred across 16 states.
14 attacks occurred at K-12 schools, and 7 occurred on college or university campuses.
During the same period, there have been dozens of other gun incidents on school grounds that caused injuries, as well as seven additional cases where someone committed suicide with a firearm, but no one else died. (See this report from the advocacy group Everytown for Gun Safety, which contains a broad list of firearm incidents at schools.) A handful of the cases we analyzed involved shooters who appeared to have mental-health problems, a prominent factor in the mass shootings database we compiled for another investigation. (The attack last May near the University of California-Santa Barbara is not included here because although college students were among the victims it did not take place on campus.) Several other cases appeared related to gang violence or domestic disputes. Though it's not clear in all cases what type of firearms were used, in several the perpetrators wielded shotguns, semi-automatic handguns, and AR 15-style assault rifles.
Gun violence has regularly been at the political forefront since Newtown. While Congress failed to pass a background check bill four months after the devastation, state lawmakers nationwide approved more than a hundred laws either strengthening or weakening restrictions on firearms in the first year after Sandy Hook alone. Gun rights activists have responded by provoking controversy with open-carry demonstrations, while on the gun control side, major new players have emerged. Lockdown drills have become common at schools, and many have added armed personnel or even tested active-shooter detection systems that use technology deployed in war zones. In November, for the first time in 15 years, a state decided by popular vote to require universal background checks for gun buyers.
All the same, the toll has gone on, with hundreds of children shot to death, daily violence routinely claiming multiple victims, and mass shootings becoming three times more frequent.
Below is the dataset from the investigation. View it in its entirety by clicking here for the Google spreadsheet. Research was contributed by Mother Jones editorial fellow Bryan Schatz.
For more of Mother Jones' reporting on guns in America, see all of our latest coverage here, and our award-winning special reports.