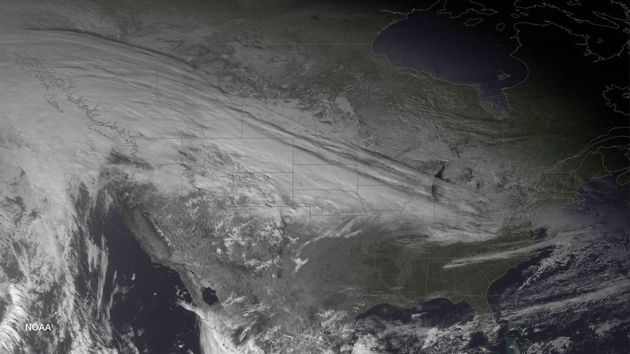 This story originally appeared in CityLab and is republished here as part of the Climate Desk collaboration.
To get an idea why wind chills will plummet to 45 degrees below zero in the US this week, look no farther than this unreal image of a colossal polar system cutting through the country like the icy scythe of a rancorous Norse god.
A NOAA satellite caught the coast-to-coast eyeball-freezer on Tuesday as it was revving up for an icy romp across America. Writes the agency:
The weather pattern over the next few days will feature a massive surface high settling southward from Canada to the Great Plains on Wednesday, following by another large surface high by the end of the week. Both of these features are of Arctic origin, and will bring bitterly cold weather from the western High Plains to the Mid-Atlantic and Northeast US In addition to the frigid temperatures, the cold air advection over the Great Lakes along with upper-level shortwave energy moving over the region is expected to produce significant lake effect snow downwind from the Great Lakes through midweek.
Areas east of Lake Erie and Lake Ontario are predicted to get the worst of the accumulations, which must be a comfort to Buffalo residents who are probably almost finished digging out from the last winter storm. NOAA says these regions will be served with snowfalls that "will easily exceed one foot."
As for the other weather misery afflicting the nation, take a peek at these expected wind chills. It's not a great time to be outside in the northern states, where the government is advising travelers to pack winter-survival kits.