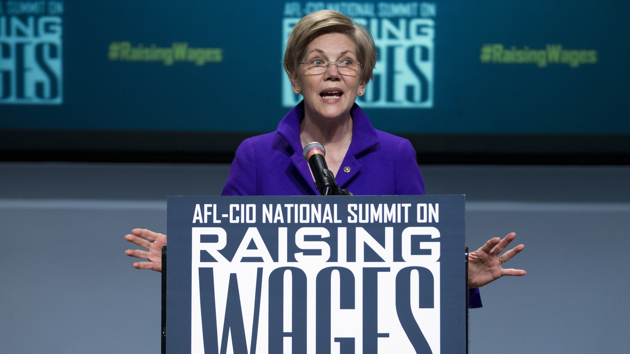 Fight disinformation:
Sign up
for the free
Mother Jones Daily
newsletter and follow the news that matters.
Elizabeth Warren says "America's middle class is in deep trouble." Although general economic indicators are on the rise, the Massachusetts senator argued in a speech Wednesday morning, pay has stagnated for all but the richest Americans—and trickle-down voodoo economics and loose Wall Street regulation are to blame. And although Warren has given every indication that she's happy to remain in the Senate and pass on liberals' hopes that she'll run for president in 2016, her speech—at an AFL-CIO conference on wages—had the tone of a presidential campaign barnstormer.
Warren kicked off her address by noting that the current economic recovery, while real, hasn't helped most Americans. The stock market's up, but half the country doesn't own any stocks. Inflation is low, but that doesn't matter for millennials burdened by overwhelming student debt. Corporate profits have risen, but that hardly matters to people who work at Walmart and are paid so little that they still need food stamps, Warren said.
This divergence between the rich and the rest has been long in the making, Warren said. Since the 1980s, she noted, wages have actually fallen for everyone outside the wealthiest 10 percent of Americans. "All of the new money earned in this economy over the past generation—all that growth in the GDP—went to the top," Warren said.
The spirit of trickle-down politics is to blame, according to Warren. It's just "magical accounting scams that pretend to cut taxes and raise revenue." In the 1980s, President Reagan and his economic swami Arthur Laffer pushed the concept that slashing taxes on the rich will actually benefit the poor; the top 1 percent would have more money to spend and would end up revving the entire economy. "Trickle-down was popular with big corporations and their lobbyists," Warren said, "but it never really made much sense." This theory has generally been debunked by economists but is still loved by Republicans. The new House majority has already changed the way Congress does math in order to align with trickle-down theories, and Republican governors have tanked state budgets by lowering taxes on the rich—all while promising those tax cuts will help state economies.
Add in Wall Street deregulation, and you've built a powder keg to keep the middle class down. "Pretty much the whole Republican Party—and, if we're going to be honest, too many Democrats—talked about the evils of 'big government' and called for deregulation," Warren said. "It sounded good, but it was really about tying the hands of regulators and turning loose big banks and giant international corporations to do whatever they wanted to do."
But when it came to laying out an actual vision for how to boost the wages of middle-class workers, Warren remained vague, relying on typical broad strokes of Democratic policy, pushing for more investment in infrastructure and education, higher taxes on the rich, increased opportunities for workers to unionize, and trade policies to favor American manufacturing. Warren didn't spell out how she'd achieve these goals. The closest she got to a specific policy recommendation was when she called for breaking up Wall Street banks.
Warren closed on a somber note, recalling how, after her father suffered a heart attack, her family got by on her mother's minimum-wage job at Sears. "I grew up in an America that invested in kids like me," Warren said, "an America that built opportunities for kids to compete in a changing world, an America where a janitor's kid could become a United States senator. I believe in that America." The hushed crowd jumped to its feet in applause. Sure, Warren's story fit the theme of why wages need to be higher. But it was exactly the sort of personal-as-political tale that wouldn't sound out of place on the presidential campaign trail.