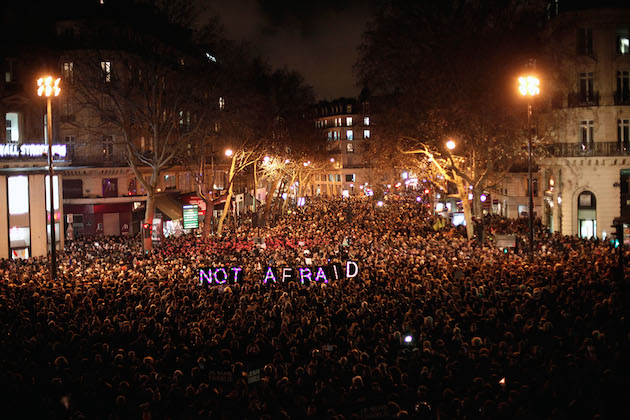 Facts matter:
Sign up
for the free
Mother Jones Daily
newsletter.
Support
our nonprofit reporting.
Subscribe
to our print magazine.
Dozens of demonstrations have been developing around the world in the wake of Wednesday's massacre in Paris at the offices of the satirical newspaper Charlie Hebdo, where masked gunmen murdered 12 and injured 10 others. French newspaper Le Monde is tracking the growing number of rallies, including those in Berlin, London, New York, and Montreal.
In Paris on Wednesday evening, a crowd reportedly numbering in the thousands gathered at Place de la Republique, rallying in solidarity around the phrase "Je Suis Charlie," or "I am Charlie." Some raised pens in tribute to the slain cartoonists.
Parisians raise pens during a rally in support of the victims of the #CharlieHebdo attack http://t.co/kr0vQNDkr9 pic.twitter.com/7YlRWm1vpk

— BBC Breaking News (@BBCBreaking) January 7, 2015
La foule, place de la République. #CharlieHebdo pic.twitter.com/teQfsQ9iX9

— Jérôme Godefroy (@jeromegodefroy) January 7, 2015
#JeSuisCharlie demonstrations mounting in Paris pic.twitter.com/zdJp0cfPDZ

— Chris Kardish (@CKardish) January 7, 2015
Solidarity demonstrations have begun in Paris following #CharlieHebdo attack pic.twitter.com/z4DfZoF8s7 – @MGelsa

— Mashable News (@MashableNews) January 7, 2015
Photos coming in from around Paris of demonstrations after #parisattack #ChalieHebdo pic.twitter.com/uXGWJswIw8

— News This Second (@NewsThisSecond) January 7, 2015
#CharlieHebdo – Thousands join rallies in France to pay tribute to Paris attack victims. Photo: Joel Saget #AFP pic.twitter.com/wrTxkuDkUw

— Stephanie Beauge (@sbeaugeAFP) January 7, 2015
#CharlieHebdo attack: people gather at the Place de la Republique in Paris http://t.co/XPhZyspqIE Pic. AFP/Getty pic.twitter.com/JfnGqMnt9T

— Guardian news (@guardiannews) January 7, 2015
There was also a stirring tribute from the entire newsroom of Agence France-Presse on Wednesday:
#JeSuisCharlie tribute to #CharlieHebdo at #AFP news room in Paris pic.twitter.com/J1vTDttDwg

— AFP Photo Department (@AFPphoto) January 7, 2015