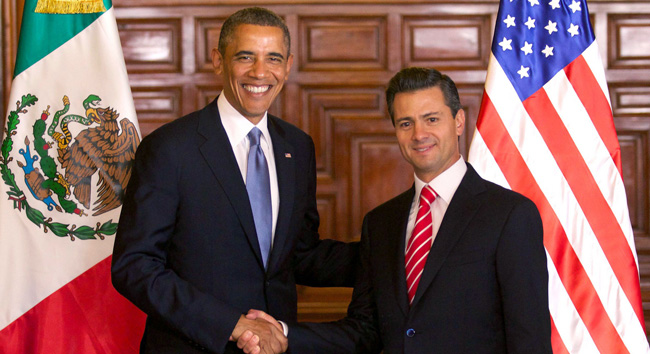 Fight disinformation:
Sign up
for the free
Mother Jones Daily
newsletter and follow the news that matters.
On Tuesday, Mexican President Enrique Peña Nieto arrived in Washington to meet with President Barack Obama. Familiar topics, such as trade and the economy, are high on the leaders' agenda. But Peña Nieto's record on security—particularly the 2014 disappearance of 43 Mexican students taken by police and believed to be dead—will likely dominate this week's meetings. So too will the sheer scope of Mexico's eight-year drug war: Since 2007, it's estimated that more than 100,000 Mexicans have been killed and some 20,000 disappeared.
Since taking office in 2012, Peña Nieto has enjoyed an "extraordinarily close" relationship with the Obama administration, and—rhetorically, at least—has sought to move from the militarized response to organized crime that characterized the presidency of his predecessor, Felipe Calderón. Nevertheless, human rights organizations and activist groups are calling on Obama to demand answers from Peña Nieto for the Mexican government's failures. In a letter to Obama, Human Rights Watch claimed that Peña Nieto's government "has largely failed to follow through on its own initiatives" to make the country safer, and called on the president to "ask [Peña Nieto] to explain exactly what steps he is taking to ensure that Mexico prosecutes abuses."
The students' disappearance isn't just a Mexican problem. Under the Merida Initiative, a joint security partnership, the United States has given more than $2 billion to Mexican security forces since 2008. The funding—provided by American taxpayers—come with conditions, including that Mexico investigate police abuses. "Despite unequivocal evidence—including cases documented in the State Department's own reports—that Mexico has failed to meet these requirements, your administration has repeatedly allowed the funds to be released," Human Rights Watch wrote in the letter.
In a Monday press release, a senior White House official expressed the administration's "strong belief" that those responsible for the students' disappearance will be brought to justice, and nodded at the Mexican government's arrest of more than 70 suspects. "I'm certain that this will be a part of the conversation tomorrow," the official said.
The Obama administration's assurances did not mollify the dozens of protesters who greeted Peña Nieto at the White House on Tuesday morning. Andrea Adum, who made the trip from Staten Island, said she wanted to see a stronger response, including reconsideration of Merida and the ousting of Peña Nieto's government. "We know the government did nothing" to investigate the students' disappearance, she said. The 70 arrested, she claimed, were "people the government were looking to blame, to try to calm the protesters down." Protester Arnoldo Borja was pessimistic too: Nothing constructive will happen between the two leaders, he predicted. "It's been massacre after massacre" in Mexico, he said. "After this, then what?"