You know how when you copy text from certain websites, it pastes with a bunch of junk you didn't mean to copy? Like promotional crap for the website?
Business Insider adds "Read more:" and the URL:

Daily Mail adds that and Twitter and Facebook links: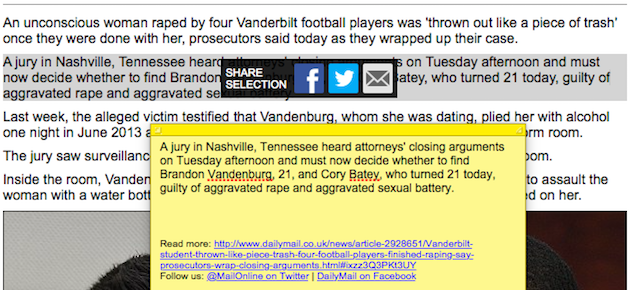 This is a super annoying service, designed to boost SEO, provided by a company called Tynt.
Places pay for this service. A place I used to work (briefly) paid for this service. It was super annoying! One day a colleague showed me a little known secret to turn it off and made my life immeasurably better.
I now share this little nugget with you:
Step 1) Open a browser.
Step 2) Type in the URL of an offending site.
Step 3) add ?disableTracer=on to the end of the URL. (example: http://www.businessinsider.com?disableTracer=on)
Step 4) Press Enter.
Step 5) You're done!
You'll have to do this for every browser you use and every site, but trust me, if you visit one of these sites often, it's worth it.
UPDATE: An even easier way to turn this off for all websites is to go here, and just click "opt out." You'll still have to do it in each browser but you won't have to do it for every site. (Thanks to indispensable friend Stefan Becket for the tip.)