Fight disinformation:
Sign up
for the free
Mother Jones Daily
newsletter and follow the news that matters.
A few weeks before Benjamin Netanyahu delivered his controversial address to Congress, the Jerusalem Post reported that the Israeli Prime Minister was considering a campaign trip to Hebron, a right-wing settler community in the Israel-occupied West Bank. The proposed March 10 trip to Hebron, which would have been the first by an Israeli PM in more than a decade, raised eyebrows among Israel's political class and inflamed tensions with Palestinian groups. Last week, Netanyahu called it off, citing security threats.
"The Hebron Fund has supported, either directly or indirectly, a wide array of acts that are definitely not charitable," says Avaaz lawyer John Tye.
Here in the United States, meanwhile, few politicians have questioned why American taxpayers continue to subsidize the Hebron settlers, accused by international observers of human rights violations that include thefts, battery, and murder. In 2003, the most recent year for which figures are available, an estimated 45 percent of the settler community's funding came from the Brooklyn-based Hebron Fund, whose status as a tax-exempt nonprofit allows Americans to write off donations to the group.
"The Hebron Fund has supported, either directly or indirectly, a wide array of acts that are definitely not charitable," says John Tye, the legal director for the global activist group Avaaz, which last week petitioned the IRS to revoke the Hebron Fund's nonprofit status. "They are basically using a small group of Jewish settlers in the West Bank to push Palestinians out of their homes. These settlers are arming themselves, they are engaged in military and paramilitary acts, some of them have connections to terrorism, and they are committing a wide range of crimes against Palestinians."
The Hebron Fund declined to make anyone available for comment for this story, or to respond to my written questions.
Hebron, a community of some 200,000 Palestinians located about 30 miles south of Jerusalem, is home to several ancient Jewish holy sites. The modern Jewish occupation began in 1967, after the Six Day War. The Hebron Fund was founded in 1979 to support the settlers, who now number around 850.
After years of conflicts between Palestinians and settlers, the historic center of Hebron has come to be known as "The Ghost Town." It is largely abandoned, with the doors of Arab shops welded shut by Israeli Defense Forces (IDF) during the second intifada. Palestinians are forbidden from entering much of the area. In other parts of downtown Hebron, Jewish settlers live in buildings above Palestinian shops. The shopkeepers have stretched nets and metal grates over the streets to catch the garbage that settlers routinely throw from their windows: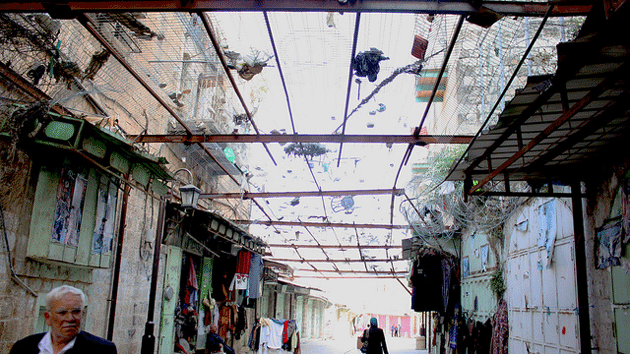 The behavior of Jewish settlers in Hebron has been repeatedly denounced by human rights groups. In 2001, Human Rights Watch called Hebron "the site of serious and sustained human rights abuses," including "a consistent failure [by IDF] to protect Palestinians from attacks by Israeli settlers." In 2011, the Israeli human rights group B'Tselem wrote that settlers "have been involved in gunfire, attempts to run people over, poisoning of a water well, breaking into homes, spilling of hot liquid on the face of a Palestinian, and the killing of a young Palestinian girl."
In recent months, vandals in the Hebron area have destroyed Palestinian olive groves, an Israeli human rights group reports.
In 2013, the United Nations Office of the High Commissioner for Human Rights expressed "deep concern" at the abusive treatment and harassment directed at a Palestinian activist in Hebron by settler groups and the IDF. Breaking the Silence, another Israeli human rights group comprised of IDF veterans, offers guided tours of Hebron—but only rarely, the group writes on its website, due to "the Hebron settlers' violence towards our tours and the limited ability of the Hebron police to protect our tours from this violence."
Just in the past two months, according to B'Tselem, vandals in the Hebron area have destroyed Palestinian olive groves in four locations.
At least one former member of a terrorist organization has joined the Hebron settlement. Baruch Marzel, a one-time spokesman for the extremist Kach Party, which is listed by the United States and Israel as a terrorist group, lives in Hebron's Tel Rumeida outpost. In 2011, he helped organize a manhunt for a Palestinian man, Hani Jaber, who'd just been released from jail after serving 18 years for killing a Jewish settler. Posters appeared on Hebron walls with Jaber's face and the words, "Rise up and kill him."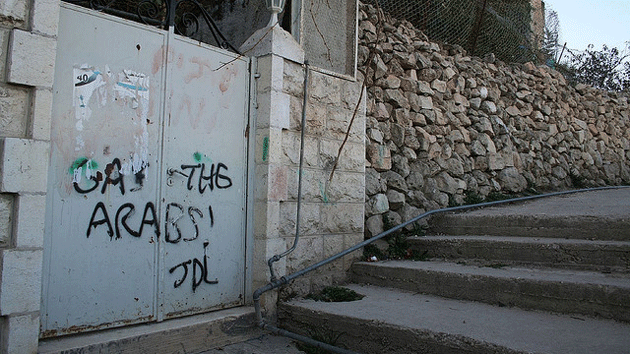 At times, the Hebron Fund has specifically sought to raise money for controversial settler activities. In 2007, according to Salon, it held a fundraiser on a cruise ship in New York's Hudson River to support a settler who'd taken property from a Palestinian family. A year and a half later, the Israeli government ruled that the house had been illegally seized from the family and ordered the settlers out. Once evicted, the settlers set fire to Palestinian houses, olive trees, and cars—25 people were wounded, including a man shot at close range.
In 1974, the Supreme Court said the IRS could revoke the nonprofit status of Bob Jones University for its refusal to admit black students.
The United States tax code does not provide detailed information about what can disqualify groups from nonprofit status, though precedent suggests that it includes illegal and discriminatory behavior. In 1974, for example, the Supreme Court ruled that the IRS was justified in revoking the nonprofit status of Bob Jones University over its refusal to admit black students.
The Hebron Fund has not released detailed financial information, making it impossible to determine whether it directly bankrolls prohibited activities. Yet Tye of Avaaz argues that the settlements' finances are sufficiently fluid and dependent upon the Hebron Fund to make it inherently complicit in any abuses. "I can't tell you precisely where every dollar has gone," he says. "But when there is a doubt, the legal burden is on the Hebron Fund to produce documents that show how its money is spent."
This isn't the first time a group has asked the IRS to revoke the Hebron Fund's nonprofit status. In 2009, a similar complaint was submitted by the Washington-based American-Arab Anti-Discrimination Committee. The IRS never responded.
Though Tye believes there's already sufficient public evidence to revoke the fund's nonprofit status, he at least wants the IRS to conduct a thorough investigation. A spokesman for the IRS declined to comment on the case, citing a federal law that bars the agency from discussing specific taxpayers.