On February 26, ISIS released a video of its militants smashing ancient Assyrian artifacts in the central museum in Mosul, Iraq. In a matter of minutes, they jackhammered the face of a famous 3,000-year-old Assyrian winged bull* and broke apart four 2,000-year-old statues of the kings of Hatra. That same week, insurgents from the so-called Islamic State burned thousands of rare books and manuscripts from Mosul's library.
A week later, Ahmed Salem, a 28-year-old former archaeology graduate student, crossed into Syria and entered ISIS-held territory armed with nothing more than a notepad, a camera, and a phone, the contents of which, if he were discovered, could get him killed. His task: to photograph evidence of cultural heritage crimes in his home country.
Salem, whose name has been changed to protect his identity, is part of an underground network of activists secretly documenting the ransacking of Syria's ancient treasures. ISIS's handiwork appears often in their photos. What antiquities the militant group doesn't destroy, it steals to peddle on the international black market—a trade some experts claim is increasingly vital to the organization's finances. "The looting is much more intensive and criminalized in ISIS-held territories," says Amr Al-Azm, an archaeologist who has been working with the network from his home in the United States and in Turkey. And these ISIS-held areas are all the more risky for the underground preservationists like Salem. "We have to be really careful, especially with ISIS," Al-Azm explains. "It's a lot of money and a real criminal underworld, not a bunch of geeks playing game cards and getting a little frisky with them."
"We have to be really careful, especially with ISIS. It's a real criminal underworld, not a bunch of geeks playing game cards and getting a little frisky with them."
The preservationists send their evidence to Al-Azm, the former head of archaeological research at the Syrian General Department of Antiquities and Museums. Al-Azm and his colleagues use the photographs to pressure international cultural and law enforcement organizations to crack down on the looting and black market. In a nod to the American soldiers who tried to safeguard European art from the Nazis during World War II, Al-Azm calls his network of activists, which includes several of his former students, "Monuments Men."
Syria is known as one of the richest archaeological regions in the world, with relics dating back to the ancient Mesopotamian era. These include some of the earliest examples of Sumerian writing, the alabaster sculptures of Mari, and six UNESCO World Heritage sites, such as the Crusades-era citadels of Crac des Chevaliers and Qal'at Salah El-Din. As the region's war rages on, criminals and militants have plundered many of these fragile sites, fueling a lucrative illicit antiquities market.
The destruction of Syria's cultural heritage is "the worst we've ever seen," says France Desmarais of the International Council of Museums. While ISIS may be the worst offender, no group involved in the Syrian conflict has clean hands. In return for kickbacks, government soldiers have allowed the plunder of Apamea, an ancient city now riddled with 15,000 looters' pits. Moderate rebels have traded looted objects for weapons in Lebanon. Jabhat al-Nusra and Free Syrian Army brigades are also known to capitalize on the artifacts trade in areas they control. "ISIS moved into a region and found a preexisting situation," Al-Azm says. "They exploited it, accelerated it, intensified it, but they did not start it."

Born in Lebanon to a Syrian father, the 51-year-old Al-Azm spent much of his youth in Damascus. He was part of a wave of young professional expats who returned to Syria in the late '90s, expecting that the newly installed Bashar al-Assad would be a force for change. Al-Azm became a professor at Damascus University and later joined the department of antiquities. "It was great initially," he says, "but very quickly we realized it was a sham. After the father died and Bashar took over, the guise of reform went out the window."
He left Syria in 2006 to teach at Brigham Young University before settling at Shawnee State University in Ohio. As Syria devolved into civil war, he watched as the heritage he'd once preserved was pillaged.
Al-Azm and his Monuments Men were propelled into action in late 2012. The northern Syrian city of Maarat was under siege, being broken apart by rebel shellfire and the regime's barrel bombs. Near the city's center stood its centuries-old museum, which sheltered one of the region's most significant collections of intact mosaics, including Roman and Byzantine-era depictions of the legend of Romulus and Remus, and images of wolves and lions attacking prey, crowded bazaars, and ancient capitals.
Al-Azm knew the museum well—he'd helped catalog its treasures in the early 2000s. And he knew it was in danger. In a nearby town, looters had just stolen 18 ancient mosaics depicting scenes from Homer's Odyssey. So he and the activists met in Gaziantep, Turkey, to formulate a plan to save the mosaics. Since the museum had preserved the artworks by pressing them into concrete, they decided to protect them with sandbags, a method perfected in Europe during the world wars. "The idea was to cover them up so that if extremists break into the museum one day, they would be buried," Al-Azm explains*.
But their biggest challenge was still ahead: ISIS.
Unlike Al Qaeda, which relies heavily on financial backers, ISIS has remained almost entirely self-financed. Its sources of income range from oil smuggling to kidnapping and extortion. As of September 2014, the group's earnings averaged some $2 million per day, according to Charles Lister of the Brookings Doha Center.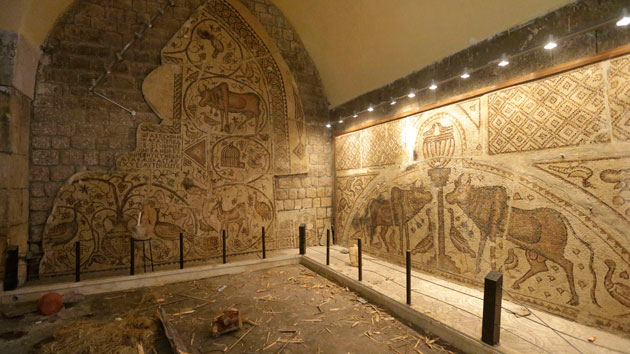 ISIS's brand of Islam allows its leaders to collect and sell ghanima, or war spoils. The group encourages and even employs locals to loot and sell archaeological material in exchange for a levy. Called a khums, this tax is based on a Shariah provision requiring individuals to pay the state a percentage of the value of any treasure taken from the ground. Artifacts from the 14th- to 16th-century Islamic era and precious metals are taxed at higher rates or confiscated entirely. ISIS takes larger cuts when antiquities of any kind are pilfered from public property. No one knows how much of ISIS's profits come from the sale of antiquities, but it is likely significant. An Iraqi intelligence official told the Guardian that the sale of looted items from al-Nabuk, a region west of Damascus, earned ISIS $36 million.
These policies have caused staggering damage. Six months after ISIS took Mosul, American, Syrian, and European archaeologists examined satellite images of Mari, an important Bronze Age site that had come under ISIS control. Between March and November 2014, this once nearly intact area was pockmarked by more than 1,200 pits.
At another site near Raqqa, the capital of the Islamic State's so-called caliphate, ISIS brought in bucket loaders and bulldozers to locate and dig up artifacts, Al-Azm explains. "You can see the cuts in the land," he says, looking at satellite images. "Just large-scale destruction."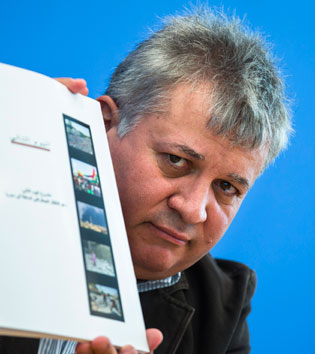 "Next to oil, looting is the best paying sector working for ISIS as a civilian in Raqqa," says Michael Danti of the State Department-funded Syrian Heritage Initiative. Danti says looters often target smaller objects like cylinder seals, jewelry, and coins. "The most valuable material fits in your pocket and it's easy to get to Turkey."
In July, a German reporter posing as a museum curator met with ISIS-linked dealers near the Turkey-Syria border. They displayed a statue thought to be 5,000 years old, as well as seals, amulets, beads, and a chain of gold plates likely pilfered from a museum in Deir Ezzor, Syria.
Middlemen, explains Al-Azm, "buy stuff inside Syria, and they sell it to another middleman, and another, and another." Eventually the looted objects are bought by "bigger fish" who can afford to sit on them for years, until the heat dies down, and then fabricate their origins. "It's like wine—the longer you keep it the more valuable it becomes." There are also stories of items being sold on eBay and rumors that they're being traded on darknet marketplaces similar to Silk Road.
Though they rescued the Maarat museum, Al-Azm's Monuments Men can only reach a sliver of Syria's sites at risk. Last September, Al-Azm wrote an open letter urging the United Nations Security Council to impose an international ban on the trade of material coming out of Syria. Signed by more than 250 academics, the letter said that looting has turned the country's heritage into "weapons of war…fueling the conflict." Five months later, the UN banned the sale of Syrian antiquities. In November, Reps. Chris Smith (R-N.J.) and Eliot Engel (D-N.Y.) introduced an unsuccessful bill that would have prohibited smuggled material from Syria and other conflict areas from entering the United States.
Looting has turned the country's heritage into "weapons of war…fueling the conflict."
Bans like this, when used in concert with the International Council of Museums' "Red Lists" of at-risk items, have worked in the past, says Desmarais. A Red List of goods coming out of Afghanistan and Pakistan, for instance, led to the return of 1,500 archaeological items to the Kabul Museum.
So far, all of Al-Azm's Monuments Men are still alive, though he fears for their safety. "If they're in ISIS territory they could be killed or incarcerated at any moment," he says. The activists could also be detained or killed by the Assad regime or other militant groups.
Despite these risks, the group is driven by its faith in the shared history embodied by Syria's treasures. Says Al-Azm: "If you destroy this cultural heritage, you destroy the only thing left that can help heal this country once the war is over."
Correction: The bull was from 7th Century BC, not AD as the story originally stated.
Correction: The original version of this article mistakenly suggested that the looting of the Odyssey mosaics occurred after the Monuments Men sandbagged Maarat's mosaics.