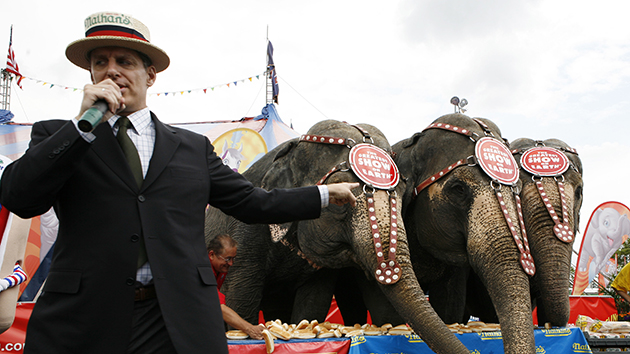 Fight disinformation:
Sign up
for the free
Mother Jones Daily
newsletter and follow the news that matters.
On Thursday, Ringling Bros. and Barnum & Bailey said it will end the use of elephant acts by 2018—a move that follows decades of mounting criticism and public concern over the show's abusive treatment of the animals. Ringling's parent company, Feld Entertainment, cited a "mood shift" experienced by circus-goers who have grown "uncomfortable with us touring with elephants" for the decision.
President Kenneth Feld also said local legislation barring certain circus practices, such as the use of bullhooks, made it increasingly difficult for the company to continue including elephants in its performances. "This decision was not easy, but it is in the best interest of our company, our elephants and our customers," he said in a statement.
In 2011, Mother Jones published an explosive, yearlong investigation looking into Ringling's treatment of elephants, including the regular employment of electric shocks and whippings to control them:
Several of the beatings targeted Nicole, a twentysomething elephant named after Kenneth Feld's eldest daughter. Sweet-natured but clumsy, Nicole would frequently miss her cues to climb atop a tub and place her feet on the elephant next to her, Stechcon said in his videotaped statement. "I always rooted for her, 'Come on, Nicole, get up,'" he said. "But we left the show, brought the animals back to their area, and…we took the headpieces off, and as I was hanging them up, I heard the most horrible noise, just whack, whack, whack. I mean, really hard. It's hard to describe the noise. Like a baseball bat or something striking something not—not soft, and not hard…I turned around to look, and this guy was hitting her so fast and so hard [with the ankus], and sometimes he would take both hands and just really knock her, and he was just doing that. And I was, like, I couldn't believe it."
The investigation also exposed that Feld Entertainment had spent millions of dollars on PR campaigns to hide such abuse from the public and fend off lawsuits:
It was part of a multimillion-dollar spy operation run out of Feld headquarters to thwart and besmirch animal rights groups and others on the company's enemies list, according to a stunning Salon piece by Jeff Stein. Feld had even hired Clair George—the CIA's head of covert operations under President Reagan until his conviction for perjury in the Iran-Contra scandal. (George, who died in August, received a pardon from President George H.W. Bush.)
Thursday's announcement to phase out the elephants, which have been a staple for the Ringling brand for more than a century, has been met with praise from animal rights activists. Feld Entertainment said the elephants will be transitioned to the company's elephant conservation center in Florida.
For more, read our in-depth investigation here.