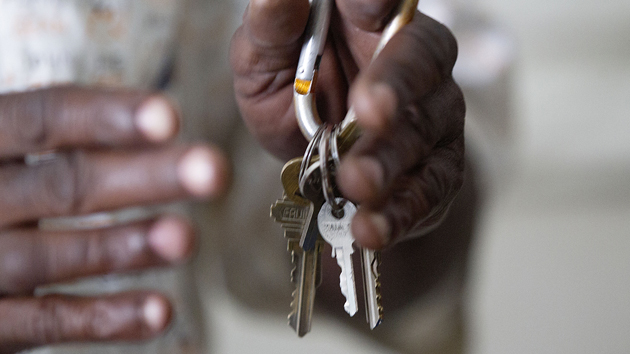 Fight disinformation:
Sign up
for the free
Mother Jones Daily
newsletter and follow the news that matters.
Santa Clara County is perhaps best known as the home of Silicon Valley. It also has one of the country's highest rates of homelessness and its third largest chronically homeless population.
An extensive new study of the county's homelessness crisis, published yesterday, finds that the most cost-effective way to address the problem is to provide people with homes. Those findings echo a similar approach that's been successfully adopted in Utah, the subject of Mother Jones' April/May cover story.
The study was conducted by county officials who teamed up with Economic Roundtable, a nonprofit public policy research organization, and Destination: Home, an agency that works to house the homeless. Researchers dug into 25 million records to create a detailed picture of the demographics and needs of the more than 104,000 people who were homeless in the county between 2007 and 2012.
They found that much of the public costs of homelessness stemmed from a small segment of this population who were persistently homeless, around 2,800 people. Close to half of all county expenditures were spent on just five percent of the homeless population, who came into frequent contact with police, hospitals, and other service agencies, racking up an average of $100,000 in costs per person annually. Those costs quickly add up—overall, Santa Clara communities spend $520 million in homeless services every year.
The study also highlights solutions. The researchers examined Destination: Home's program, which has housed more than 800 people in the past five years. The study looked at more than 400 of these housing recipients, a fifth of whom were part of the most expensive cohort. Before receiving housing, they each averaged nearly $62,500 in public costs annually. Housing them cost less than $20,000 per person—an annual savings of more than $42,000.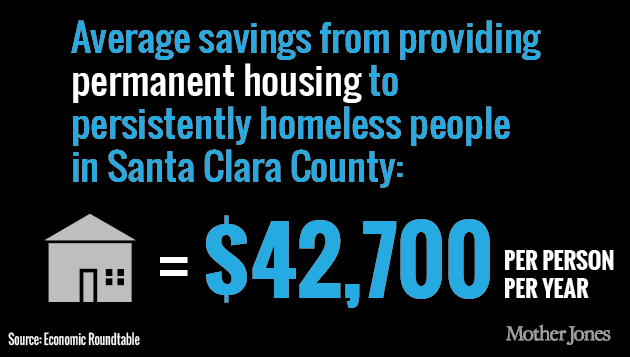 The analysis is intended to provide key insights as Santa Clara moves forward with a five-year plan to eradicate chronic homelessness by using a "Housing First" model that provides permanent housing and services to people with the greatest needs. "A lot of the folks in the higher cost group have chronic health problems and mental health problems and they are self medicating," says Daniel Flaming, head researcher and president of Economic Roundtable. "When someone is housed, those crises are much less likely to happen and people are getting preventative care. Having stability and managing problems more effectively reduces costs a great deal."
Santa Clara County is already moving to expand Destination: Home. With the findings from this report and the help of Economic Roundtable, it is also creating a "triage tool" that will screen hospitals and jails to identify high-need, high-cost individuals.
Looking ahead, Flaming says, the most cost-effective solution to homelessness is still prevention. He hopes the research, which also includes detailed demographic information, will provide insights into how to help vulnerable people before they end up on the streets. "At the end of the day, the solution that really makes sense is to prevent homelessness. It creates a lot of wreckage for individuals and for communities," he says. "For every community to get better at preventing people from falling through the cracks and to reduce the flow of people into homelessness—that is ultimately the best solution."