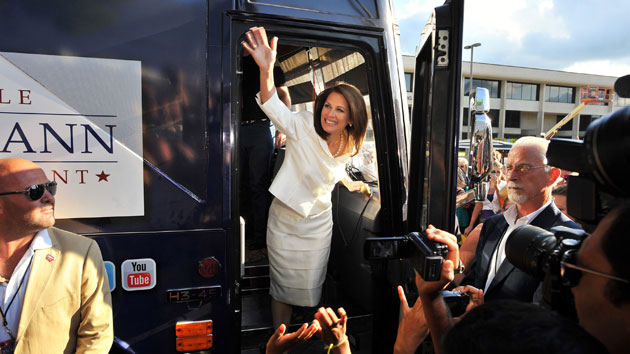 Fight disinformation:
Sign up
for the free
Mother Jones Daily
newsletter and follow the news that matters.
The Iowa Straw Poll, a fundraising event for the Republican Party of Iowa that advertised itself as a pivotal proving ground for the first-in-the-nation presidential caucuses, died on Friday. It was 36.
Per the Des Moines Register:
The governing board for the Republican Party of Iowa voted unanimously Friday to cancel the straw poll, a milestone on the path to the White House that had passed the strategic tipping point. It was no longer a political risk for presidential campaigns to walk away from the straw poll, and too many of the 2016 contenders had opted to skip it for it to survive.
It was a brilliant scheme while it lasted—at least for the state party. Candidates would shell out tens of thousands of dollars to cover the cost of admission for supporters (or people who claimed to be supporters). They'd even bus them in from distant corners of the state in the hopes that the free ticket, transportation, and food would buy them loyalty in the voting booth. If it happened on Election Day, it'd be a scandal. (This is a state that spent $250,000 to prevent people from voting.) But in August in Iowa, it was just folksy.
The straw poll was not a good predictor of who would win the GOP primary, though. Only one victor (Texas Gov. George W. Bush in 1999) ever went on to win the party's nomination. Maybe that's why Jeb Bush and Marco Rubio, two of the GOP's leading candidates, decided not to participate. (Even Mike Huckabee, whose strong straw poll performance in 2007 presaged his victory in the caucuses, said he wouldn't spend resources to compete at the event.) The straw poll was a test, and the only way to pass was to recognize that you didn't have to take it.
But it was also a victim of its own success. Now conservatives don't have to wait until the straw poll to see their favorite candidates in one place, and interest groups within the party are getting into the business themselves. Weekend cattle calls are the new normal, whether it's a meet-and-greet with the Koch donor network, ribs at Sen. Joni Ernst's motorcycle barbecue, an appearance to Erick Erickson's RedState Gathering, or even a trip to Disney World.