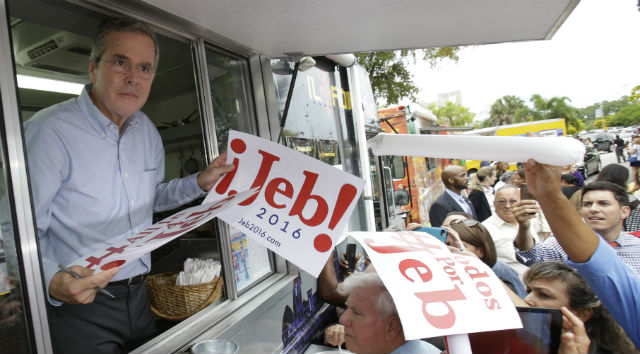 Fight disinformation:
Sign up
for the free
Mother Jones Daily
newsletter and follow the news that matters.
Two weeks ago, the Jeb Bush campaign unveiled its official logo—Jeb!—which is only a slight variation on the logo Bush has used throughout his previous campaigns. As closely associated with the former Florida governor as it is, the trademarked logo belongs to neither the campaign nor the politician. It turns out that it's owned by a corporate entity called BHAG.
Almost six months before the official logo unveiling, someone formed a Delaware shell corporation called BHAG LLC and used it to apply for a trademark on "Jeb!" A few days after this anonymous shell corporation was created, it was registered again in Florida, with the manager listed as the office manager of Jeb Bush & Associates, Bush's business consulting firm. Bush's campaign did not respond to a request for comment on who established the shell corporation and why.
But BHAG is a well-known Jeb Bush fixation. It's an acronym for "Big Hairy Audacious Goal," a term coined by the authors of the popular management philosophy book Built to Last: Successful Habits of Visionary Companies. The 1994 book notes that a BHAG is a major strategic goal that might appear outwardly impossible but within an organization is considered attainable.
Bush is apparently a fan of the book and a devotee of the BHAG concept. During his time as governor of Florida, Bush reportedly pushed underlings to establish BHAGs and use them as motivation to accomplish tasks others thought were a stretch. In the millions of emails from his time as governor released by Bush, the term comes up repeatedly in discussions between Bush and advisers. Anyone who wanted to pitch the governor an idea often tried to frame it as a BHAG.
So it makes sense that Bush, or someone close to him, is the person behind BHAG LLC, which was first registered as a Delaware corporation in January. There are no details available on who registered the company there. Maria Barrocas, the office manager of Jeb Bush & Associates, is listed on the company's registration in Florida, but that corporate listing provides no other information about who controls the company. Barrocas also signed the application when BHAG LLC filed for a trademark on the "Jeb!" logo, which is being used on a slew of merchandise, from "key chains of precious metal" to "utensils for barbecues" and, of course, campaign buttons. Bush himself has previously trademarked the "Jeb!" logo. In 2002, his gubernatorial campaign had the trademark, but it lapsed in 2010.
Most candidates don't trademark their logos, but it's also not entirely unusual. Rand Paul's Senate campaign has a trademark on the phrase "Stand With Rand," and Donald Trump secured a trademark on "Make America Great Again," his campaign's catchphrase. He also holds the trademarks on "Slotzilla" and "Trumptini."