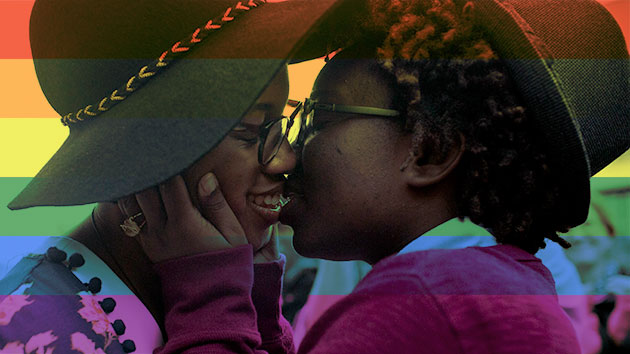 Fight disinformation:
Sign up
for the free
Mother Jones Daily
newsletter and follow the news that matters.
Last Friday's Supreme Court ruling to legalize same-sex marriage nationwide was a milestone for the LGBT rights movement. While it didn't give gay Americans complete equality in every aspect of their lives, the decision provided a long-sought-after victory: an acknowledgement that their love is equal in the eyes of the law.
This last year has also seen a dramatic rise in visibility for transgender celebrities—Janet Mock, Laverne Cox, and Caitlyn Jenner among them—drawing attention to the legal discrimination and socioeconomic inequalities faced by the transgender community, especially transgender people of color, and those on the economic margins of society.
But not everyone is fond of Friday's ruling, or of the so-called "transgender tipping-point"—including parts of the black community.
Of course, I've noticed support for LGBT rights from within the black community over these last few weeks: NBCBLK, NBC's showcase for stories by and about the black community, featured a black church in DC that performs same-sex marriages and employs LGBT clergy; the Rev. Clementa Pinckney, the pastor of Emanuel AME Church in Charleston, South Carolina, where he was murdered two weeks ago, was celebrated by some as a gay ally in the statehouse; and there's a push under way to get the Black Lives Matter movement, criticized for focusing too narrowly on straight black men, to address violence facing women and LGBT people, especially black trans women.
But I've seen a lot of pushback from black people as well.
On social media, I've seen black people imply that marriage equality is a frivolous concern, and that gay people shouldn't have received the right to marry before black people got the right to walk down the street without being shot by the police. I've seen black people argue against gay marriage by pointing out that it's still not legal to smoke weed in most of the United States. Then there are those who reject gay marriage and homosexuality as a sin. Despite steady growth across the entire US population, support for same-sex marriage among black Americans remains in the minority, and is lower among black Protestants than all other religious groups except white evangelicals.
The simple truth is this: It's problematic for members of any one marginalized group to challenge the progress made by members of another.
I've seen some in the black community also reject transgender people. In one argument that totally misunderstands what it means to be trans, some suggested that Caitlyn Jenner was "pretending" to be a woman, and that black people who embraced Jenner were hypocritical for accepting her while at the same time rejecting Rachel Dolezal for pretending to be black.
The simple truth is this: It's problematic for members of any one marginalized group to challenge the progress made by members of another, especially when both groups suffer as a result of the same system—a system that favors being white, male, straight and "cisgender," a term used by academics and advocates to describe the opposite of trans.
But it is especially problematic for black people to reject the LGBT rights struggle, especially when, over the past year, black people have been particularly vocal about their own racial oppression, via sustained, high-profile protests that have swept the nation.
Most glaringly, it's problematic because blackness and LGBT identities are not mutually exclusive. There are lesbian black women, gay black men, bisexual black people, transgender black men and women, "genderqueer" black people—identifying as neither gender or both—and black people who are any combination of any of the above.
And black LGBT people and their allies have made incredible contributions to the black liberation struggle, from Bayard Rustin during the civil rights movement to Audre Lorde, a poet, feminist, and LGBT advocate, as well as the three women who founded the hashtag #BlackLivesMatter and the organization that birthed the movement: Alicia Garza, Patrisse Cullors, and Opal Tometi.
Activism like this is even more inspiring than most because, in addition to state-sanctioned racism, LGBT people face state-sanctioned homophobia and transphobia in the form of unchecked employment and wage discrimination, housing discrimination, health care disparities, increased risk of brutality at the hands of police, and so much more. And then they face ridicule and violence, oftentimes from within the black communities they call home.
Thirty-four percent of black transgender people live in extreme poverty, a rate three times that of black people as a whole and eight times that of the general US population. Homelessness is rife. Only 19 states have statewide employment non-discrimination laws that cover both sexual orientation and gender identity. In 2013, two-thirds of all LGBT homicide victims were transgender women of color, while LGBT people are more likely than others to be subjected to hostility, brutality, and unjust arrest from police after reporting they have been victims of crime. And 43 percent of black gay youth have attempted suicide as a result of issues related to their sexual orientation.
There is no caveat or asterisk on the phrase "Black Lives Matter." All black lives matter, not just ones you are comfortable with.
Through anti-LGBT bigotry, we add to the marginalization of these black folk.
Straight black people should be fighting for them, not the reverse. Yet, so many black LGBT people are down for us, despite the fact that we so often remind them that, no, we are not down for them. This must change.
There is no caveat or asterisk on the phrase "black lives matter." All black lives matter, not just the ones you are comfortable with. You cannot be pro-black if you oppress black people. And, more importantly, you cannot love all black people if you oppress black people. You do not mean "black lives matter" if you protest when an unarmed straight black man is killed by the police because they are black, but don't care about the the many transgender black women who have been murdered this year because they were trans.
If we are to liberate black people as a whole, then we must combat all forms of discrimination against black people, including anti-LGBT discrimination and that which we inflict upon them from within our own communities. The struggle must be multilayered, just like the identities of black people. Every chain must be broken.
If black people do not come to grips with the homophobia and transphobia within our own communities, then all black people will never be free. That, indeed, would be a tragedy that we brought upon ourselves. I, for one, join the LGBT community—black LGBT people—in celebrating a milestone in their struggle for freedom.