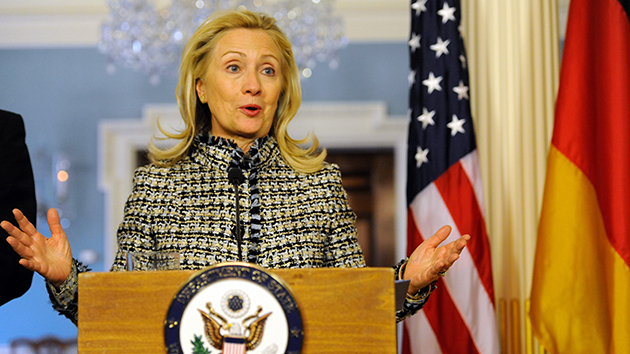 Fight disinformation:
Sign up
for the free
Mother Jones Daily
newsletter and follow the news that matters.
Are you a reporter working the Hillary Clinton beat? Hope you didn't have plans for Friday evening, because chances are you'll be spending a late night at the office going through thousands of new Clinton emails on the US State Department's clunky Freedom of Information Act site. The agency confirmed to Mother Jones that the next batch of emails from her time as secretary of state is due to be released tomorrow. Subsequent batches will be released on the last business day of the month.
The emails slated for release are part of the more than 55,000 pages of correspondence that the Democratic presidential candidate turned over to the State Department and that had been stored on her private email server. A federal judge ruled in May that the agency had to make the emails public on a rolling basis as it vetted them for sensitive information instead of releasing the whole trove of messages in January 2016, as the agency had originally proposed. Shortly after the ruling, about 300 emails were released in May, and another 1,900 were released at the end of June.
So far, the emails show that Clinton did a great job of avoiding discussing particularly controversial or touchy things via email, but that's not to say they don't provide a revealing look at her State Department tenure. The emails showed Clinton playing the media, struggling to use a secure fax machine, and having some Selina Meyeresque moments.
The content of the emails has largely failed to produce any red meat for the House Select Committee on Benghazi, a Republican-led inquiry into the 2012 Benghazi attacks that left four Americans dead and that has seemed, at times, to be more of a political crusade to tarnish Clinton ahead of the 2016 presidential election. But Clinton's unusual handling of her State Department correspondence, including her use of a personal email account and private server, has continued to be a source of controversy for the candidate.
Last week, the New York Times incorrectly reported that Clinton was the subject of a criminal referral to the Department of Justice related to the handling of classified information in her emails. The Times' story turned out to be wrong: Investigators had made a security referral to the agency to look into whether her emails contained any classified information that might be inadvertently released by the State Department.
So far, the agency has vetted only a sliver of Clinton's email archive. Many more messages are still to come. That means Clinton has much more coverage of her correspondence to look forward to. As for reporters on the Clinton beat, they may want to avoid making any dinner plans on the last business day of every month for the foreseeable future.