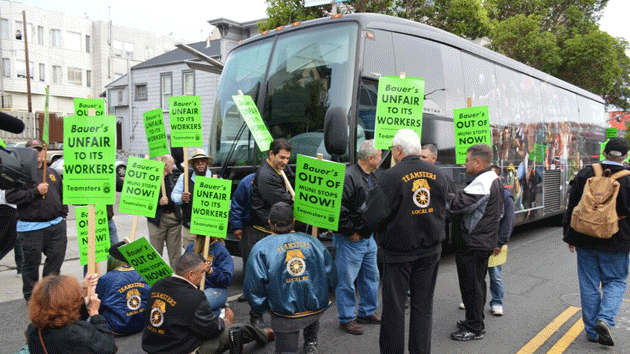 Fight disinformation:
Sign up
for the free
Mother Jones Daily
newsletter and follow the news that matters.
A recently filed federal complaint alleges that one of San Francisco's biggest tech shuttle operators has attempted to thwart an effort to unionize its drivers. The complaint, filed by the San Francisco office of the National Labor Relations Board (NLRB) in late June, alleges that Bauer's Intelligent Transportation has spied on pro-union employees, interfered with union organizers, and organized its own management-backed union.
With 450 employees and 225 vehicles, Bauer's has a visible presence on the streets of San Francisco. About a third of its business comes from technology companies such as Twitter, Yelp, Cisco, Salesforce, and EA Games. In the mid-'00s it drove 55 commuter buses for Google, which now operates giant white double-decker buses on its own. Last year, Bauer's played a key role in negotiating a controversial deal that allows private commuter shuttles to use public bus stops to pick up Silicon Valley workers. (One study found that areas near the tech bus stops have seen some of the highest rent increases in San Francisco, where the median rent now stands at a whopping $4,225 a month.)
Bauer's drivers have been increasingly demanding to earn a living wage and form a union. After their efforts stepped up this spring, the company responded with a number of "unfair labor practices," according to the NRLB complaint. The agency's complaint is based on an independent investigation of allegations filed in March by the Teamsters, which has been trying organize Bauer's workers. Among other allegations, the NRLB complaint states that a Bauer's supervisor solicited employees to sign a petition indicating that they wished to be represented by an in-house union known as the Professional Commuter Drivers Union. This supervisor served as the PCDU's chief union representative. A few days later, Bauer's entered into a collective bargaining agreement with the PCDU.
Bauer's, NLRB regional attorney Jill Coffman writes in the complaint, has "dominated and interfered with the formation and administration of" an outside union while "rendering unlawful assistance and support to" its own union. She alleges that such practices violate federal labor law. Bauer's did not return a call requesting comment.
The NLRB alleges that Bauer's has "dominated and interfered" with the creation of an outside union while "rendering unlawful assistance" to its own in-house union.
The seven-page NLRB complaint offers few additional details about the allegations. Yet according to the Teamsters and a Bauer's driver who shuttles Cisco employees, the supervisor who headed the PCDU asked only a few workers if they wanted to join the union, and asked others to sign a blank page. "He pretty much just pushed me a blank sheet of paper and said, 'Here, sign this and I will see if I can get you better benefits,'" recalls the driver, who asked not to be named. "The next thing you know, he's got a supposedly full-fledged union. It was odd."
The contract that the PCDU "negotiated" with Bauer's capped driver wages at $22 an hour. In comparison, a contract recently signed between the Teamsters and shuttle drivers for Facebook guarantees drivers an hourly wage of $26.50 by 2017.
"The drivers need and deserve better wages, better benefits, and more respect," says Doug Bloch, the political director for the Northern California chapter of the Teamsters, which is holding a protest in San Francisco's Mission District today to call attention to Bauer's alleged union-busting tactics. "What Bauer's did is an insult to these workers."
The NRLB complaint will be argued before a federal judge in September. If the allegations hold up, Bauer's might find it harder to do business in San Francisco. In March, the city's Board of Supervisors unanimously passed a resolution that urges the San Francisco Municipal Transportation Authority to consider shuttle operators' "labor harmony" when weighing their applications to use bus stops. The members of the SFMTA, who are appointed by San Francisco Mayor Ed Lee, have not yet acted on the resolution. The agency did not return a call from Mother Jones.
The handling of the Bauer's dispute may also turn tricky for Lee, whom local activists say is too cozy with tech companies. In 2012, the mayor signed a $9.3 million lease granting Bauer's the use of a city-owned pier as a parking lot for its buses. In June, Lee hired Bauer's to ferry the attendees of the annual meeting of the Conference of Mayors to Uber's SoMa headquarters. Yet Bloch says Lee has generally been supportive of labor interests. "It doesn't surprise me that Bauer's IT is breaking labor law," Bloch says. "What would surprise me is if the political leadership in San Francisco tolerates it."
Protests against Bay Area tech shuttles were a nearly weekly occurrence early last year, when the buses were blockaded, barfed upon, and occasionally smashed by anti-gentrification activists. If the shuttles get a reputation for disrupting workers' efforts to organize, perhaps we'll see version 2.0 of the Google bus protests.