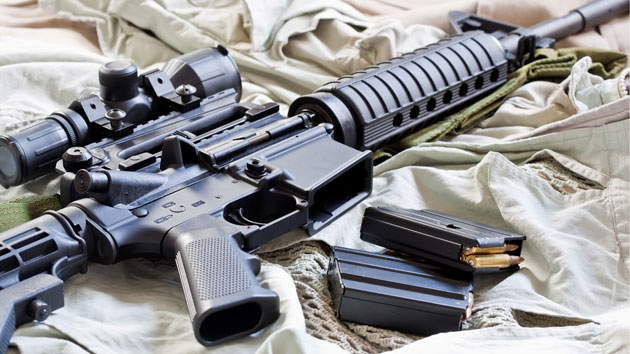 Fight disinformation:
Sign up
for the free
Mother Jones Daily
newsletter and follow the news that matters.
It turns out there are some gun control proposals that Republicans and Democrats actually agree on. According to new findings from the Pew Research Center, fully 85 percent of Americans—including 88 percent of Democrats and 79 percent of Republicans—believe people should have to pass a background check before purchasing guns in private sales or at gun shows. Currently, only licensed gun dealers are required to perform background checks. A majority of Americans (79 percent) also back laws to prevent those with mental illness from purchasing guns.
There is a greater divide between the parties on other gun issues. Seventy percent of respondents support the creation of a federal database to track all gun sales, including 85 percent of Democrats but just 55 percent of Republicans. A more narrow majority (57 percent) would like to ban assault-style weapons. That proposal draws support from 70 percent of Democrats and 48 percent of Republicans.
The survey found even sharper partisan disagreement on other questions:
Seventy-three percent of Democrats say it's more important to control gun ownership, while 71 percent of Republicans say it's more important to protect gun rights.
Republicans are almost twice as likely to see gun ownership as an effective form of protection rather than a way to jeopardize safety.
The study also examines demographics such race, gender, and education level:
Proposals for a federal gun database draw more support from African-Americans (82 percent) and Hispanics (76 percent) than from whites (66 percent). Fifty-six percent of African-Americans say gun ownership is a safety hazard.
Sixty-five percent of women favor banning assault-style weapons, compared with 48 percent of men.
Sixty percent of men say guns help protect people, compared with 49 percent of women.
Those with post-graduate degrees are more likely to favor a ban on assault weapons (72 percent) than those with a high school diploma or less education (48 percent). Those with post-graduate degrees are also more likely to say gun ownership does more to endanger than increase safety (57 percent).
College graduates are almost evenly divided; 48 percent say guns endanger people, while 46 percent say they protect people.
Those with a high school diploma or less say gun ownership does more to protect people (59 percent).
For more information, check out these interactive charts from the Pew Research Center.