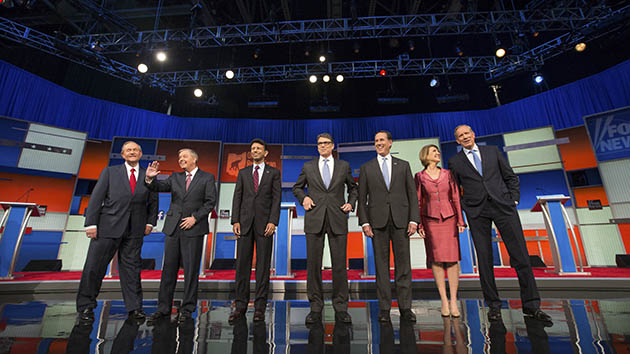 Fight disinformation:
Sign up
for the free
Mother Jones Daily
newsletter and follow the news that matters.
Fox News raised hackles when it announced the selection criteria for the first GOP presidential candidate debate: only the top-10, based on an average of selected national polls, would be allowed into the primetime debate. Rick Santorum called it "preposterous," but Fox had a solution. It would put on a pre-debate debate a couple hours before the main event, featuring the candidates that weren't quite fit for prime time. It wasn't a perfect solution, but at least they'd get a chance to air their views. But it was quickly clear that these were second-tier candidates, at least based on the way moderators Martha MacCallum and Bill Hemmer framed the early questions:
First question, essentially: aren't you a loser whose time has long passed. #FoxKiddieDebate

— David Corn (@DavidCornDC) August 6, 2015
Summary of #kidstable so far: Who are you? Why are you a loser? What about Donald Trump, who is a winner? Who should we bomb, and how much?

— Peter Suderman (@petersuderman) August 6, 2015
The B-team feel was also reinforced by a largely-empty Quicken Loans Arena:
— Chris Cillizza (@TheFix) August 6, 2015
FYI this second-tier debate will be applause-free because there's pretty much nobody here except reporters.

— Sahil Kapur (@sahilkapur) August 6, 2015
He said it in an empty theater https://t.co/PALLWrSjzO

— Glenn Thrush (@GlennThrush) August 6, 2015
But that's not to say the candidates didn't say interesting things. There were flubs:
seen in the wild: rick perry's "ronald raven" pic.twitter.com/dZONFpzxXf

— Oliver Willis (@owillis) August 6, 2015
And a sleepy Sen. Lindsey Graham saying some rather interesting things about women's rights:
Lindsey Graham's Answer on Abortion: Come with Me to the Middle East http://t.co/0V54lfIRYn (VIDEO) pic.twitter.com/B60a6gwgCH

— Mediaite (@Mediaite) August 6, 2015
Ladies, you're better off with us than the Taliban so why don't y'all just keep it down.

— jess mcintosh (@jess_mc) August 6, 2015
But maybe that paid off?
Google searches for Lindsey Graham demolished searched for Trump. http://t.co/E2HW1esVbA pic.twitter.com/1bHq6X8jVf

— Philip Bump (@pbump) August 6, 2015
Rick Santorum also had some interesting things to say, although not in the way he probably wanted:
Thanks for this, Rick Santorum pic.twitter.com/ylXdniEHFA

— Rob Tornoe (@RobTornoe) August 6, 2015
Rick Santorum: "How optimistic about America am I? My wife and I COULD NOT STOP COPULATING."

— Jeff B@AoSHQDD (@EsotericCD) August 6, 2015
The question the candidates had the most difficulty with was providing a two-word description of Hillary Clinton:
Number of words the candidates used for their "2-word answers": PATAKI: 9 FIORINA: 4 SANTORUM: 3 PERRY: 3 JINDAL: 4 GRAHAM: 11 GILMORE: 6

— Molly Ball (@mollyesque) August 6, 2015
But Carly Fiorina emerged the clear winner:
Carly Fiorina the Runaway Winner of Fox News JV Debate #GOPDebate #CarlyFiorina http://t.co/cqBhKZHwAR

— reason (@reason) August 6, 2015
Carly, after this debate. pic.twitter.com/fsSMakCpoF

— Chris Cillizza (@TheFix) August 6, 2015
She might have been the only one to really move the needle, as most of the candidates will likely continue to poll in the low single digits:
While Fiorina delivered a relatively strong performance, the second-tier GOP candidates struggled to break through http://t.co/SAg7iLuNiu

— POLITICO (@politico) August 6, 2015
Glad that's overwith, or…
OK! The first debate night is done. Have a great night everyb-Wait, what? Oh, s**t

— Ron Fournier (@ron_fournier) August 6, 2015