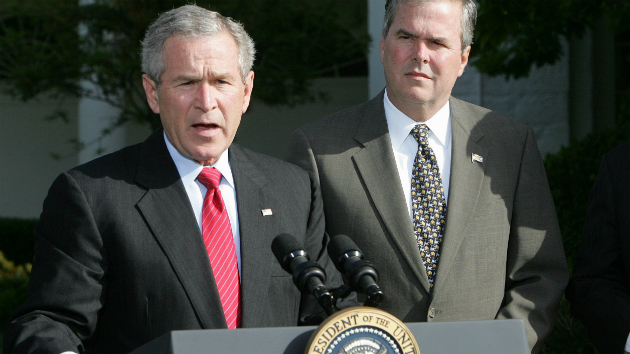 Fight disinformation:
Sign up
for the free
Mother Jones Daily
newsletter and follow the news that matters.
George W. Bush has been conspicuously absent from his younger brother's presidential campaign, but Jeb Bush is putting him to use—at least in private. This morning the former president was scheduled to meet in New York City behind closed doors with some of Jeb Bush's top donors. The topic of this pay-to-attend exclusive luncheon session with W was to be the United States' "special relationship" with Israel, according to an invitation to the event reviewed by Mother Jones.
The meeting comes a day after Sen. Ted Cruz (R-Texas) and Donald Trump, both of whom lead Jeb Bush in several recent polls, attended a raucous tea party rally in Washington in opposition to President Barack Obama's proposed nuclear deal with Iran. With Thursday's luncheon, Jeb Bush was continuing his courtship of the GOP's wealthiest donors and aiming at members of the Republican Jewish Coalition, a pro-Israel group led by megadonor Sheldon Adelson. Attendees had to make a minimum contribution of $1,000 to be at the event; kicking in $5,400 earned a donor cohost status and the chance to have a photo taken with the former president. Jeb Bush was not scheduled to be at the event.
According to the invitation, the event's cohosts include several top donors to Jeb Bush's campaign and the Right To Rise super-PAC, which supports Bush. This group includes:
Sam Fox: A St. Louis businessman who worked as a campaign bundler for George W. Bush's 2000 and 2004 campaigns and donated $50,000 to the Swiftboat Veterans for Truth attack group that targeted Democratic nominee John Kerry. Following George W. Bush's reelection, Fox was appointed ambassador to Belgium in 2007. He is a former chairman of the Republican Jewish Coalition (RJC). Fox has already donated $250,000 to the Bush super-PAC.
George Klein: A New York City developer as well as a founding member and former president of of the RJC. Klein has donated $125,000 to Bush's super-PAC so far this election.
Fred Zeidman: A Houston businessman and current board member of the RJC.
Jeb Bush's outreach to top RJC donors is significant. Most of the GOP candidates have been aggressively courting Adelson, who pumped more than $92 million into the 2012 election. But Bush's relationship with the Las Vegas billionaire has been rocky. This spring, Adelson sent emissaries to warn Bush over his relationship with James Baker III, the former secretary of state and Bush family confidante who publicly criticized Israeli prime minister Benjamin Netanyahu. Bush declined to cut ties with Baker but did distance himself from Baker's remarks and then paid a personal visit to Adelson in Las Vegas. In what was perhaps another sign of contrition, George W. Bush this spring appeared at the RJC convention, which was held at Adelson's casino. At that event, George W. Bush presented Adelson with an original painting he made of one of the conservative financier's casinos.
Bush's campaign is likely hoping to persuade RJC-related donors that if Jeb Bush wins, his policy toward Israel will be similar to the Bush-Cheney stance. At a meeting of pro-Israel donors in New York City in May, Jeb Bush promised that George W. Bush will be his most influential adviser on Israel. That claim might not go over well with the broader electorate, but the message resonated with donors, according to New York magazine:
"Most people in the room thought that was very reassuring," says one person who attended the meeting. "At the same time, they also thought, I hope he never says that in public during the general election."
The Bush campaign did not respond to requests for comment on today's luncheon.