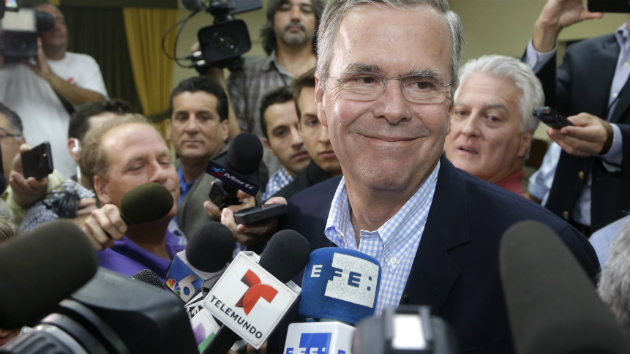 Fight disinformation:
Sign up
for the free
Mother Jones Daily
newsletter and follow the news that matters.
After faring poorly in recent polls amid a crowded GOP presidential field, Jeb Bush has begun aggressively courting former US diplomats, who he hopes will make public endorsements for him and encourage wealthy American expats to donate to his campaign. As part of this effort, the Bush team scheduled a private meeting in New York City on Tuesday with ex-ambassadors and former State Department political appointees. "Are you willing to participate in international finance efforts and advocate for Jeb 2016 through your network abroad?" asked a questionnaire distributed by the campaign to former diplomats. It also asked recipients if they would be willing to pen op-eds or serve as campaign surrogates.
It is not uncommon for presidential campaigns to seek donations from overseas. Federal law requires that any donor be an American citizen or green-card holder. The overseas donor is a potentially lucrative contact for any campaign—living as an expat in, say, Europe tends to require a certain level of affluence and likely a strong interest in American foreign policy. In 2008 and 2012, Barack Obama and his Republican opponents raised millions of dollars from donors living outside the United States, and each took overseas fundraising trips. So far, the pro-Bush super-PAC, Right to Rise, has raised at least $750,000 from donors with foreign addresses. Among the most generous, according to the nonpartisan Center for Responsive Politics (where I used to work) have been Gary Rieschel, a Shanghai-based venture capitalist, and Hong Kong developer Ronnie Chan, who both gave $100,000. Born in Hong Kong but now an American citizen, Chan sat on the board of collapsed energy firm Enron and was a member of the company's audit board. Chan and his wife have also donated directly to Bush's campaign.
Bush's campaign and super-PAC already have numerous former ambassadors backing them. This is a group that Bush should do well with—in the last 28 years, most diplomatic political appointees of a conservative bent were given their job by either Bush's father, George. H.W. Bush, or his brother, George W. Bush.
During Jeb Bush's swing through New York City this week, he will be attending a series of private events with elite donors and high-profile supporters. On Tuesday, Bush was scheduled to meet his biggest bundlers at the Manhattan office of New York Jets owner Woody Johnson, the finance chair of Bush's campaign.
Bush's New York jaunt also was to include an appearance Tuesday night on the first episode of The Late Show with new host Stephen Colbert. The Bush campaign had conducted a raffle offering any donor who gave $3 or more the opportunity to attend the show with Bush as a special VIP— a move that was mocked by Colbert, who was not consulted on the fundraising ploy. Colbert countered by announcing his own raffle (benefiting a charity), with the winner receiving the chance to submit a question for Colbert to pose to Bush.