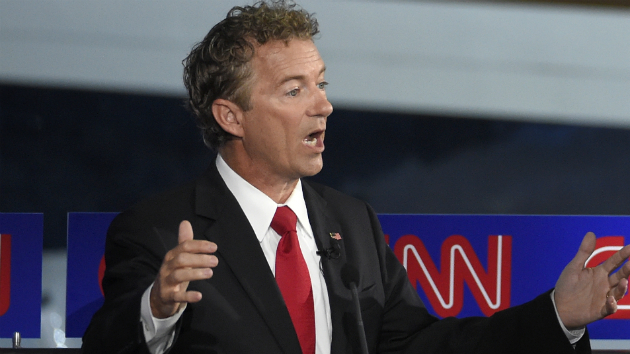 Fight disinformation:
Sign up
for the free
Mother Jones Daily
newsletter and follow the news that matters.
Rand Paul has said the indictment of three operatives with close ties to his political operation, including his nephew-in-law Jesse Benton, has nothing to do with him. But as their federal trial looms, the case—centered on a pay-for-endorsement scheme that occurred during the 2012 Iowa caucuses—is entangling those closest to Paul. And according to court documents recently filed, his top political adviser, his sister, and his father, former Rep. Ron Paul, are expected to testify in the trial, which is scheduled to begin next month.
Dimitri Kesari, John Tate, and Benton, longtime political professionals, were hit with a slew of criminal conspiracy and campaign finance charges in early August. None worked for Rand Paul directly at the time, but Tate and Benton were running a super-PAC devoted to supporting his presidential campaign. All were veterans of various Paul campaigns and have long been in the family's orbit. The charges stem from allegations that the 2012 Ron Paul presidential campaign, which employed all three men, hid payments to then-Iowa state Sen. Kent Sorenson, who has admitted switching his endorsement to Paul from Michele Bachmann in exchange for money.
The three are scheduled to go on trial in weeks—which could generate inconvenient headlines for the Rand Paul campaign—but Benton's attorneys have asked for the case to be moved from Iowa to Washington, DC. In the various legal filings submitted by the defendants and prosecutors, hints have emerged about the witnesses whom the defense and prosecution each plan to call. According to one filing by Benton's attorney, witnesses that will be "essential" to his case include Doug Stafford, Rand Paul's chief strategist, and Mike Rothfeld, a fundraising consultant for both Ron and Rand Paul and the founder of the National Association for Gun Rights, which calls itself a "no-compromise" gun group. Benton's lawyers argued that it would be easier for those witnesses to testify if the case were in Washington.
Prosecutors told the judge that they planned to call Ron Paul and his daughter Lori Pyeatt (Rand's sister and Benton's mother-in-law) to testify. Because these family members live in Texas, prosecutors noted, it makes no difference if the trial is in Washington or Des Moines. Ron Paul did not respond to a request for comment; Stafford declined to comment.
Benton's motion is one of several pending in the case, including an attempt by Benton to have a separate trial from the other two men.
The judge has yet to rule on whether to move the trial, but wherever it takes place, the Sorenson pay-for-endorsement scandal is much closer to Rand Paul's campaign—and family—than the presidential candidate cares to admit.