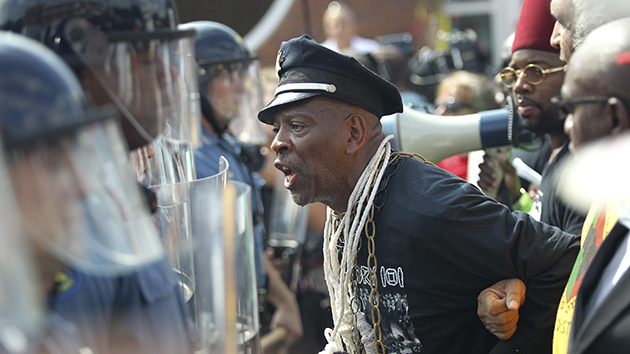 Facts matter:
Sign up
for the free
Mother Jones Daily
newsletter.
Support
our nonprofit reporting.
Subscribe
to our print magazine.
The United States has way too many people in jail. Our incarceration rate of about 500 prisoners per 100,000 people is the highest in the world, and those who are locked up are disproportionately people of color. A new group, including some of the law enforcement heads from some of the biggest cities in the country, will urge President Barack Obama on Thursday to help them to lower those rates, while also increasing public safety.
"We're incarcerating the wrong people, and we're measuring the wrong things," said Garry F. McCarthy, superintendent of the Chicago Police Department, during a question-and-answer session with reporters in Washington on Wednesday. He was in the capital for the meeting with Obama and the public launch of a new organization of law enforcement officials that is calling for massive changes to the criminal justice system. "Ten years ago, if you heard a police chief say that arrests were down, people would be criticizing, 'Why are your arrests down? You're not doing your job,'" McCarthy said. "Today it's something that we take pride in."
Law Enforcement Leaders to Reduce Crime and Incarceration is made up of some of the most powerful police and prosecutors in the country. It includes McCarthy, but also the heads of the Los Angeles Police Department and the New York City Police Department, among others. In total, about 130 members from all 50 states are pushing for four broad policy goals: alternatives to incarceration, balance in the application of laws, mandatory-minimum sentence reform, and stronger ties with the communities they serve.
The group's launch, and its goals for incarceration reform, comes amid a nationwide conversation about policing in the United States, a conversation that took on a heightened focus after the Ferguson, Missouri, police officer Darren Wilson shot and killed Michael Brown in August 2014. The resulting protests shed new light on the militarization of the police, police killings (especially the deaths of people of color), and the lack of reliable use-of-force data. The report from Obama's task force on policing in the United States, which was released in March in response to Ferguson and other police protests, called for changes such as independent police prosecutions and more trust between police officers and the communities they serve.
The violence and the subsequent scrutiny also helped spawn the Black Lives Matter movement, which has helped drive national policy on police brutality against people of color, and has had a major impact on presidential politics (at least on the Democratic side).
Ben David, the district attorney for New Hanover and Pender counties in North Carolina, told Mother Jones that although various prosecutors, police officers, and judges have attempted to reduce incarceration in various ways over the years, the time is right to get some actual policy reforms pushed through.
"We're here to say, we're calling this country to a higher purpose right now," he said. "We have a chance right now with the climate."
The criminal justice system is not really broken," he told reporters. "It's producing the results that it was designed to produce, and those are the wrong results."
One of the goals of the group is to lower incarceration by finding alternatives—for example, by imposing fines for what were once jailable offenses. But the financial exploitation by many local court systems of low-income minority communities adds another layer of complication to this possible solution. In some communities, low-income offenders have become a kind of ATM machine, providing revenue when local police officers cite people for minor offenses. To some of the group members at Wednesday's launch, reforming that slice of the broken police-community relationship is key.
"What we're talking about today is overall sensible law enforcement, and that's one of the things that we look at," said James Johnson, the former undersecretary for enforcement for the US Treasury Department. "It's very difficult to have community trust-building, which is one of the themes that many of the chiefs here spoke about, if you have a criminal justice system that really looks like it's a piggy bank for the municipality in general. So that's part of the themes that we're trying to strike."
How can this call for reforms work when others over the years have failed? Johnson said that having police chiefs and prosecutors with a combined 1,000 years of law enforcement experience leading the change will make the difference.
"Not everything that matters can be measured, but you have these voices talking about sensible law enforcement, and they represent cities in the North, the South, the East, and the West," Johnson said. "Superintendent McCarthy was in the New York City Police Department for a very long time, 25 years. And having those perspectives and those voices, I think, can move the needle a tremendous amount. It's not a silver bullet—there is no silver bullet—but it's a significant contribution."
McCarthy said the reform needs to be systemic to make any lasting difference.
"The criminal justice system is not really broken," he told reporters. "It's producing the results that it was designed to produce, and those are the wrong results. We have to change the way that we think about crime. We're producing generations of individuals, through incarceration… who are going to fail unless we do something about it."