President Barack Obama's signature plan to fight climate change was formally published this morning, thus opening the season for a fresh round of legal challenges from two dozen states, most of which are major coal consumers.
The Clean Power Plan, as it's known, aims to reduce the nation's power-sector carbon footprint to 32 percent below 2005 levels by 2030. To reach that goal, each state has a unique target that it can achieve by cleaning or shuttering coal-fired power plants, building renewable energy systems, and investing in energy efficiency. Ever since it was first proposed a couple years ago, it's been a punching bag for Republicans in Congress, in state capitals, and in the 2016 presidential race. Marco Rubio recently promised to "immediately stop" the plan if elected.
The plan has also already spent a lot of time in court, so far surviving a series of attempts by states and coal companies to block it from being implemented. The last such case ended in September, when a federal court ruled that legal challenges couldn't be brought until the final version of the new rules was officially published.
Now that threshold has been crossed, and the lawsuits are flooding in. According to the Hill, 24 states and Murray Energy, a coal company, filed suits Friday morning:
West Virginia Attorney General Patrick Morrisey (R), who is leading the legal fight against the plan, called it "the single most onerous and illegal regulations that we've seen coming out of D.C. in a long time."

The West Virginia and Murray lawsuits came the day the rule was published in the Federal Register, the first day court challenges can legally be filed. The states joining West Virginia are Texas, Alabama, Arkansas, Colorado, Florida, Georgia, Indiana, Kansas, Kentucky, Louisiana, Michigan, Missouri, Montana, Nebraska, New Jersey, Ohio, South Carolina, South Dakota, Utah, Wisconsin, Wyoming, Arizona and North Carolina.
It shouldn't come as a surprise that most of these states are major consumers of coal, the most carbon-polluting form of energy, and are thus the most likely to take a beating from the regulations. (Of course, coal has been struggling since before Obama even took office). Here's a look at how much the suing states depend on coal; I've ranked them by the share of their total electricity mix that comes from coal, rather than by their total consumption volume: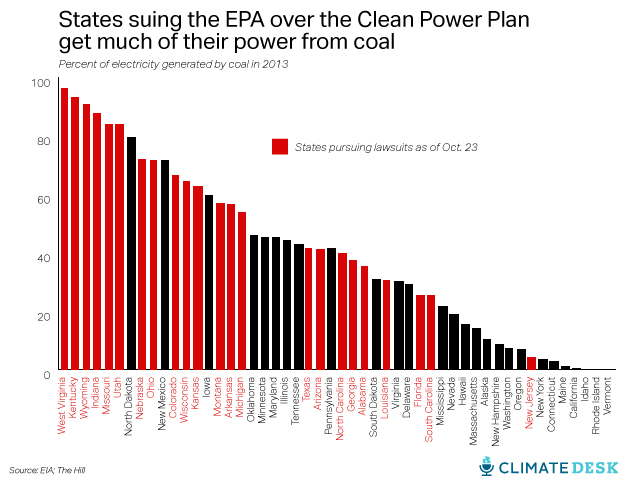 It's worth noting as well that all but three of those states (Kentucky, Missouri, and North Carolina) have Republican attorneys general. Now that the dust has basically settled on battles over gay marriage and Obamacare, the Clean Power Plan is the next logical thing for GOP-led states to fight with the Obama administration about.
But the plan really isn't as crazy as Morrisey, et al., would have you believe. In fact, it has taken some heat from environmentalists for not going far enough, and for doing little more than locking in the incremental greenhouse gas reductions that were already happening. Still, there's a lot riding on these legal challenges, because the Clean Power Plan is the administration's main bargaining chip for the global climate negotiations coming up in a month in Paris. The promises that Obama has made to the rest of the world as to how the United States will help slow climate change basically ride on this plan. So if the plan were to be killed in court, the whole international agreement could collapse.
Fortunately, it seems very unlikely that the court will throw the rule out, said Tomás Carbonell, a senior attorney at the Environmental Defense Fund.
Carbonell added that if history is a guide, the litigation is likely to come to a conclusion before Obama leaves office, which would preclude the possibility that a President Donald Trump or another climate change denier could let the plan wither on the vine by refusing to defend it in court.
The Natural Resources Defense Council has a good explainer on the plan's strengths, not least of which is that most states are already well on their way to coming up with a plan for compliance. So far, it doesn't seem like anyone is following Senate Majority Leader Mitch McConnell's (R-Ky.) advice to just ignore the plan altogether.