Fight disinformation:
Sign up
for the free
Mother Jones Daily
newsletter and follow the news that matters.
A few dominant narratives emerged from Wednesday night's Republican presidential debate in Boulder, Colorado. One: The GOP and its supporters hate the media. Two: Donald Trump polls well with the GOP base, regardless of his debate performance. And three: Jeb Bush's campaign might be toast.
But there's also something to be learned from Google, the company that seems to know what we're thinking before we even think it. The folks at Google Trends compiled a mound of data during the debate, looking at real-time searches of the candidates, what people are trying to learn about each of them, and the sheer dominance of Sen. Lindsey Graham of South Carolina during the night's undercard debate that preceded the main event.
One Google interactive looked at which candidate people searched for after searching for another candidate. In other words, after people looked up Trump, whom did they search for next? The answer: Ben Carson. Click on a candidate below to see the related candidates.
Taking a step backward, let's look at the top GOP candidates from Google searches before the debate.
Clearly, Trump was winning that race. But it shifted after the debate, with Carson and Sen. Marco Rubio of Florida gaining some ground.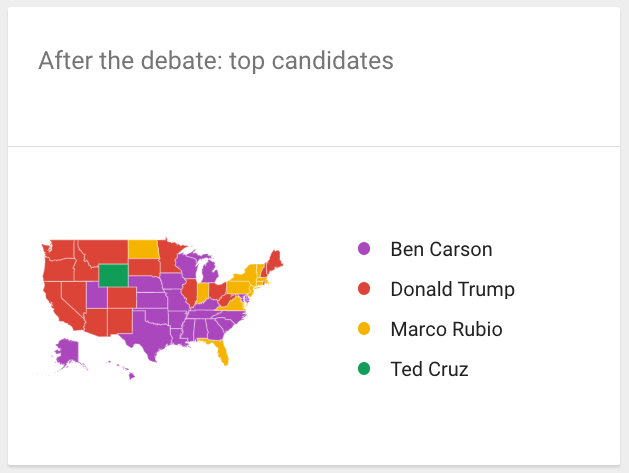 That seems to coincide with one of the story lines from the debate: Rubio handled questions about his voting absences and finances fairly well, and he may have supplanted Bush as the go-to establishment candidate in the race.
Here's how those searches played out in real time.
You can see Trump and Carson starting strong, with Rubio in third place. But as the debate progressed, Rubio held on, never falling below the fourth position. By the end, he was in second place behind Trump. But the biggest questions people had about Rubio weren't exactly the deepest ones.
To be fair, questions about the other questions are on the same level.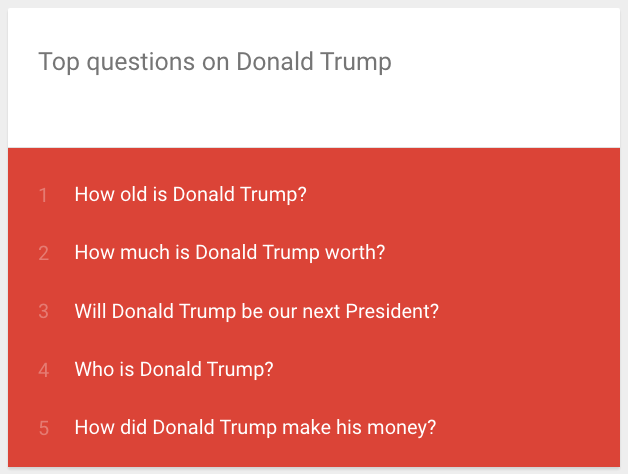 The questions might seem silly, but they can be revealing. Trump's wealth and business acumen have been key selling points during the campaign, so it's only natural that people would ask Google about his money. Conversely, with someone like Graham, people are wondering what he's even doing in the race:
But it's not all bad for Graham, according to the Google Trends data. Take a look at real-time searches during the undercard debate on Wednesday night: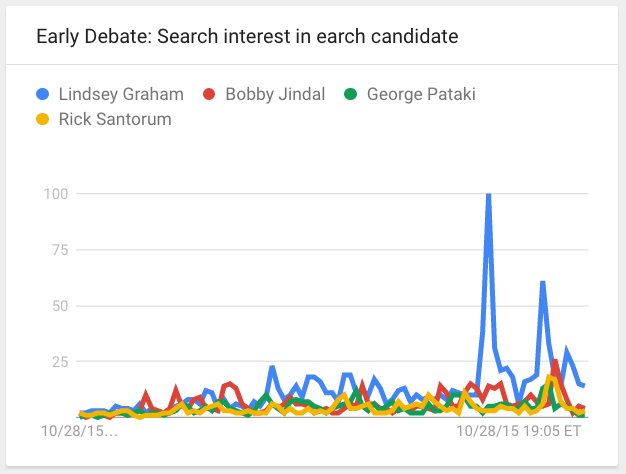 If this is any indication, Graham is doing a good job in at least one area: getting attention.