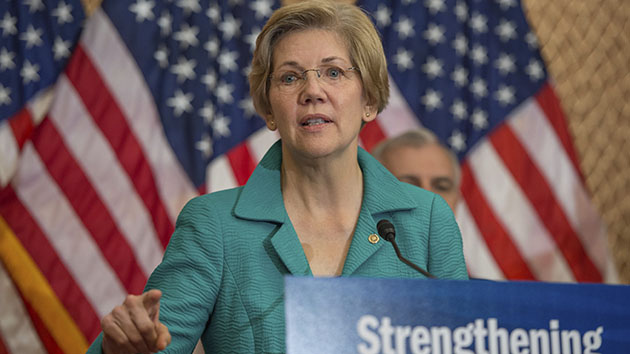 Facts matter:
Sign up
for the free
Mother Jones Daily
newsletter.
Support
our nonprofit reporting.
Subscribe
to our print magazine.
"Today, the Consumer Financial Protection Bureau is so far outside the historic American model of constitutionally limited government and the rule of law that it is the perfect case study of the pathologies that infect our bureaucracies at the federal level," former House Speaker Newt Gingrich solemnly intoned in his opening statement as an expert witness at a congressional hearing on December 16. "It is dictatorial. It is unaccountable. It is practically unrestrained in expanding on its already expansive mandate from Congress. And it is contemptuous of the rights, values, and preferences of ordinary Americans."
Republicans and outside conservative groups spent much of 2015 attacking the Consumer Financial Protection Bureau (CFPB)—the federal financial regulator that opened in 2011, conceived and launched by Sen. Elizabeth Warren (D-Mass.) after it was included in the 2010 Dodd-Frank Wall Street reform law.
This month's hearing, where conservatives on the House Financial Services Oversight and Investigations Subcommittee lambasted the CFPB for collecting data on credit card usage, was just the latest in a string of attacks against the consumer agency. Gingrich is a paid adviser to a corporate-funded group, the US Consumer Coalition, that doesn't disclose the identities of its donors and was founded by a PR firm to attack the agency. In November, a conservative group ran an ad during the Republican debate attacking the CFPB and Warren as Soviet operators trying to shut down regular borrowers. Republicans in Congress have consistently introduced bills that would hamper the CFPB's ability to function by restricting its budget or weighing down its decision-making process with extra bureaucratic layers. Ted Cruz, the senator from Texas and a Republican presidential candidate, has gone even further, introducing legislation to eradicate the agency.
But amid the attacks, it's been easy to lose sight of what the CFPB has actually been up to. Earlier this month, the CFPB released a report examining how one part of its financial regulation has unfolded. The CARD Act, passed in 2010 and overseen by the CFPB, aimed to clean up the credit card industry by eliminating hidden fees that hurt consumers.
According to the CFPB, the CARD Act's changes saved consumers from $16 billion in these sorts of hidden fees between 2011 and 2014. Most of those savings have been paid for with higher upfront interest rates. Still, the total cost of credit cards declined in the first few years after the law's enactment and has held steady since then at about 2 percent less than before the CARD Act.
The banking industry has argued that further regulations along these lines would constrict the availability of credit, since companies might decide it is no longer worth offering cards when they won't reap as much profit off their customers. But the CFPB found that, in fact, approval rates for credit cards are rising, with lines of credit growing as well.
The CFPB plays a broad watchdog role, keeping an eye on financial institutions to see if they're ripping off consumers. When the for-profit school group Corinthian Colleges closed this year, the CFPB set up $480 million in loan forgiveness for indebted students. In March, the agency issued a set of proposed rules to place new checks on payday lending. (The rules have yet to be finalized.) The agency has also been looking to tackle subprime auto loans and the prevalence of arbitration clauses in contracts in order to make it easier for consumers to file class-action lawsuits.
Are these actions against the "preferences of ordinary Americans," as Gingrich said? It's hard to say, since most people have little knowledge of the CFPB. When two liberal-leaning groups—Americans for Financial Reform and the Center for Responsible Lending—explained what the CFPB was up to while polling people, they found that 75 percent of respondents supported the agency. Even when the US Consumer Coalition, the industry group Gingrich advises, ran a poll on the CFPB, it found that people generally have a favorable view. Only 19 percent of respondents could identify the CFPB, but of those who were familiar with it, 31 percent had a favorable view, compared with 14 percent who viewed it negatively.