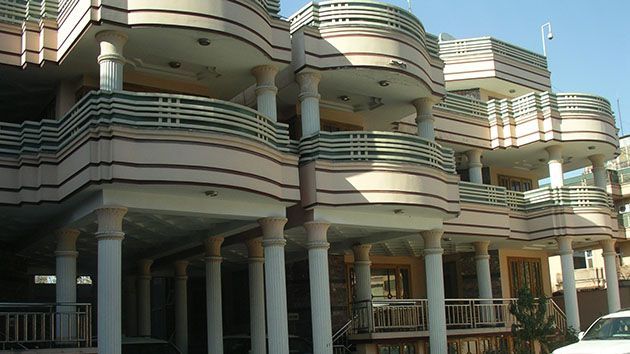 Fight disinformation:
Sign up
for the free
Mother Jones Daily
newsletter and follow the news that matters.
A Department of Defense economic development unit in Afghanistan is coming under fire from government watchdogs, who question what they consider to be excessive costs for housing and accommodations in Afghanistan for contractors who were there to create businesses in the shattered economy. The organization spent nearly $150 million on rented villas and private security for its employees and guests, when the same services and security could have been provided by the US government for a fraction of the cost.
On Thursday, John Sopko, the Special Inspector General for Afghanistan Reconstruction (SIGAR)—an office tasked with evaluating spending and performance of Afghanistan reconstruction projects—wrote to Secretary of Defense Ashton Carter, requesting an explanation for the decisions made by the DoD's Task Force for Business and Stability Operations (TFBSO). The TFBSO was created in 2006 to spur economic development and investment in Iraq, and it expanded its operations to Afghanistan in 2009. The DoD closed the TFBSO in March 2015, "as part of broader Afghanistan draw-down plans," according to Army Lt. Colonel Joe Sowers, a DoD spokesman.
This was not the first time that SIGAR has questioned the allocation of funds by the TFBSO. Last month SIGAR released another report that detailed how the TFBSO had spent $43 million on a "compressed natural gas automobile filling station" in Afghanistan that could have been built for no more than $500,000.
In Thursday's letter, Sopko wrote that TFBSO leadership "rented specially furnished, privately owned 'villas' and hired contractors to provide 24-hour building security, food services, and bodyguards." The contracts also reportedly included specified sizes for televisions (at least 27 inches), DVD players, and food service that, at times, required two entrée choices and three side-order choices.
"If TFBSO employees had instead lived at DOD facilities in Afghanistan, where housing, security, and food service are routinely provided at little or no extra charge to DOD organizations, it appears the taxpayers would have saved tens of millions of dollars," Sopko wrote.
Other spending highlighted by Sopko was $57 million paid to Triple Canopy, a private security company, from 2010 to 2014, for "armed support"; $51 million paid to Defense Group Incorporated between 2009 and 2011 for "extensive security and other services"; and $40 million paid from 2009 to 2014 to Muscogee Nation Business Enterprise, a separate security company that provided "transportation and personal protection…to personnel visiting/traveling to and from project worksites." Some of that included funding for food and housing accommodations.
Most of these spending decisions appear to have been made by Paul A. Brinkley, the former deputy undersecretary of defense who was TFBSO's director from 2006 to 2011. The letter states that Brinkley didn't cooperate with SIGAR investigators when they tried to talk with him about the matter. In a written statement provided to Mother Jones, Brinkley denied having ever been contacted by SIGAR in relation to the allegations brought up in the letter. He also stated that during his tenure, the task force operated under the authority of the Secretary of Defense and the International Security Assistance Force, a NATO-led security and stabilization organization in Afghanistan.
"When I ran the task force, we had one mission: help bring normalcy to Afghanistan by encouraging sustained economic growth and employment for the Afghan people and the creation of an Afghan middle class," Brinkley wrote. "Everything we did focused on that goal, which is critical to Afghanistan's ability to someday finance its own security and development needs without US taxpayer support."
Sopko's letter quotes a portion of Brinkley's 2014 book, War Front to Store Front: Americans Rebuilding Trust and Hope in Nations Under Fire, in which he wrote that "wherever possible, we avoided depending on the military…The goal was to show private companies that they could set up operations in Afghanistan themselves without needing military support." Sopko also cited an October 2013 report by a consulting group working with the TFBSO that noted that the group was "not constrained by chief-of-mission requirements" and had "no excessive red tape internally in securing travel arrangements."
Sopko has asked the DoD to answer several questions, including:
Did the DoD or the TFBSO perform a cost-benefit analysis of using private accommodations over private "villas" and security?
Did the TFBSO have specific authority from the DoD or any other organization to allow staff to live in private residences and hire private security?
How were these "villas" selected and used?
Some TFBSO documentation refers to "leadership villas," compared to other "villas." What was the difference?
Which investors were brought by the TFBSO to Afghanistan? When did they visit?
As part of Sopko's release of a report on the $43 million that the TFBSO had spent on a $500,000 gas station, a letter from Principal Under Secretary of Defense Brian McKeon to Sopko said that the March 2015 closure of the TFBSO "resulted in the Office of the Secretary of Defense (OSD) no longer possessing the personnel expertise to address the questions or to assess properly the TFBSO information and documentation retained" by the federal government.
There have long been questions by government investigators and others about the efficacy of the TFBSO. It was unclear if the program produced tangible results or whether business opportunity as a deterrent to insurgency and instability was possible. In Thursday's letter, Sopko pointed out that SIGAR has produced several reports on the office, including an audit that found that it lacked any long-term strategy for its $282 million in investments into the Afghan mineral, oil, and gas industries. In July 2011, the Government Accountability Office said the office lacked "project management guidance" and transparency.
Sowers, the DOD spokesman, told Mother Jones that "we have received the recent letter from SIGAR and will respond."
Read the full letter below: