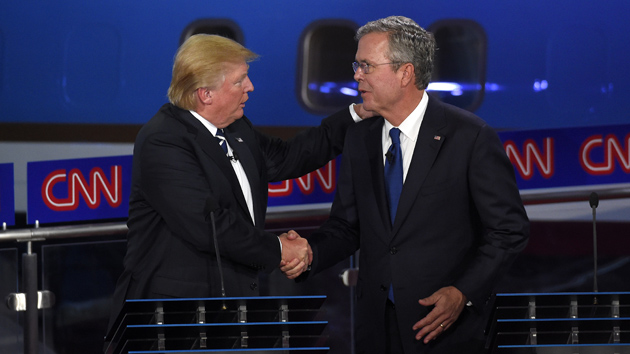 Fight disinformation:
Sign up
for the free
Mother Jones Daily
newsletter and follow the news that matters.
In recent days, it seems nothing makes Donald Trump happier than assailing Jeb Bush. The current GOP front-runner gleefully slams the former front-runner almost any chance he gets, and in the past week, with Bush finally trying to attack Trump with some verve, Trump has had plenty of opportunities to one-up Bush with counterattacks. On Saturday, Bush said, "I gotta get this off my chest: Donald Trump is a jerk." Naturally, Trump fired back the next day on Meet the Press with Chuck Todd:
Jeb is a weak and ineffective person. He's also a low-energy person, which I've said before. But he's a weak and ineffective person. Jeb, if he were president, it would just be more of the same, it would be just—he's got money from all of the lobbyists and all of the special interests that run him like a puppet. He's got 2 percent in the polls; I have 41 percent in the latest poll. He has 2 percent. He's going to be off the stage soon. He's an embarrassment to the Bush family and, in fact, he doesn't even want to use the Bush name, which is interesting. Jeb is an embarrassment to himself and to his family and the Republican Party—they're not even listening to Jeb. Jeb is saying that—by the way, Chuck, Jeb is only saying that to try and get a little mojo going, but in the meantime, I went up 11 points in the new Fox poll. I went up 11 points after the debate, and he went down 2.
This was just more of Trump's dismissive and taunting schoolyard bully approach to dealing with Bush. Two days earlier, Trump tweeted out this assessment of Bush: "The last thing our country needs is another BUSH! Dumb as a rock!"
But there once was a time when Trump held Jeb Bush in high regard, hailed him as a leader the country needed, and declared he would make a great president.
"Jeb Bush is a good man…He's exactly the kind of political leader this country needs."
In 2000, Trump was pondering a possible presidential run as the Reform Party nominee. (The Reform Party was the remnants of Ross Perot's independent presidential bid of 1992.) And he wrote a book, The America We Deserve, in which he pontificated on a host of political and policy matters. (He now claims that in this book he predicted Osama bin Laden and Al Qaeda's 9/11 attack, but that's not true.) Toward the end of the book, Trump shared his thoughts about prominent politicians. Trump noted that, should he decide to run for president, he would, of course, offer the best approach "available in the presidential marketplace," and that he could bring to the presidency "a new spirit, a great spirit that we haven't had in this country for a long time." Still, Trump did point out that there were a few politicians of whom he thought highly. And at the top of this list was Bush.
Trump wrote:
Florida Governor Jeb Bush is a good man. I've held fundraisers for him. He's exactly the kind of political leader this country needs now and will very much need in the future. He, too, knows how to hang in there. His first shot at Florida's governorship didn't work out, but he didn't give up. He was campaigning the day after his loss. He won the next race in a landslide. He's bright, tough, and principled. I like the Bush family very much. I believe we could get another president from the Bushes. He may be the one.
Of the pols Trump cited in the book, Jeb Bush was the only one who Trump pronounced presidential material. High praise, indeed, given that Trump was eyeing the White House himself at the time.
Other prominent Americans Trump fancied included Oprah Winfrey ("enormously successful in an incredibly competitive field") and then-Sen. Bob Torricelli, a New Jersey Democrat ("a first-rate public figure"). Torricelli, though, pulled out of his reelection campaign in 2002 after media reports revealed he had accepted illegal campaign contributions from a businessman linked to North Korea. In the book, Trump—who now wants to ban Muslims from entering the United States—proclaimed his admiration for Muhammad Ali ("on the spiritual level, I believe, he still floats like a butterfly and stings like a bee"). He praised then-Gov. George Pataki, a New York Republican, as the "most underrated guy in American politics." Trump said he was looking for Pataki to end up on the Republican national ticket in 2000 or 2004. He cited Al Gore for being a man of "formidable intellect" and also "vastly underrated." (Yet in a 2010 speech, Trump said the Nobel Prize committee should take back the prize it awarded Gore in 2007 for raising awareness of human-induced climate change, claiming that "China, Japan and India are laughing at America's stupidity.")
And Trump had positive things to say about the Clintons. He called Hillary "definitely smart and resilient." He added, "She was very nice to my sons, Donny and Eric, when she visited New York." As for Bill, he noted that he "could have gone down as a very good president. Instead he goes down as a guy they tried to impeach." Trump continued:
Now he can't even get into a golf club in Westchester. But he can join my golf club—I'd be proud to have him. I'm developing a spectacular new country club five minutes from his new home.

And speaking of his new home, in all candor, he really overpaid. He really got ripped off on the house. If I had represented him in buying the house, I could have saved them about $600,000.
Nowadays, it's not likely that he wants to help the Clintons.