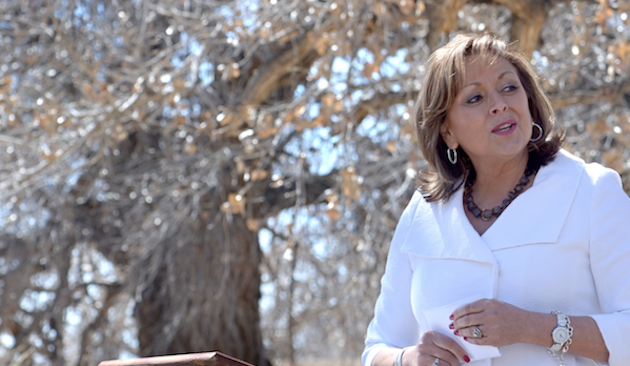 Fight disinformation:
Sign up
for the free
Mother Jones Daily
newsletter and follow the news that matters.
A new audio recording released by Santa Fe police on Tuesday suggests that New Mexico Gov. Susana Martinez, once a rising star within the Republican party, appeared to be "inebriated" inside a hotel room where a party for her friends and staff was taking place. Hotel employees were forced to call police during the evening of December 14th, after guests complained about loud noises and bottles being thrown from the room's balcony.
In the recording, a security guard at the Eldorado Hotel can be heard talking to Sgt. Anthony Tapia about the disturbance. A segment of the audio, recorded on Tapia's police belt, below:
"I never expected the first time it would be the governor," the guard said. "I can tell she is…"

"Inebriated," Tapia said.

"Yes."
Martinez could also be heard saying:
"Five hours ago, there was somebody that we said, 'Get out of the room, do not be doing what you're doing.' There were bottles being thrown over. We said, 'Get the hell out and stop.'"
The audio sharply contrasts to a previous statement made by Martinez's spokesman last week, claiming that snowballs, not bottles, were thrown off the balcony. In a statement apologizing for the incident on Friday, Martinez also returned to the snowball version of the story.
"There was apparently a party in a hotel room earlier in the night that was disruptive," Martinez said. "Someone was also throwing snowballs from a balcony. None of that should have happened and I was not aware of the extent of the behavior, until recently. And that behavior is not acceptable."
During a public appearance on Tuesday, the Santa Fe New Mexican reports Martinez refused to answer questions about the recording.
The recording's release comes at a particularly inopportune time for Martinez, who is reportedly being investigated by the FBI for alleged fundraising violations during her first run for governor in 2009.
Her landslide reelection victory last year brought her national attention and she has been raised as a strong contender for vice president in 2016. But Martinez's latest gaffe and unflattering comparisons to Sarah Palin are likely to have dampened such enthusiasm.