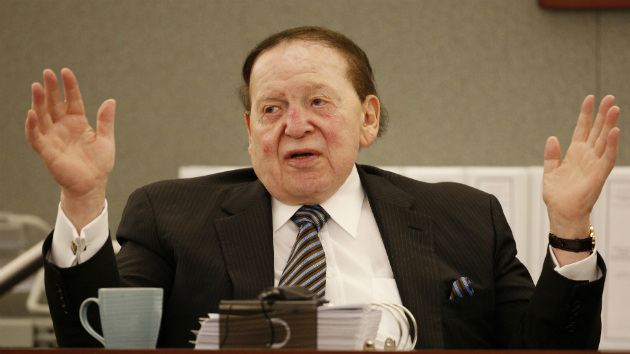 Fight disinformation:
Sign up
for the free
Mother Jones Daily
newsletter and follow the news that matters.
Update 12/16/15: Las Vegas casino owner Sheldon Adelson is reportedly the mystery buyer of the paper.
Conventional wisdom holds that you do not want to buy a newspaper because newspapers are terrible investments. Yet late last week, someone did buy the largest newspaper in Nevada, the Las Vegas Review-Journal, and paid a premium for it. Even stranger, nobody knows who it was, and the new owners seem to be actively working to keep it that way.
The sale has created a controversy because, while there is no rule requiring a newspaper to disclose its owners, the Journal-Review will be, by far, the largest newspaper in America whose owners are secret. The intrigue is not just journalistic: For a well-heeled person interested in influencing an election, owning the largest paper in the state that in a few short months will hold one of the first nominating events of the primary season (third for Democrats and fourth for Republicans) is a good place to start.
The news broke on Friday, when the paper's management told employees that the publication, which had been owned by a publicly traded chain of newspapers called New Media Investment Group, had been sold for $140 million. The new owners? An LLC based in Delaware called News + Media Capital Group LLC. The only publicly available information on News + Media Capital Group LLC is that it was founded two months ago in Delaware, and it used a corporate agent that hides any identifying information.
The Review-Journal's management introduced a man named Michael Schroeder as the manager of News + Media Capital Group LLC. Schroeder has been the publisher of a very small chain of newspapers in Connecticut and declined to tell the Review-Journal who the new bosses were, other than to say they were "undisclosed financial backers with expertise in the media industry," a description that does little to narrow down the field. Another detail that leaked from the paper's management was that there are multiple owners, at least some of whom are based in Las Vegas. The description is odd, since most individuals who have invested in news organizations previously would be aware that refusing to say who owned the paper would do nothing but stir controversy, especially within the paper's own staff.
The paper's management also seemed almost determined to stoke controversy. According to the Huffington Post, a version of the story detailing the paper's sale went to press with a quote that suggested Schroeder was dismissive of employee concerns about the new ownership.
"They want you to focus on your jobs…don't worry about who they are," Schroeder allegedly said at a meeting with employees. But the quote was pulled, as were other critical comments, before a new version of the article was printed.
Media critic Jay Rosen told the Review-Journal that he couldn't think of another instance in the past century where the owner of a major publication had been kept so secret.
The refusal to name the new owners has, of course, done nothing but increase speculation. Even Jeb Bush, who visited the paper to meet with its editors today, expressed curiosity.
Just finished hour+ @reviewjournal ed board. Only q left unanswered – who owns the newspaper?

— Jeb Bush (@JebBush) December 14, 2015
Right now, the most popular guess is Sheldon Adelson. Adelson does fit the vague profile. He is best known as the billionaire owner of the Venetian casino who pumped $92 million into conservative super-PACs in a bid to get a Republican elected president in 2012. He also owns a number of newspapers in Israel. One informed source told Mother Jones that Adelson has privately mused about buying the Review-Journal before. Besides his obvious interest in presidential politics, Adelson is deeply embroiled in a battle to shut down online gambling, which nearly every casino owner in Las Vegas supports. A spokeswoman for Adelson's casino did not return a request for comment. The next GOP debate, which will be held tomorrow night, will be hosted at Adelson's casino.
The only firm news on the paper's new ownership is that it's not the Koch brothers. In 2013, Charles and David Koch, the only people who rival Adelson in terms of the size of political donations, expressed an interest in buying newspapers but, after considering several papers owned by the Tribune company, balked at the idea as "not financially viable."