2015 was almost certainly the hottest year since we began keeping records, according to data released today by NASA and the National Oceanic and Atmospheric Administration. In a press release Wednesday, NASA stated that it was 94 percent confident that last year was the warmest since 1880. Here's a chart from NOAA:
"Record warmth was spread throughout the world," said Thomas Karl, director of NOAA's National Centers for Environmental Information. "Ten of 12 months were records. That's the first time we've seen that."
Shattered global temperature records are becoming increasingly commonplace, thanks to climate change; with today's announcement, all five of the hottest years on record have occurred in the last decade. But the amount by which 2015 shattered the previous record, in 2014, was itself a record, scientists said. That's due in part to this year's El Niño, characterized by exceptionally high temperatures in the Pacific Ocean.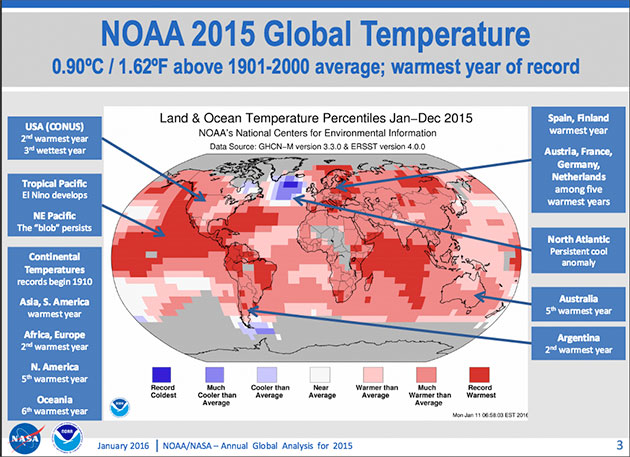 But Gavin Schmidt, director of NASA's Goddard Institute for Space Studies, said the effects of El Niño only really appeared in the last few months of the year, and that 2015 likely would have been a record year regardless.
"2015 was warm right from the beginning; it didn't start with El Niño," he said. "The reason this is such a record is because of the long-term trend, and there is no evidence that trend has slowed or paused over the last two decades."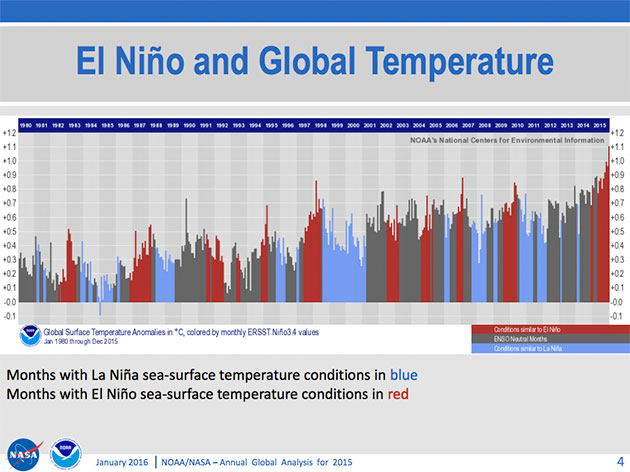 Schmidt added that El Niño is likely to persist into 2016, which means we could be in for a record-breaking year yet again.