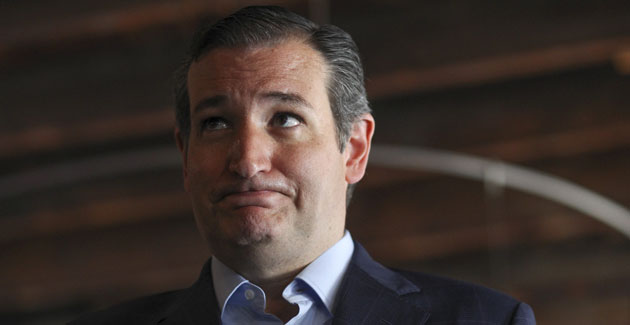 Fight disinformation:
Sign up
for the free
Mother Jones Daily
newsletter and follow the news that matters.
In the pegged-to-the-campaign memoir Ted Cruz released last year, A Time for Truth, the GOP presidential contender chronicles his rise from the son of a Cuban immigrant to a tea-party-beloved, Obama-obstructing senator. But a chapter in his life gets short shrift: Cruz's years as a highly paid private lawyer who often defended powerful corporations. And there are several significant cases he handled—politically inconvenient cases—that he has photoshopped out of his personal narrative.
After serving five years as the solicitor general of Texas, the state's top lawyer, Cruz in 2008 joined the Houston office of the high-powered international law firm Morgan Lewis to develop its Supreme Court and national appellate practice. Having previously argued before the US Supreme Court on behalf of Texas in cases that had a conservative bent—defending the Second Amendment, the Pledge of Allegiance, and US sovereignty—Cruz was well regarded for his skills as an appellate attorney. But now, he would apply these talents to advance the interests of the firm's clients, which tended to be large corporations.
In his book, Cruz notes that he represented Federal Express, Kimberly-Clark, Dentsply, and AstraZeneca. He also cites two pro bono cases he assisted: He helped veterans groups preserve a cross that had been erected as a memorial on federal land, and he aided two Morgan Lewis lawyers in the firm who were representing John Thompson, a Louisiana man falsely convicted of murder. Thompson had served 14 years on death row and was seeking to preserve a $14 million restitution award he had won in a case against the New Orleans district attorney's office, which had covered up evidence that could have exonerated Thompson. (Despite Cruz's involvement in that case, he would, as a politician, later say he trusted the criminal justice system to apply the death penalty fairly and appropriately.) Cruz also notes in his memoir that during his 2012 race for the US Senate, while he was still at Morgan Lewis, his opponent in the GOP primary attacked him for having represented a Chinese company that had been found to have stolen trade secrets and designs from a US-based tire manufacturing firm. (Cruz, an attack ad exclaimed, had sided with the "Red Chinese" against American jobs.) And, the book points out, Cruz was assailed during that campaign for having represented a Pennsylvania developer who was a central player in a corruption scandal that exploited juveniles.
Yet Cruz leaves out of his account several controversial cases that had not received much public attention—and that do not bolster his image as a "courageous conservative."
* The Case of Cruz the Stimulus Champion. When Cruz was running for the Senate in 2011, he excoriated "big-government stimulus programs that have consistently failed to generate jobs." As a senator, he decried President Barack Obama's "failed stimulus, which reminds us that jobs are not created by the federal government." (Actually, the 2009 stimulus saved or created an average of 1.6 million jobs annually for four years, and it boosted the nation's economic output by 2 to 3 percent.) Yet in private practice, Cruz hailed the stimulus—when he was being paid as much as $695 an hour to do so.
In July 2009, Cruz, representing the Texas Retired Teachers Association, filed a legal brief in which he argued that it would be appropriate and constitutional for the Texas state government to use federal stimulus money to send a one-time $500 check to 250,000 or so retired teachers in the state. Cruz asserted that these payments would help the state economy, noting that was the point of Obama's stimulus. The $500 checks, he contended, "will directly further the greater purpose of economic recovery for America."
When Mother Jones a year ago asked Cruz about his embrace of the stimulus, a Cruz spokeswoman replied that Cruz had merely been a good advocate for his client: "The stimulus legislation had already been enacted, and Cruz quoted the legislative findings and argued that his clients satisfied the statutory requirements for funding. As a policy matter, Sen. Cruz disagreed with the stimulus, and were he then in the Senate, he would have voted against it. But after it was passed, Cruz argued that it should be implemented pursuant to the explicit requirements of federal law." Ultimately, the retired teachers in Texas never got any of the stimulus money, but Cruz and his firm were paid $38,000 by the Texas Retired Teachers Association for their stimulus-praising effort.
* The Case of Cruz the Whistleblower-Basher. From 1998 until 2007, Lynn Morrison, a medical sales representative, worked for B. Braun Medical Inc., a Pennsylvania-based company that made and sold pharmaceutical and medical products. Some years, she was one of its top sales reps. But she was also a headache for the company because she would not promote the "off-label" use of the company's medical products. (This is the practice, often illegal, of encouraging doctors to use a drug or medical product in ways other than those okayed by the Food and Drug Administration.) And Morrison informed her bosses that she would not participate in any illegal kickback actions. She also several times raised concerns within the company that B. Braun was engaged in shady practices. After she was fired—Morrison claimed her supervisors had imposed on her impossible sales quotas—she sued the company, claiming it had dismissed her because she had refused to break the law. "This was essentially a whistleblower case," Deborah Gordon, Morrison's attorney, told Mother Jones last year.
After a trial, a jury awarded Morrison $880,000. B. Braun appealed and retained Cruz to defeat the whistleblower. Before the US Court of Appeals for the 6th Circuit, Cruz argued in 2011 that Morrison had failed to establish that B. Braun had directed her to violate the law, and that Morrison had not presented enough evidence to support her claim that she had been fired because of her refusal to break the law. The appeals court rejected Cruz's argument. He lost, and the $880,000 award for Morrison was affirmed. By the time of this case, Cruz had established a reputation as one of the nation's top appellate attorneys, but to Gordon he had not seemed impressive or unusual: "He was a run-of-the-mill corporate defense attorney who'd defend anything anytime a corporation wants to defend something."
* The Case of Cruz the Defender of Huge Jury Awards. During his political career, Cruz has been an advocate of tort reform—the effort pushed by conservatives and business interests to restrict malpractice and other wrongful injury and death lawsuits and to limit how much a jury can award a harmed individual for pain and suffering and in punitive damages. While running for the Senate, Cruz boasted that he had defended a pro-business tort reform law passed in Texas in 2003 that severely constrained the ability of consumers to sue medical professionals and nursing homes and to collect punitive damages in other cases. After becoming a senator, Cruz said Texas-style tort reform—which places a cap of $750,000 on punitive damages—ought to be a federal law. Yet twice as a lawyer at Morgan Lewis, Cruz worked to secure $50 million-plus jury awards in tort cases prompted by corporate malfeasance. These are exactly the sort of jury awards that the tort reform Cruz has promoted would abolish.
Both cases were gruesome. In the first, Barbara Barber, an active 78-year-old resident at a ManorCare nursing home in Albuquerque, bled to death over several days in 2004. Her daughter sued the Ohio-based ManorCare Inc., one of the largest for-profit operators of nursing homes in the nation, for wrongful death. At a 2007 trial, a nurse testified that Barber, after suffering days of internal bleeding, "should have been shipped to the hospital." But she wasn't. At the trial, there was evidence indicating that after Barber died, staff at the nursing home removed her bloody linen and clothes and replaced them with clean bedding and clothes and did not inform Barber's daughter or her doctor of the bloody scene that the staff had found.
Barber's family sought compensatory damages for the alleged negligence and punitive damages, asserting that the nursing home had engaged in willful and reckless misconduct. The jury awarded Barber's family $53.2 million, with $50 million of that in punitive damages. It was one of the biggest jury awards in the history of New Mexico. ManorCare Inc. appealed the decision, and the New Mexico court of appeals in 2009 sided with ManorCare and ordered the case to be tried again.
The legal team for Barber's family then asked the state Supreme Court to review the case, and it hired Cruz for this part of the proceedings. Oral arguments were scheduled in the appeal, and Cruz was all set to claim that ManorCare Inc. should be held responsible and that the hefty $50 million punitive award should stand. But the Barber family and ManorCare reached a settlement for unspecified "millions." Carl Bettinger, a prominent plaintiff's attorney in New Mexico representing the family, said at the time the message was "that little people can take on the big corporations and sometimes achieve justice." He later told Mother Jones that Cruz had been "very involved in the settlement negotiation."
After this case, Bettinger recruited Cruz for a similar one. In 2004, Larry Selk, a profoundly mentally and developmentally disabled man—he could not speak or effectively use his limbs—had been raped, presumably by an employee at the Roswell group home where he lived. The facility was operated by the New Mexico subsidiary of ResCare Inc. (RCI), a Louisville-based health services firm. Selk was entirely dependent on caregivers who had to bathe and feed him. His sister Rani Rubio sued RCI and its New Mexico subsidiary on Selk's behalf, and Bettinger was one of the lawyers who represented Selk. At the end of a 2009 trial, a jury hit RCI and its subsidiary with $4.95 million in compensatory damages and a whopping $49.2 million in punitive damages.
The trial court judge subsequently reduced the punitive damages portion of the award to $9.7 million. RCI and the family each appealed. And Bettinger and his co-counsels enlisted Cruz for this round. In a filing that Cruz and several other lawyers submitted to the New Mexico appeals court in October 2010, the Selk legal team insisted that RCI should be held liable for the damage done to Selk and that the punitive damages award had been appropriate. RCI's conduct in this case, the brief asserted, "was highly reprehensible," and it noted that a "large punitive damages award is justified by the need to deter conduct that is hard to detect and often goes unpunished." And on November 15, 2011, Cruz took time off from his Senate campaign to appear in an Albuquerque courtroom to argue for Selk and the $54 million jury award. The appeals court, Cruz told the judges, was obliged "to respect the jury's finding," regarding the substantial punitive damages. He put it simply: "The purpose of punitive damages is to punish and to deter…The jury rightly concluded the appropriate amount to punish and deter was $48 million." Cruz was echoing the case long made by plaintiff's attorneys and consumer advocates who oppose tort reform and claim it protects companies that seriously harm people, especially the elderly and infirm. Bettinger was delighted by Cruz's courtroom performance. But before the judges reached a decision, the case was settled—and the terms of the settlement were confidential.
Cruz's involvement in these cases—in which he argued in favor of multimillion-dollar jury awards—runs counter to his enthusiastic support for tort reform. Last year, I asked Cruz if his work to defend these immense punitive awards was in synch with his support for tort reform, and a Cruz spokeswoman replied, "Lawyers have an ethical responsibility to zealously represent their clients, and Sen. Cruz endeavored to do so both in public service and in private practice."
* * *
It's no surprise that in his account of his private lawyer stint Cruz does not mention the times when he served his clients by defending Obama's stimulus, aiding a corporation's attempt to slam a whistleblower, or fighting to preserve $50 million-plus jury awards against negligent corporations. These days, Cruz promotes himself as a "courageous conservative" and an anti-establishment crusader. Yet during his stretch at Morgan Lewis, he was about as establishment as it gets for a corporate attorney: putting profits over political principle when necessary, as a well-paid legal gun for hire.